The Ultimate Guide To Skin Types, Problems and Solutions
Your skin is your largest organ, and it is important to take care of it. But with so many unique skin types and problems available, it could be hard to understand where to begin. That's why we have created this detailed guide to skin types, problems, and solutions. In this guide, you'll get answers to the following questions: 
How do you identify your skin type? 

The most common skin issues and their solutions 

Ways of preventing skin diseases

When to see a

doctor

Whether you have dry, oily, or sensitive skin, we have got you covered. So get prepared to examine everything you need to understand to keep your skin healthy and sparkling. Ready to get started? Let's dive in!
Consult with the best doctors city right now
Chapter 1: 6 Skin Types, Problems and Solutions
Your pores and skin type are determined by genetics; however, they may also be affected by other elements, which include age, hormones, and weather. It is important to identify your skin type so that you can pick out the right skincare products. Here are a few recommendations for figuring out your skin type:

Cleanse your face with a gentle cleaner and pat it dry

Wait 30 minutes

Assess your skin




If your skin feels tight and dry, you probably have dry skin. If your skin feels oily or greasy, you in all likelihood have oily skin. If your skin feels tight and dry at the cheeks and oily within the T-zone, you may have a mixture of oily and dry. If your skin is purple, indignant, or inflamed, you probably have sensitive skin.

If you're unsure of your skin type, you can talk about it with a dermatologist. They can examine your skin and propose the best skincare products and habits for you. Let us see in detail about the various skin types, problems and solutions.
1) Oily Skin
Oily skin produces excess sebum, leading to a shiny appearance and enlarged pores.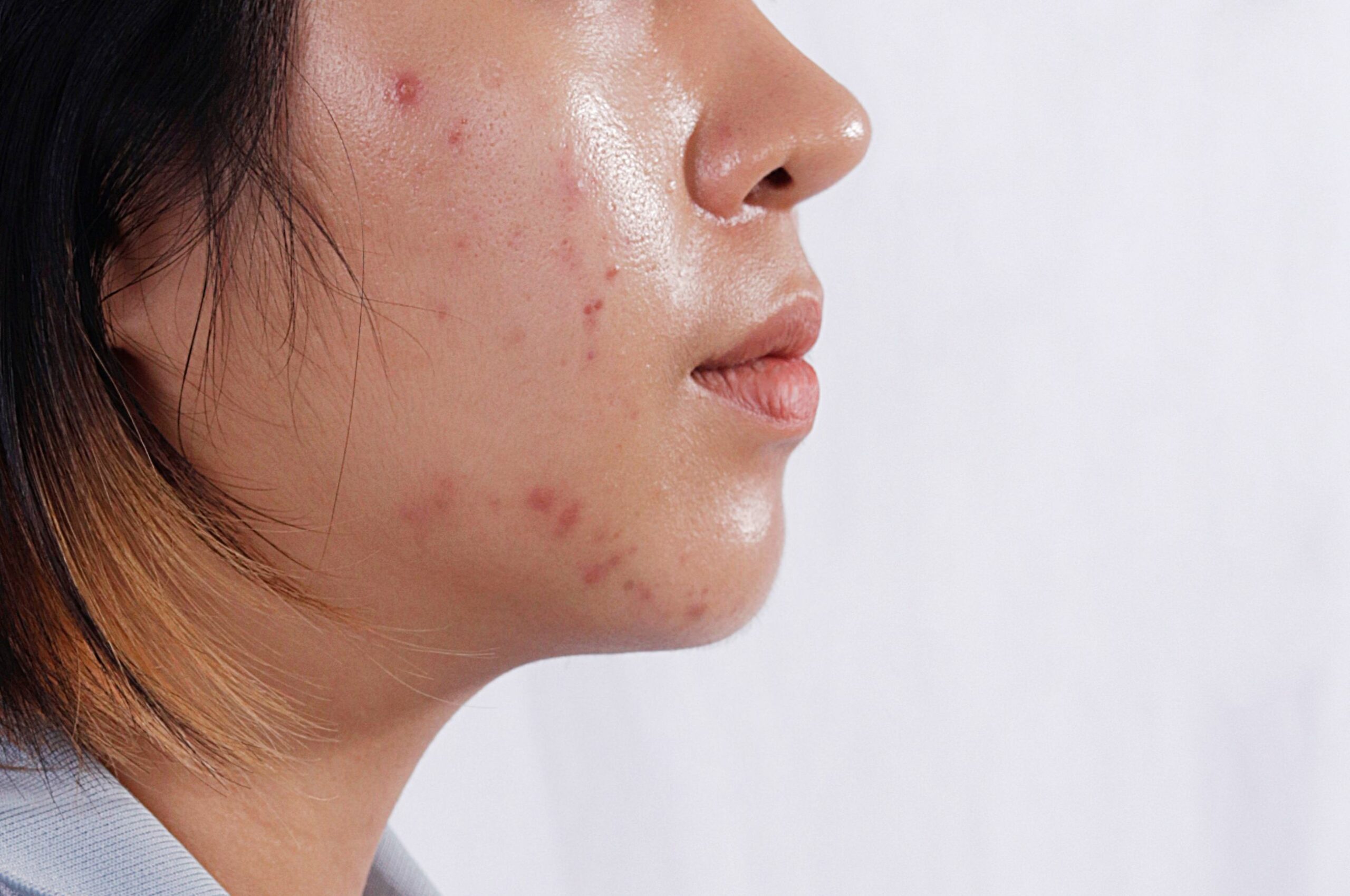 Problems Associated with Oily Skin
These are some of the common problems you may face if you have oily skin.

Acne: Sebum (oil), which is released by the oil gland, passes through the pore and onto your skin before moving up your hair. Your skin stays soft and moisturized because of sebum. Acnes are the most common types of skin problems on face. It may develop due to one or more errors during this lubricating process. This is a skin condition that causes breakouts of acne, blackheads, and whiteheads. It is most common in teenagers, but it could additionally occur in adults.
Blackheads: These are a type of acne that appears on the face. These blackheads are open bumps on the skin and are often covered with excess oil and dead skin. Although it appears like there is dirt inside the bump, the dark areas are caused by an uneven light reflection from the obstructed follicle. There are some tips and tricks to make your skin free from blackheads. Follow these tips to get rid of those blackheads.
Whiteheads: Acne vulgaris, or whiteheads, is a kind of acne. A comedone is a closed lump on your skin that forms when oil and dead skin cells block hair follicles or sebaceous glands (oil glands). These whiteheads are small bumps that stick to your skin. They are usually white or yellow. Whiteheads often affect teenagers and young adults as they undergo frequent hormonal changes.

Solutions
Wash your face two times a day with moderate soap and water. Use an over-the-counter acne treatment product that contains benzoyl peroxide or salicylic acid. If your acne is severe, see a dermatologist for a prescription remedy. Use a gentle foaming cleaner to do away with excess oil. Choose oil-free or non-comedogenic moisturizers. Blotting papers can help make your skin shine throughout the day.
2) Dry Skin
Dry skin lacks moisture, leading to tightness, flakiness, and sometimes redness.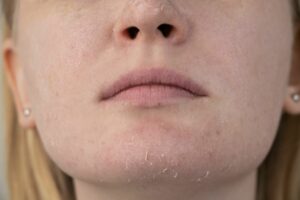 Problems Associated with Dry Skin
These are some of the common problems you may face if you have dry skin. 
Eczema: This is a dry, itchy skin condition that can cause inflammation and redness. It is most common in children, but it can also occur in adults. The most prevalent type of eczema is sometimes referred to as atopic dermatitis. Eczema sufferers usually have allergies or asthma in addition to itchy, red, or hyperpigmented skin.
Psoriasis: This is a chronic autoimmune disease that causes scaly skin patches. It can affect any part of the body, but it is most common on the scalp, elbows, knees, and lower back.
Cracks: Cracks may occur more frequently on your lips, hands, and feet. The most typical reason for cracked skin is dry skin or xerosis. Because natural oils hold onto moisture, they keep smooth, moisturized skin from drying out. Your skin will, however, lose moisture if it doesn't produce enough oil. Your skin becomes dry and shrinks as a result, which may cause cracks.
Solutions
Use a hydrating, fragrance-unfastened moisturizer regularly. Avoid warm showers and cruel cleansers that strip natural oils. Apply an occlusive cream at night. Use merchandise with hyaluronic acid to enhance moisture retention. Use a moisturizer regularly to keep your pores and skin hydrated. Avoid scratching your skin, as this may make the scenario worse. If the condition is intense, see a dermatologist for prescription medication.
3) Combination Skin
Combination skin is a mix of oily and dry areas, often with an oily T-zone (forehead, nose, and chin) and drier cheeks.
Problems Associated with Combination Skin
These are some of the common problems you may face if you have combination skin. 
Acne in the T-zone: The forehead, nose and chin come under the T-zone area. Sebum, an oily material that hydrates and shields the skin, is produced by the sebaceous glands. Acne may result from excessive sebum production. Breakouts may happen in these areas more frequently than in other parts of the face due to increased oil production.
Dry patches on the cheeks: Skin disorders such as dermatitis, psoriasis, and eczema can result in dry spots on your face. Environmental or lifestyle variables (cold air, hot baths, bad diet) can sometimes be the cause of them. Your skin may become scaly or flaky in areas that are dry.
Solutions
Use a gentle cleanser and alter your skin care products primarily based on the needs of different areas. Apply a lightweight, oil-free moisturizer in the T-sector and a richer moisturizer on the cheeks.
4) Sensitive Skin
Sensitive skin is prone to irritation, redness, and discomfort. Sensitive skin may be brought on by allergies, environmental variables, or heredity. 
Problems Associated with Sensitive Skin
These are some of the common problems you may face if you have sensitive skin.

Allergic Reactions: When chemicals, colors, and scents come into touch with sensitive skin, people tend to experience allergic reactions. Certain clothing can also cause rashes or irritation in them.
Redness: Sunburn, some infection or an allergic reaction causes redness of the skin. People with sensitive skin are more prone to sunburn and infections.
Stinging and Burning: Many people who suffer from allodynia report having touch-sensitive skin. Usually, they describe the pain as burning, stinging, and severe. 
Solutions
Choose fragrance-free, hypoallergenic products. Perform patch exams earlier than trying new products. Avoid harsh chemical substances and opt for products with soothing elements like aloe vera and chamomile. Always wear sunscreen to protect sensitive skin from UV harm.
5) Mature Aging Skin
Aging skin experiences a reduction in collagen and elastin, leading to wrinkles, fine lines, and sagging. Your skin becomes drier than it was when you were younger and develops one or two wrinkles as you age. The skin is then mature.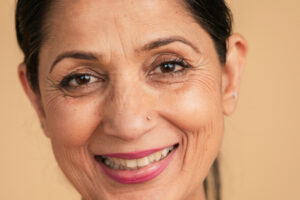 Problems Associated with Mature Aging Skin
These are some of the common problems you may face if you have mature skin.

Fine Lines and Wrinkles: The skin becomes less elastic as you get older. Early wrinkles and fine lines that develop on a person's face, depend on environmental factors including sun exposure and genetics.
Sagging: As a result of fat loss and a decrease in the proteins collagen and elastin, sagging skin is defined as loose skin with little to no definition. There are many different causes and locations for drooping skin, but the neck, stomach, jawline, upper arms, and thighs are the most typical areas.
Solutions
Use products with antioxidants like vitamins C and E to fight unfastened radicals. Incorporate retinol for wrinkle reduction. Apply a large-spectrum sunscreen each day to prevent further damage. Hydration is fundamental; use moisturizers and serums with hyaluronic acid.
6) Normal Skin
Normal pores and skin are well-balanced, neither too oily nor too dry.
Problems Associated with Normal Skin
People with normal skin are much less prone to troubles, but sometimes they might experience dryness or breakouts.
Solutions
Maintain an ordinary skincare routine with gentle cleansers and moisturizers. Use sunscreen to defend towards UV harm. Exfoliate every now and then to do away with useless pores and skin cells.
Chapter 2: Other Skin Problems and Solutions
1) Keratosis Pilaris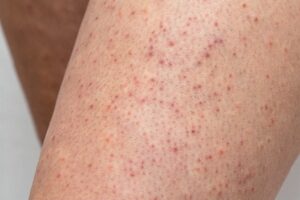 Commonly referred to as "chicken skin," keratosis pilaris is a skin ailment that results in rough, bumpy patches of skin. The little lumps are caused by dead skin cells clogging hair follicles. Common locations for keratosis pilaris include the thighs, buttocks, cheeks, and upper arms.
Symptoms
Skin that is itchy and irritating with a minor discolouration around lumps

Dry, sandpaper-like skin lumps that vary in color according to skin tone (flesh-colored, white, red, pink, brown, or black)

Causes
An accumulation of the hair protein keratin in the pores causes this skin disease. Because of the keratin in your body hair, your follicles that produce new hair are unable to open if you have keratosis pilaris. Consequently, the area where a hair should be appears as a tiny lump.
Diagnosis and Treatment
Medical history and physical examination results are used to diagnose keratosis pilaris. By examining the affected area, a dermatologist, who specializes in skin care, can usually confirm the diagnosis. Among the elements that influence the diagnosis are: how old you are, how your skin appears, and which regions are impacted
To help with dry, itchy skin and to make your skin seem better, your dermatologist might suggest a moisturizing treatment. Dead skin cells can be removed and hair follicle blockages can be avoided with a lot of over-the-counter and prescription topical lotions. What is best for you may be determined by a physician or other healthcare expert. Urea and lactic acid are two items that are frequently found in moisturizing treatments.
2) Stretch Marks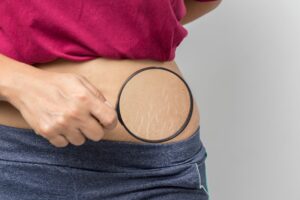 Skin expands or shrinks quickly, leaving scars that resemble bands of lines across your skin. These are called stretch marks. Pregnancy and other quick weight fluctuations are common times for them to appear. For instance, teenagers who are growing up quickly may get some stretch marks.
Symptoms
Thinner, glossy lines in your skin that may appear whitish over time 

Skin irritation and itching before stretch marks appear 

Indented lines or streaks on your skin, which can vary in length and width pink, purple, Red, bluish, or dark brown streaks — these color marks can vary, depending on your skin color

Causes
Two key factors can cause stretch marks:
When you stretch your skin

An increase in cortisone levels in your body. Your adrenal glands secrete the hormone cortisone on their own. On the other hand, excessive levels of this hormone may cause the skin to become less elastic.

Additionally, under some conditions, stretch marks become more likely.
The skin extends in different ways to accommodate the growing fetus during pregnancy, which causes stretch marks on many people.

Rapid weight gain or loss can occasionally result in stretch marks. Teens who have experienced a rapid growth spurt may also see stretch marks.

Because they reduce the flexibility of your skin, corticosteroid creams, lotions, and pills can exacerbate stretch marks.

Diagnosis and Treatment
Stretch marks can typically be identified by a dermatologist by examining your skin. In most cases, they will also go over your medical history because several illnesses could lead to stretch marks. Your doctor may suggest blood, urine, or imaging tests to assist in identifying the underlying cause of your stretch marks if they think it could be a health issue. Time usually causes stretch marks to disappear.
There are treatments available to help enhance their appearance if you don't want to wait. To minimize the appearance of stretch marks, a dermatologist can provide additional professional advice on the following options:
Tretinoin cream

Hyaluronic acid cream

Pulsed dye laser therapy

Fractional photothermolysis

Microdermabrasion

Excimer laser therapy

3) Hives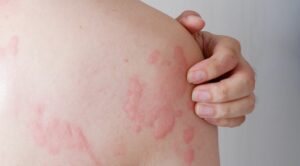 A typical allergic reaction is what causes hives regarding what you have come across or consumed. Your body releases histamines into the bloodstream when you experience an allergic reaction. In an effort to protect itself from illness and other external invaders, your body creates molecules called histamines.
Types of Hives
There are two major types of hives: 
Acute Hives:

Acute hives are the most unusual form of hive and generally depart on their own within 24 hours. They are regularly caused by hypersensitivity to food, remedies, insect bites, or other triggers.

Chronic Hives:

They can last for more than six weeks and may be the result of a range of things, including autoimmune issues, together with thyroid disease or lupus infections, along with hepatitis C or HIV medications, including antibiotics and pain relievers, physical triggers, including warmth, bloodlessness, pressure, or exercising.

Here are a few different varieties of hives: 
Cholinergic hives:

These hives are due to a rise in body temperature, including from exercising, sweating, or hot showers.

Cold hives:

These hives are a result of exposure to cold temperatures.




Contact hives:

These hives are caused by direct contact with an allergen, such as latex, nickel, or certain flora.

Dermatographism:

These hives are caused by stress on the skin, including scratching or rubbing.

Solar hives:

These hives are a result of exposure to daylight.

Vibratory hives:

Exposure to vibration causes this type of hive. 

Symptoms
Itchy rash. The rash may be crimson, purple, or white, and it can appear anywhere on the frame.

Hives may be small or massive, and they could come and go quickly.

Swelling of the face, lips, tongue, or throat.

Difficulty breathing

Abdominal ache

Dizziness




Diagnosis and Treatment
The great remedy for hives relies on its underlying purpose. For acute hives, over-the-counter antihistamines, along with diphenhydramine (Benadryl) or loratadine (Claritin), can commonly help relieve the itching and swelling. In a few cases, prescription antihistamines or corticosteroids can be needed. For persistent hives, remedies may also include a combination of medicinal drugs, which include antihistamines, corticosteroids, and immunosuppressants. In some cases, lifestyle changes, along with avoiding triggers and taking cool baths, can also help. If you have hives, it's vital to see a dermatologist to determine the underlying motive and get the right remedy.
4) Vitiligo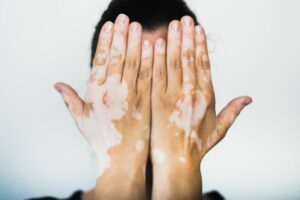 Vitiligo is a long-term skin condition that causes patches of skin to lose their color. The patches can be any length or shape, and they could appear anywhere on the body. Vitiligo isn't always contagious, and it is not life-threatening. However, it may cause emotional distress, in particular for humans who have darker pores and skin tones.
Symptoms
White or light patches of pores and skin. These patches can appear anywhere on the body; however, they are most common on the face, arms, and feet. The patches may also appear on the interior of the mouth, lips, and genitals.

Premature graying of hair

Loss of shade in the eyelashes or eyebrows

Lightening of the internal shade of the mouth or lips

Diagnosis and Treatment
If you notice any such symptoms then immediately go to a doctor. There are treatments that can help slow the progression of the sickness and improve the appearance of the pores and skin. Some of the most common treatments for vitiligo encompass: 
Topical corticosteroids: These creams or ointments can help lessen infection and improve the appearance of the pores and skin. 
Calcineurin inhibitors: These creams or ointments can also help reduce inflammation and enhance the appearance of the pores and skin. 
Light therapy: This remedy entails exposing the affected skin to ultraviolet (UV) light. UV light can help stimulate the manufacturing of melanin.
A dermatologist will see your condition and accordingly recommend treatments. If you want to know about Vitiligo in detail, then check this out.
5) Cellulitis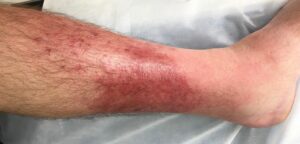 Cellulitis is a common bacterial pore and skin infection that causes redness, swelling, and an ache in the affected location of the skin. The infection can spread fast, so it's critical to seek a doctor's help right away if you assume you may have cellulitis.
Symptoms
Redness and swelling of the skin

Warmth to touch

Pain and tenderness



Fever and Chills

Blisters

Pus

Diagnosis and Treatment
Cellulitis is normally dealt with with antibiotics. In some cases, hospitalization may be necessary if the contamination is intense or if the man or woman has a weakened immune system. Do you want to know how cellulitis can affect children? Then check this out.
6) Boils and Abscesses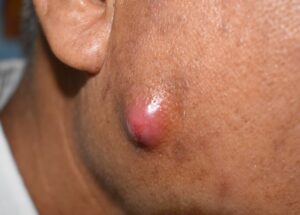 Boils and abscesses are both types of pus under the skin. However, there are some key differences among the two conditions. 
Boils are smaller and more superficial than abscesses. They usually shape a hair follicle and are caused by the bacteria Staphylococcus aureus. Boils can appear anywhere on the body; however, they are most common on the face, neck, armpits, and buttocks. 
Abscesses may be larger and deeper than boils. They can be shaped anywhere on the body, inclusive of the body. Abscesses may be the result of a number of microorganisms, including Staphylococcus aureus, Streptococcus pyogenes, and Escherichia coli.
Symptoms
Redness and swelling

Warmth to the touch

Pain and tenderness

Fever

Pus

Diagnosis and Treatment
Small boils and abscesses can be dealt with at home with warm compresses and over-the-counter pain relievers. Larger boils and abscesses might need to be diagnosed by a dermatologist. In a few cases, antibiotics will also be prescribed.
7) Nail Problems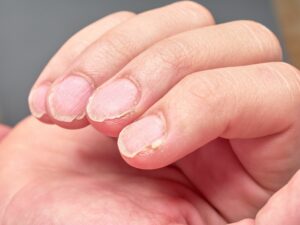 Nail problems are common and may be due to many things such as injury, infection, skin conditions, such as psoriasis and eczema, certain medicinal drugs, medical situations, like diabetes and thyroid disorders, poor diet, poor nail care etc.
Types
Brittle nails: Brittle nails are thin and crack effortlessly. They may be the result of a variety of factors, including a dry climate, overexposure to water, and the use of harsh chemical compounds on your nails. 
Splitting nails: Splitting nails are just like brittle nails; however, they tend to split vertically as opposed to horizontally. They can be a result of the same factors that cause brittle nails, in addition to biting your nails or using nail polish remover too regularly. 
Ingrown toenails: Ingrown toenails occur while the corner of the toenail grows into the surrounding pores and skin. They can result from wearing footwear that is too tight, slicing your toenails too short, or injuring your toe. 
Fungal nail contamination: Fungal nail infections result from a fungus that invades the nail. They can cause the nail to become discolored, thickened, and brittle. Fungal nail infections are more common in toenails than fingernails. 
Nail Care
Keep your nails smooth and dry

Trim your nails frequently and cut them straight throughout

Avoid biting your nail



Wear gloves when working with water or harsh chemicals

Wear shoes that match properly

Treat any fungal nail infections promptly

If you've got any underlying medical conditions that could contribute to nail problems, make sure to consult a dermatologist.
8) Melasma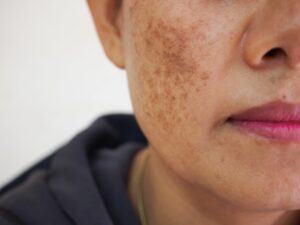 One common skin issue is melasma. It causes skin discolouration, accompanied by black blotches. In cases when it affects pregnant women, it is also known as chloasma, or the "mask of pregnancy."  
Symptoms
Brownish colored patches usually appear on the cheeks, forehead, bridge of the nose and chin.
Diagnosis and Treatment
There are treatments that could help to lighten the dark patches and enhance the appearance of the skin. 
Topical medicines: These medicinal drugs are applied at once to the skin and may help to lighten the dark patches. Common topical medicines used to treat melasma consist of hydroquinone, azelaic acid, and kojic acid. 
Light-primarily-based remedies: These remedies use one-of-a-kind varieties of mild to interrupt the melanin (pigment) in the pores and skin. Common light-primarily based healing procedures used to treat melasma include intense pulsed mild (IPL) and laser therapy. 
Chemical peels: Chemical peels use acids to take away the top layer of skin, which could help reduce the appearance of melasma. 
It is crucial to note that each melasma remedy can have side effects, including infection, redness, and dryness. It is critical to speak to your dermatologist about the best treatment alternatives for you.
Chapter 3: Ways Of Preventing Skin Diseases
There are many approaches to preventing pores and skin diseases, including: 
Protecting your skin from the sun: Sun exposure is the leading cause of premature skin growth and skin cancer, so it is vital to shield your skin from the sun's dangerous ultraviolet (UV) rays. Wear sunscreen with an SPF of 30 or higher every day, even on cloudy days, and reapply it each hour or more regularly in case you are sweating or swimming. 
Maintain excellent hygiene: Wash your skin often with a little soap and water. Avoid using harsh soaps or scrubbing your skin, as this could aggravate your skin conditions. Dry your skin very well after bathing or showering. 
Healthy Diet: Whatever goes inside your body is also important. To get healthy skin you need to eat healthy food rich in necessary vitamins and nutrients.
Moisturize your skin: Moisturizing your skin helps keep it healthy and hydrated. Choose a moisturizer that is appropriate for your skin type. Avoid irritants. Certain substances can worsen your skin, along with harsh chemical substances, fragrances, and dyes. Avoid using products that include these components. 
Manage stress: Stress can get worse in certain skin situations, along with eczema and psoriasis. Find healthy approaches to avoid stress, along with yoga, meditation, relaxation techniques, and spending time in nature. 
See a dermatologist frequently: A dermatologist will let you become aware of and control skin issues early on. They can also provide you with advice on how to keep your pores and skin healthy.
Chapter 4: When To Consult A Doctor?
You need to immediately see a dermatologist if you have frequent issues with your skin. Your skin tells the story of your life, so make it a story worth telling. Hence, it is essential to take utmost care of it. Prevention is better than cure. So, do not delay the treatment.
Chapter 5: Summary
The quality manner to deal with pores and skin troubles is to identify your skin type and the precise problem you are facing. Once you already know your pores and skin type and problem, you may pick the right products and treatment.
It is important to be aware that everyone's skin is one-of-a-kind, and what works for one person might not work for another. If you're struggling to control a skin issue, see a dermatologist for assistance. They can assess your skin and advocate the best path of remedy.
References
Q. How can I identify skin problems?
Ans: Contact with allergens or irritants, persistent skin conditions, or infections can all cause inflammation, changes in texture or color, and patches on the skin. Get a checkup from your doctor if you believe you have any of these common adult skin issues.
Q. How do I check my skin?
Ans: After taking a bath or a shower is the ideal time to conduct a skin self-examination. From your head to your toes, look for any moles, blemishes, or birthmarks. Regular self-examination will allow you to recognize what your skin type is.
Q. How can I treat skin disease at home?
Ans: By following a simple skincare routine that includes cleaning, toning, moisturizing, solar protection, healthy diet one can try to prevent skin diseases at home.
Q. Why is my skin so poor?
Ans: Maybe you are not moisturizing frequently. Face skin that is dull is most often caused by dryness. The skin gets uneven in tone due to the accumulation of dead skin cells and surface cracks.
Q. Why is my skin not glowing?
Ans: Due to several internal changes in the body, including hormonal fluctuations, deficiencies, stress, excessive sun exposure, continuous medication, and severe weather—winter produces a lot of dryness that results in dullness—skin does not glow despite frequent care.
Consult with the best doctors city right now