5 Healthy Mango Recipes That Are A Must-Try
5 Min Read
The evergreen and undisputed crowned royalty among fruits for most, if not all, would be the mango. This is justifiably so as mango is a fruit packed with a multitude of health and nutritional benefits. 
Nutrients powerhouse: Mangoes are rich in vitamins, minerals and antioxidants and have been linked with many health benefits.
Immunity: With the current COVID-19 pandemic warranting greater emphasis on health and immunity, it is comforting to note that mangoes boost immunity thanks to the rich presence of vitamin C, A, K, E, and various carotenoids in it. 
Anti-cancer properties: Mangoes have antioxidants such as quercetin, fisetin, isoquercitrin, astragalin, gallic acid and methyl gallate. These have cancer-fighting characteristics and protect our body against breast cancer, colon cancer, prostate cancer and leukaemia.

Improves heart health: Mangoes also contain vitamin C, fibre and pectin making it an ideal fruit that helps control high cholesterol level. The magnesium, potassium present in mangoes promote good heart health and also helps in reducing blood pressure levels.
Beauty benefits: Mangoes contain lutein, zeaxanthin and vitamin A, all of which promote eye health. Lutein and zeaxanthin can protect by acting as a natural sun-block that absorbs excess light, while a lack of vitamin A can create vision problems. The vitamin C present helps in producing the protein collagen which is essential for healthy skin while combating its sagging and wrinkling. The vitamin A present is essential for hair growth and for the production of sebum which aids in healthy scalp and hair.
Supports digestive health:  Mango has digestive enzymes – amylases, water, dietary fibre and other compounds that support multiple aspects of digestive health.
So it is no surprise that such a super fruit deserves a special place on our plates. Here are 5 healthy and delectable recipes to celebrate world mango day with:-
MANGO-KIDNEY BEAN ( RAJMA) SALAD 
Ingredients:-
Chopped ripe mango- 1 cup

Rinsed and drained kidney beans- ¾ cup

Diced onion- ¼ cup

Diced and peeled cucumber- 1 medium 

Lime Juice/ Orange Juice – 2 Tbsp 

Coriander leaves- 2 Tbsp 

Salt- as per taste 
Method:-
Mix all the ingredients together and serve. This can be a side salad, served over chicken or as a filling for wraps.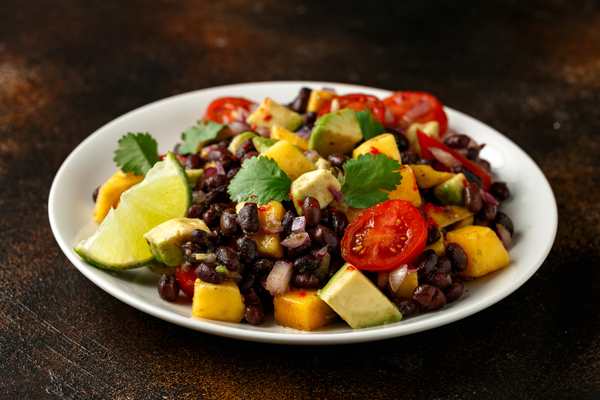 MANGO- CHIA PUDDING 
Ingredients:-
Chia seeds- 2 Tbsp

Almond milk – 100 ml ( can use any milk of choice)

Pureed Mango- 1/4 cup ( can use any fruit of choice diced/ pureed)

Honey- 2 tsp

 Vanilla essence – few drops
Method:-
1) Add chia seeds into a bowl, mix it with milk, honey and vanilla essence. Let it settle for 2-3 minutes then stir again well until you see no lumps. Leave it for 30 min – 1 hr.
2) Take a serving glass, add 2 tbsp chia seed mix, top it with pureed/ diced fruit. Repeat it till the chia layer comes on top. Store in the fridge overnight (if planning to have it for breakfast) or for at least 2 hours.
When you're ready to eat it, top with your favourite fruit and enjoy the cold!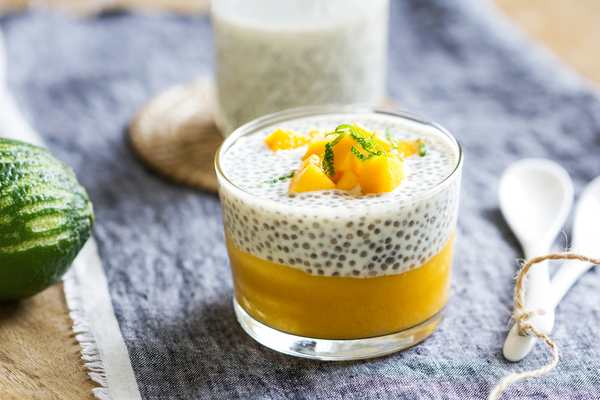 MANGO KADHI
Ripe Mango – 1 medium 

Gram flour – 1/4 cup 

Curd – 1/2 cup

Finely chopped Coriander  leaves- 2 to 3 tbsp 

Oil – 2 tbsp

Curry leaves – 8 to 10 

Asafoetida – a pinch

Cumin seeds – 1/2 tsp

Ginger paste – 1/2 tsp

Green chilly – 2 (cut lengthwise )

Dry red chilly – 1 to 2

Red chilly powder – 1/4 tsp

Turmeric powder – 1/4 tsp

Salt – as per taste
Method:-
Wash mango, peel and cut out its pulp. Cut the pulp in big chunks so that they can be ground in a mixture grinder easily.

Grind the mango pulp in a mixer, along with curd and gram flour, until mango pulp is finely ground and curd is mixed well. 

Add 3 cups of water into it. The batter for kadhi is now ready. 

Heat a kadai and add 1 Tbsp of oil. When the oil is hot, add half the amount of cumin seeds, keep the rest for tadka.

After sautéing the cumin seeds, add green chilly, red chilly (chopped in 2 halves), turmeric powder, asafetida, and half the amount of curry leaves. Sauté the masala for a few minutes. 

Now add the kadhi batter and stir constantly to cook until it simmers. 

After it simmers once, lowers the flame, add salt and coriander leaves. Stir after every 1 to 2 minutes with a ladle. Cook kadhi on low flame for 7 to 8  minutes.

For Tadka- In a kadai, add 1 Tbsp oil. When the oil is hot, add cumin seeds and let it splutter. Add curry leaves and turn off the flame. Now add red chilly powder.

Pour this tadka over the kadhi and mix well.  Ripe mango kadhi is ready. Serve this with chapati/ paratha/ rice and relish eating.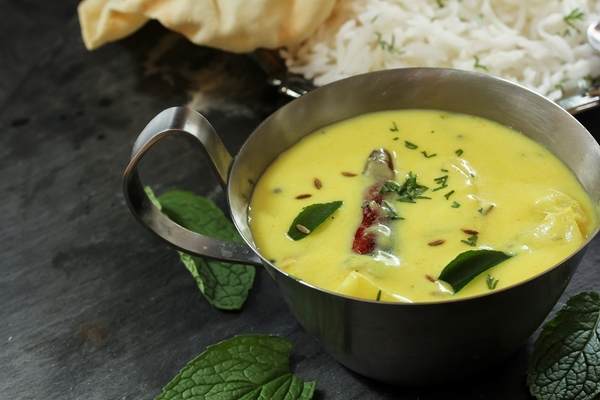 MANGO-OATS PANCAKE
Ingredients:-
Oats- ½ Cup

Egg- 1 number

Milk- ¼ Cup

Ripe Mango cubed- ½ cup

Salt- as per taste 
Method:-
Powder the oats in a mixer.

Blend all the other ingredients ie, egg, milk, and mango cubes along with salt

Add the powdered oats into this blended mixture and mix well. Pancake batter is now ready.

Heat a non-stick pan and pour the pancake batter. Cook both the sides on medium flame.

Drizzle with honey and enjoy.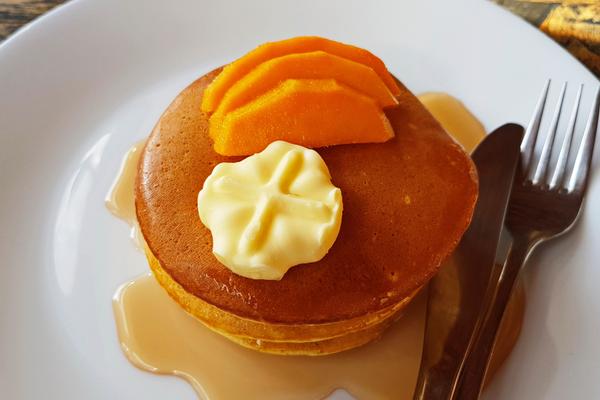 MANGO WRAP
Ingredients for wrap:-
Ripe Mango- 1 Medium 

Gram Flour- ½ Cup

Whole wheat flour- ½ Cup

Freshly chopped coriander leaves- 1 Tbsp 

Salt – as per taste
Ingredients for filling:-
Shredded cabbage- 2 Tbsp

Shredded carrot- 2 Tbsp

Shredded cucumber- 2 Tbsp

Spring onion chopped- 1 Tbsp

Hung Curd- 2 Tbsp 

Crushed black peppercorns- as per taste

Salt- as per taste 
Method:-
Make mango pulp

In a bowl add gram flour, whole wheat flour, chopped coriander leaves, salt and mango pulp. Mix it into a dough.

Divide the dough into portions and roll it out into thin discs. Cook on a hot tawa by flipping both sides. Keep it aside.

In another bowl, add hung curd, shredded cabbage, carrot, cucumber, spring onion, black pepper and salt. Mix well. 

Place the hung curd filling inside the disc, wrap it and serve.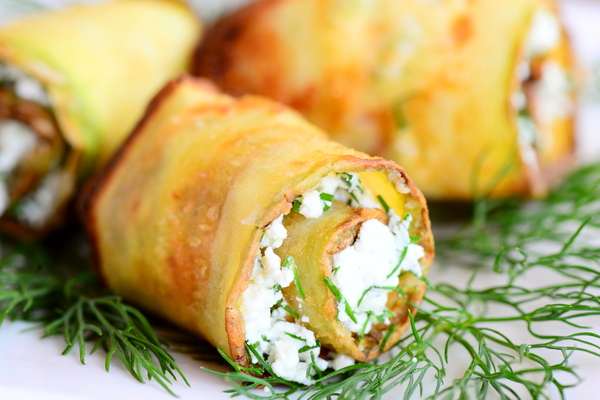 As we can see, it is not just the taste that sets the mango apart, but also a whole lot of health benefits as mentioned above. A truly special fruit that well deserves it's a special day under the sun. 
With all this said it is also important to note that mango is one of the sweetest fruits available and is high on sugar and calories. One cup of mango contains approximately 100 calories and 23 grams of sugar – though its low glycemic index may not adversely affect blood sugar levels. Hence, it is advised to indulge in moderation and restrict consumption to within 200 grams a day. 
In parting, here is a small tip to balance the above. 
Mango leaves are excellent to regulate diabetes. Boil 5-6 mango leaves in a vessel.  Leave it overnight and drink the filtered decoction early in the morning and you are likely to observe your sugar levels come in to check.
If you have any diet-related queries, you can reach out to our dietitians online on the MFine app.
Wishing you all a mango-licious day 
Was this article helpful?

0

0
Love reading our articles?
Subscribe to never miss a post again!