Unlocking The Heart Diabetes Connection
3 Min Read
Fact Checked
The human heart, a remarkable organ, is often the epicenter of vitality and health. However, it's also a delicate balance, especially when intertwined with diabetes. Welcome to a journey through the heart's secrets and how it intertwines with diabetes, unveiling both the threats and the safeguards to keep it strong.
What is Heart Disease?
Heart disease, also known as cardiovascular disease, encompasses various conditions that affect blood circulation in the body. It includes coronary artery disease, heart failure, stroke, and peripheral arterial disease. Among these, coronary artery disease is the most common type, characterized by the narrowing of blood vessels that supply oxygen and blood to the heart. This narrowing is often caused by plaque buildup can lead to chest pain, heart attacks, and even sudden death.
Read: Do women have a higher risk of coronary heart disease?
A Deep Dive Into The Diabetes Heart Disease Nexus
Imagine a bridge connecting two worlds: diabetes and heart disease. This bridge is more than just a connection; it's a pathway that often leads to heart-related complications. The connection between diabetes and heart disease is profound and significant. Individuals with diabetes face a significantly elevated risk of developing heart disease or stroke, often at a younger age than those without diabetes. High blood glucose levels associated with diabetes can damage blood vessels and nerves controlling the heart, making it susceptible to cardiovascular complications.
Navigating The Risk Factors For Heart Disease in Diabetic Patients
There are several factors that increase the risk of heart disease in people with diabetes: –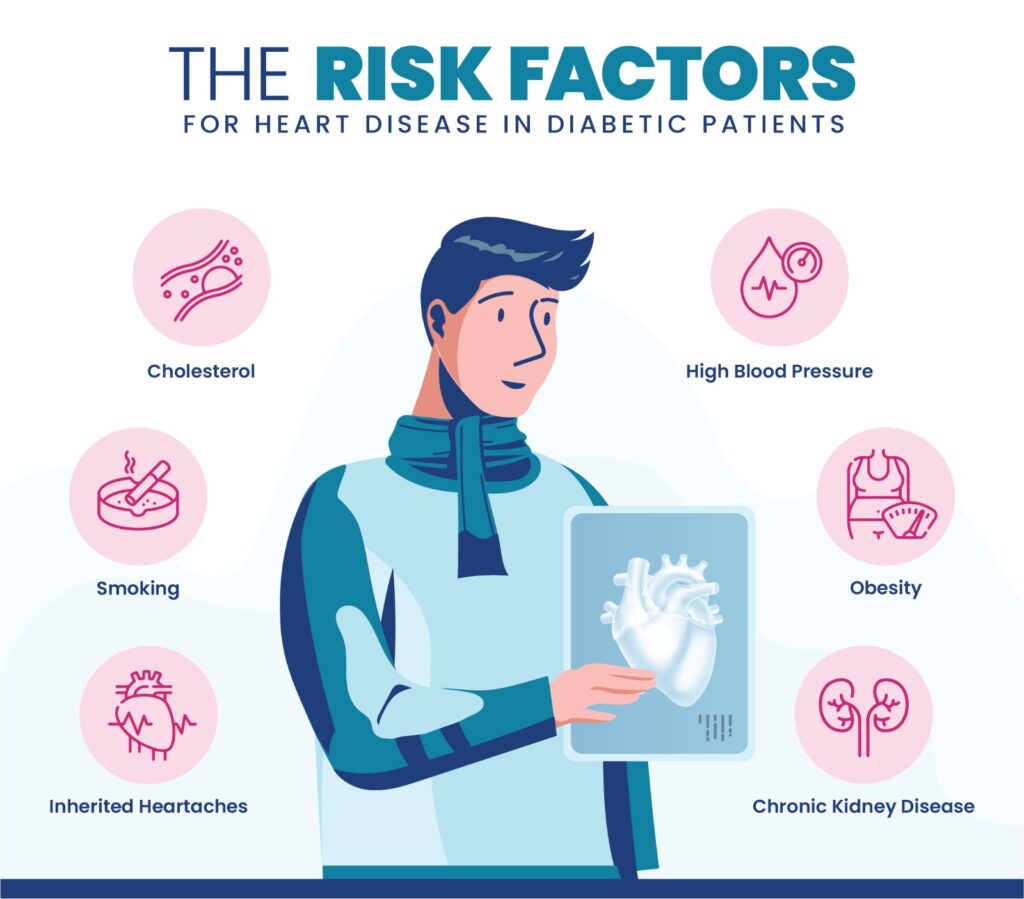 Smoking: Smoking not only narrows blood vessels but also fans the flames of diabetes-related complications.

High Blood Pressure: The double whammy of high blood pressure and diabetes intensifies the risk, challenging the heart's resilience.

Cholesterol Conundrum: The battle between LDL ("bad") and HDL ("good") cholesterol affects arterial health, a battleground in the heart-disease-diabetes alliance.

Battling the Bulge: Obesity, and particularly abdominal fat, further complicates the management of both diabetes and heart health.

The Kidney Connection: The fragile relationship between chronic kidney disease and heart disease is a testament to the intricate web that diabetes weaves.

Inherited Heartaches: A family history of heart disease can further elevate the risk.
Strategies To Fortify Your Heart – A Shield Against Diabetes
Reducing the risk of heart disease is essential for individuals with diabetes. Here are key strategies:
Championing Healthy Lifestyle Habits: Embrace a balanced diet rich in fruits, vegetables, lean protein, and whole grains. Minimise processed foods, sugary drinks, and alcohol. Maintain a healthy weight and engage in regular physical activity. Prioritize sleep and manage stress through relaxation techniques.

The Watchful Guardian: Periodic checks of vital parameters, including blood glucose, blood pressure, and cholesterol levels, are crucial for managing diabetes and preventing heart disease.
Diagnosing Heart Disease In People With Diabetes
Diagnosing heart disease in diabetic patients often involves various tests and assessments: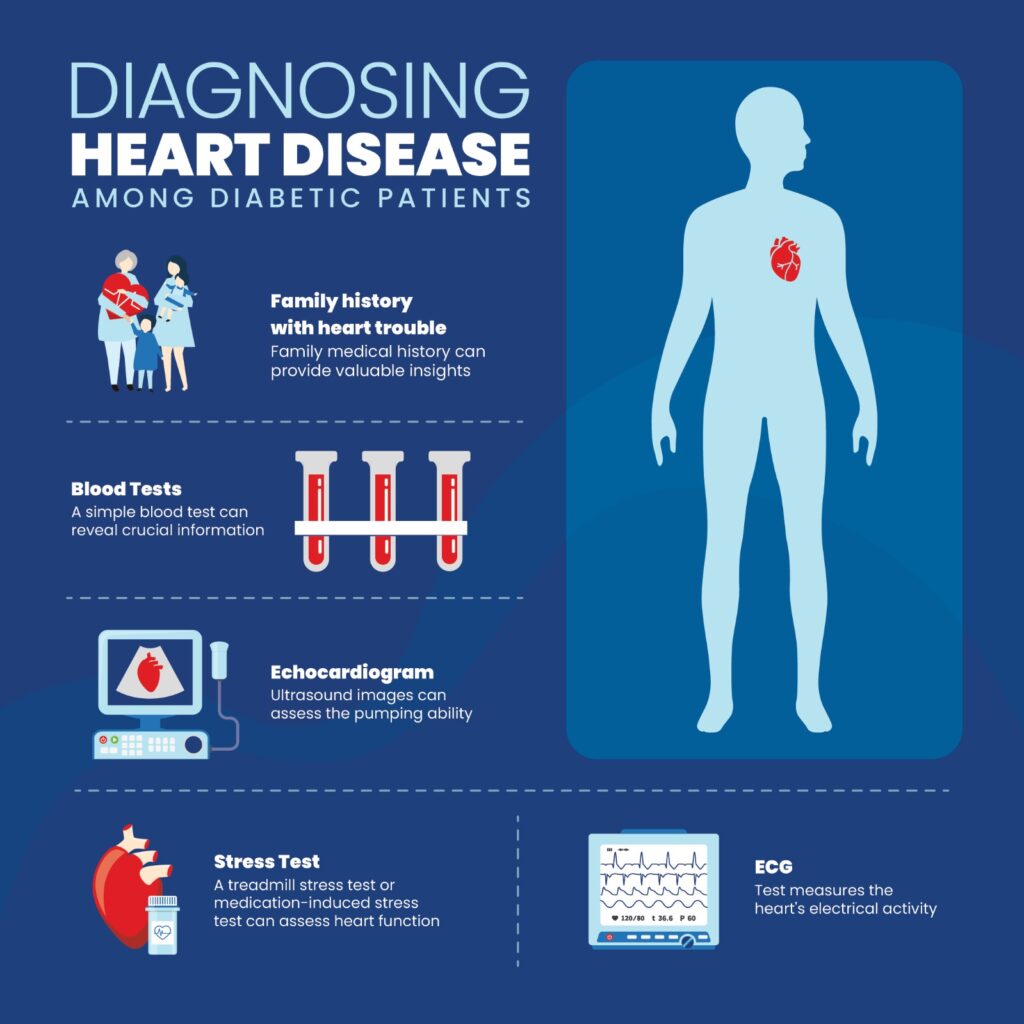 A Family's Tale: Information about family members with heart trouble can provide valuable insights.

Blood Tests: A simple blood test can reveal crucial information, such as elevated levels of C-Reactive Protein (CRP), serving as a red flag for increased risk. MFine's Ayushman health packages, meticulously crafted to offer comprehensive assessments not only for your heart but also for other vital organs and parameters that play a pivotal role in ensuring your overall well-being.

Electrocardiogram (ECG): This test measures the heart's electrical activity.

Stress Test: A treadmill stress test or medication-induced stress test can assess heart function.

Echocardiogram: Ultrasound images of the heart help assess its pumping ability
Symptoms of Heart Disease Among Diabetic Patients
Recognizing the warning signs of heart disease is vital:
Chest discomfort during physical activity.

Chest pain accompanied by fatigue or shortness of breath.

Resting heart rate consistently above 100 beats per minute.

Erectile dysfunction in younger men.
Causes of Heart Diseases Among Diabetic Patients
Causes of heart disease in diabetes include:
High blood glucose levels

Smoking

High blood pressure

Abnormal cholesterol levels

Obesity

Genetics or Hereditary
The Power of Early Diagnosis
Early diagnosis of heart disease among diabetic patients is crucial for timely intervention and treatment. Detecting and managing risk factors can help prevent complications and improve quality of life.
Ayushman Health Packages by MFine
For comprehensive heart health evaluation, consider Ayushman Health Packages by MFine. These specially designed packages include pathology tests and assessments tailored to keep your heart healthy, providing early detection and personalized guidance.
Understanding the link between diabetes and heart disease empowers individuals to take proactive steps toward prevention, early diagnosis, and optimal heart health management. By adopting a healthy lifestyle and monitoring vital parameters, individuals with diabetes can reduce their risk of heart disease and live healthier lives.
References:
https://www.cdc.gov/diabetes/library/features/diabetes-and-heart.html

https://www.hopkinsmedicine.org/health/conditions-and-diseases/diabetes/diabetes-and-heart-disease

https://www.niddk.nih.gov/health-information/diabetes/overview/preventing-problems/heart-disease-stroke*
Was this article helpful?

0

0
Love reading our articles?
Subscribe to never miss a post again!
Read more on
Health A to Z