Health A to Z
Last updated on 2022-11-24 16:06:54
Why is National Epilepsy Day celebrated?
Dr Spurti Kattimani

5 Min Read

Fact Checked
What is National Epilepsy Day?
National Epilepsy Day in India aims to create awareness about epilepsy among the general public. It is observed every year on November 17. On this day, various activities are held to educate people about epilepsy. 
It is a chronic non-communicable brain disorder affecting people of all age groups, most commonly young children and old age people.  Epilepsy affects about 50 million people worldwide.
In India, roughly over 10 million suffer from epilepsy*
This National Epilepsy Day, let's answer some common questions asked by people. Let's spread some awareness.

What causes epilepsy?
Epilepsy is a chronic disorder of the brain characterized by recurrent "seizures" or  "fits." It's caused by sudden excessive electrical discharge by damaged brain cells (neurons). 
Normally, the cells in your brain send and receive messages from all parts of your body in the form of electrical impulses. Epilepsy disrupts these rhythmic electrical signals causing sudden excessive electrical discharge, which leads to seizures, loss of awareness, movement disturbances (your muscles may twitch and jerk), and disturbances in your vision, hearing, taste, and other cognitive functions.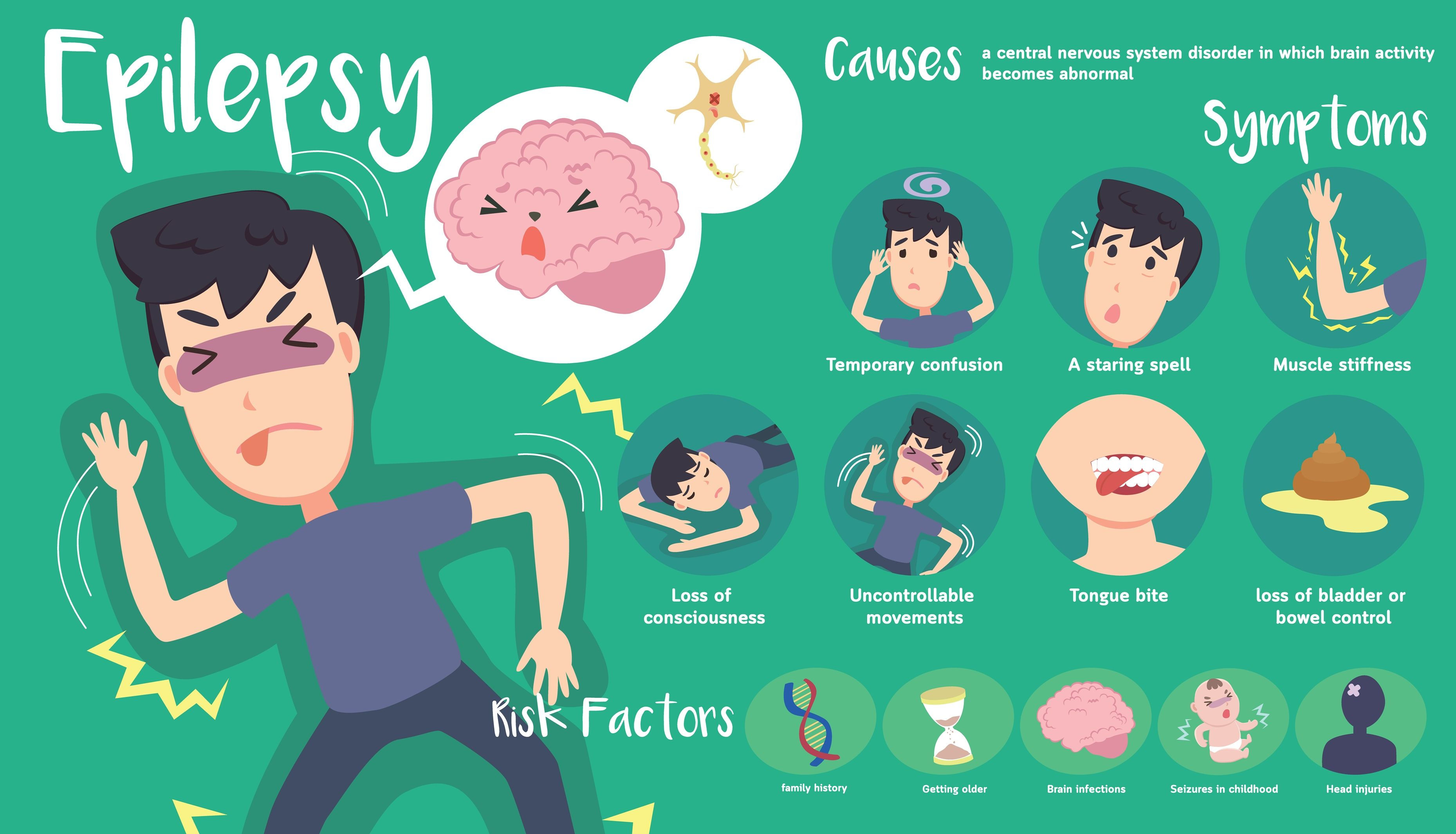 What triggers epilepsy?
Some commonly reported seizures triggers include
Stress

Sleep deprivation

Alcohol and drugs

Menstruation and Hormonal changes

Diet - starving, skipping meals, Dehydration, vitamin and mineral deficiencies

Physical overexertion

Certain illnesses (with or without fever)

Missed anti-seizure medication

Other medications
Why is being aware of epilepsy important?
In India, a lack of awareness and social stigma exists among various sections of society.
When people have seizures, people mistake it to be caused by demonic possession. As a result, epilepsy is still stigmatized and shunned in many cultures, and some are even imprisoned. Due to this, people tend to look for non-medical rituals to cure this condition. 
But that's not the case. Epilepsy is a medical condition that can be treated with medication. 
Further, spreading education and awareness about epilepsy will help people understand what a seizure looks like and what to do if someone has one.
What to do if someone is having seizures next to you?
Do not panic

Protect the person from injuries by removing any sharp objects like keys, pens, bags, etc., on and around the affected person

Do not restrain the person while having seizures.

Loosen any tight neckwear.

Check if something is in the mouth, like food or objects, and remove it before he chokes on it. 

Put something soft like a cushion or rolled clothes under his/her head to prevent head injury

Gently roll the person to one side after the seizure ends.

Stay with the person till he/she recovers

Call for medical help
The more people understand about epilepsy, the less people living with this condition have to fear discrimination or keep their epilepsy hidden in the shadows.
What are the causes of epilepsy?
There are many causes of epilepsy varying in different age groups. Here are some of the most common causes 
Brain malformations: Changes in the structure of the brain are mainly noticed in newborn babies 

Lack of oxygen during birth

Fever and infections

Head injury

Drug and alcohol misuse

Congenital conditions like Down's syndrome 

Genetic factors

Brain tumors
Get upto 50% off on MRI Brain Scan: Get same-day slots
.
How is epilepsy diagnosed?
Your primary physician or neurologist will perform the following investigations in order to diagnose the type of seizure, severity, and part of the brain affected.
Detailed medical history

Neurological examination

EEG

Brain imaging - CT scan, MRI
An electroencephalogram (EEG) test is used to detect abnormal electrical activity in the brain that might occur in epileptic patients.
During the test, small sensors are placed on your scalp to detect electrical signals created as brain cells communicate with one another.
A machine records these signals and examines them to see if they are unusual.
Read more about the electroencephalogram (EEG) test!
How does epilepsy impact a person's life?
Epilepsy impacts a person's life both physically and emotionally. 
You may feel anxious or depressed. These feelings can affect your well-being, concentration, and memory. 
People with epilepsy are also more prone to physical injuries due to a fall. 
WHO
estimates that the risk of premature death in people with epilepsy is almost three times greater than in the general population. The highest rate of premature mortality is found in low- and middle-income countries and rural areas. 
A great proportion of deaths related to epilepsy, especially in rural areas, are potentially preventable such as due to falls, drowning, and burns.

What happens if epilepsy goes undiagnosed?
The consequences of epilepsy can be quite severe and fatal. If left undiagnosed can result in 
Shortened lifespan of the patient

Bodily injuries

Social disability, and 

Neuropsychological and psychiatric impairment
Further, lower social interactions may lead to reduced marriage and employment opportunities.
Why are people scared of epilepsy?
You'd be surprised to know the number one reason why people are scared of epilepsy is because they don't really know when they'd next have a seizure attack. Hence people with epilepsy may develop anxious anticipation of upcoming seizures, causing fear and distress among them.
Which famous person has epilepsy?
Very recently, Bollywood personality Fatima Sana Shaikh opened up about her own struggles. 
Let's look at other celebrities with epilepsy
Lil Wayne
Profession: Songwriter, rapper, and musician
Theodore Roosevelt
Profession: 26th President of the United States
Tiki Barber
Profession: American football player
Elton John
Profession: Musician and songwriter
Can epilepsy be cured?
There are many options to manage the condition medically and keep the seizure attacks under control.
Depending on the severity of the condition, treatment includes
Antiepileptic drug (AED)

Surgical removal of a part of the brain responsible for seizures, and

Implantation of electrical devices in the body to help control seizures
While some people might need treatment for life, others may not need them if they know what their seizure triggers are and can avoid them.
Speak to your doctor and plan a suitable line of treatment for yourself.
Read these 7 facts about epilepsy
.
Why is purple the color of epilepsy?
The reason behind the choice of color comes from the historical use of lavender to treat people with epilepsy. The calming effect of lavender was thought to relax the person experiencing a seizure.
Who started the purple day?
The concept of purple day was initiated by Cassidy Megan, a nine-year-old Canadian girl motivated by her own struggle with epilepsy, on March 26, 2008.

References:
Consult a General Physician
Check out these videos
Symptoms of PCOS in Females
Covaxin and Covishield | Latest Updates
Difference Between COVID and Pneumonia
Who are Susceptible to Heart Attack?
Was this article helpful?

0

0
Symptoms of PCOS in Females
Read more on
Health A to Z
Love reading our articles?
Subscribe to never miss a post again!