Home
>
Skin & Hair
>
6 Effective Acne Scars Treatments Approved by Dermatologists
6 Effective Acne Scars Treatments Approved by Dermatologists
4 Min Read
Acne is a common skin problem faced by almost everyone at some point in their lives. It is estimated that about 85% of the population suffers from acne and it typically starts in their pre-pubescent years. For most, acne worries subside when they hit their 30s and, in some cases, people continue to suffer from acne even after that! Acne can be painful, embarrassing and cause long term damage to the skin in case of recurrent breakouts. It doesn't stop there! It leaves behind scars both physically and emotionally and sometimes affects the self-esteem of the individual. But hey! All's not lost. There are ways to combat acne scars and treat them effectively.
What causes acne scarring?
When the pores on the skin are clogged with excess oil, dirt or dead skin cells, the bacteria present on the skin could get trapped there and lead to lesions that are called acne. To learn more, check out our blog on acne. Acne leads to inflammation and causes damage to the facial tissues. The body fights off the infection, repairs the affected tissue using collagen and restores it to its natural state. In some cases, the damage may not be reversible completely, leading to scar formation.
What can you do to prevent acne scars?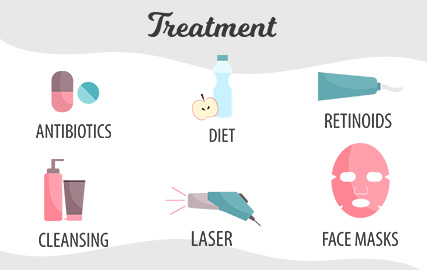 Following a proper skincare regime, not touching the affected area and resisting the urge to pop pimples can help a long way in preventing scar formation. Also, removing makeup before going to bed, having a healthy and balanced diet, exercise and using a mild soap to cleanse the face can help you maintain glowing skin. Acne could be due to poor hygiene, hormonal problems or drug induced. Getting to the underlying cause is important to treat it effectively.

Topical Solutions that help in treating acne scars
Sometimes, when the breakouts are really bad, commonly used natural remedies may not be enough. Stronger remedies such as topical ointments/creams or lotions that contain components such as retinol, alpha hydroxy acids, lactic acid, salicylic acid and products with high SPF are effective in treating acne scars and lightening their appearance.
Alpha Hydroxy Acids – Help in exfoliating the outer skin and remove rough skin. Not only that, they repair discolored skin thus lightening the acne scar.
Retinoids –Improve the skin texture thus making the scarred region smoother and less noticeable. Topical retinoids help reduce the discoloration as well.
Lactic Acid – Can be used in the form of chemical peels to help smoothen the skin and lighten the scars. They are available as peels, serums, and ointments.
Salicylic Acid – Is used for treating acne and are found in most skin care components. It reduces the swelling, inflammation, and redness and prolonged use can help lighten the scars or remove them effectively.
It is important to consult a dermatologist before opting for any of these solutions as they can suggest the right product/concentration and the duration for which it has to be used based on your skin type and scarring.
Other treatment options for acne scars
In cases of severe scarring, topical solutions might not work and you might have to opt for treatment options that may involve procedures that need to be performed by experts. With advancement in technology and science, there are a number of cosmetology procedures that help in treating severe acne scars and they are:
Dermabrasion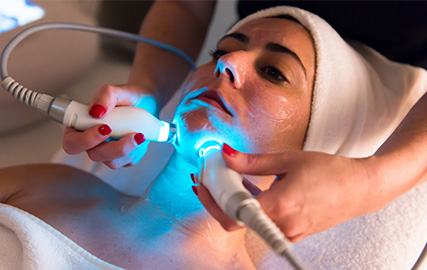 Dermabrasion involves rolling a wired brush with fine needles on the skin to remove the outer layer. It is used in cases where there is severe scarring. The procedure helps make deep scars less noticeable and completely removes surface scars.There is yet another technique that involves needling or rolling wherein microneedles are used on the affected area to stimulate the skin underneath and cause regeneration of tissues. The results in this technique are less noticeable and may require repeated sessions. The dermatologist usually chooses the procedure based on the extent of scarring and skin type.
Soft tissue fillers
Scars are indentations on the skin. Filling them with collagen or fat extracted from the body can help smoothen the scars thus reducing their severity. Soft tissue fillers produce temporary results and may need to be repeated time and again for the best results.
Botox injections
These injections need to be administered periodically. Botox injections help with puckered scars.
Skin Grafts
This process involves repairing the acne scar by surgically stitching it together or using a skin graft. This procedure is known as punch excision. Subcision is yet another surgical technique that involves loosening the fibers beneath the acne scar to improve its appearance.
Laser Treatment for acne scar removal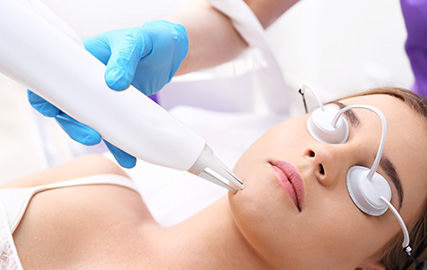 This is perhaps the most popular cosmetology procedure wherein a laser is employed to improve the appearance of the scars. The laser removes the outermost layer of the skin and helps stimulate the production of new skin cells. It is typically an outpatient procedure and done under topical anesthesia. In very rare cases, the patient is completely sedated before the procedure. The treatment is effective in treating acne scars and may need multiple sittings.
Also, there are treatments that use other energy sources to make the scars less noticeable and they work without removing the epidermis. Treatment results generally vary from person to person and are based on skin type, the extent of scarring and the skill of the doctor performing it.
Acne scarring can be an emotionally traumatic experience. It is important to consult a doctor to choose the right treatment option to get rid of your scars. At mfine, you can consult online with India's best dermatologists and get a permanent solution for your acne woes.
Was this article helpful?

0

0
Love reading our articles?
Subscribe to never miss a post again!