Health A to Z
Last updated on 2022-11-02 16:02:31
What is pulse polio?
Dr Pavani Battula

3 Min Read

Fact Checked
The pulse polio program is a vaccination campaign launched by the Government of India in 1995 to eradicate polio by the end of 2020.
Its objective was to administer polio drops to all children under the age of five and aimed at achieving 100% coverage. (Prior polio programs didn't achieve 100% coverage)
The National Immunization Schedule (NIS) mandates a dose of three drops to be given orally to every child, i.e., one dose each at 1.5, 2.5, and 3.5 months of age. Finally, a booster dose is provided at the age of 1.5 years.
When did polio start in India?
Historical documents and artifacts date back polio to at least 1403 BC in Egypt. But it was only in 1908 when fear found a name in polio when it began reaching epidemic proportions in the United States. 
By the mid-20th century, polio had spread to the rest of the world, including India. And by the early 90s, India accounted for over 60% of global polio cases (WHO).
Polio targeted children under age five. Spread by fecal, oral, and person-to-person transmission, it launched an attack on the nervous system, in some cases leading to paralysis in a matter of hours.
Before the pulse polio campaign, the government launched other programs, but they didn't achieve 100% coverage of children.
Timeline of polio immunization programs in India
1972 — 

Expanded Program on Immunization (EPI)

was launched. By 1999, it could cover only around 60% of infants.

1985 —

Universal Immunization Program (UIP)

was launched to cover all districts of the country. This program led to significant coverage of the population but still didn't achieve 100% coverage. The number of reported cases too declined from thousands in 1987 to 42 in 2010.

1995 —

Pulse Polio Immunization Program

with

Universal Immunization Program (UIP)

was launched and aimed at 100% coverage of children.
The pulse polio program achieved tremendous success in India. The last case of polio in India was reported in Howrah, West Bengal, in 1991. On 27th March 2014, the WHO declared India a polio-free country.
24th October is observed as World Polio Day globally.
Does it mean we no longer need the polio vaccine?
Even though polio has been eradicated in India, it does not mean we stop taking vaccines against polio. Getting vaccinated is the only sure way to keep polio in check.
Where to find polio drops near me?
Polio drops are available in most government hospitals across India. Get in touch with them to book your appointment. Usually, each vial has drops to vaccinate 10 to 12 children. As a result, sometimes, only when the required number of slots are filled will the hospital be able to give you an appointment. However, this is not the case every time. Having said that, it's best to get in touch with them in advance before taking your child there.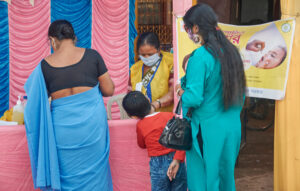 If you're from Karnataka, you can use the Nearby vaccination centers app to find polio centers or booths near you.
FAQs
Does polio still exist today?
Unfortunately yes. Even though it stands eradicated from India, it's still present in some Asian countries. Therefore, just ensure to keep your child vaccinated.
Where is polio still found in 2022?
Today polio is endemic in only two countries, namely Pakistan and Afghanistan. But even in these countries, the number of cases has drastically decreased due to their immunization programs. 
Source: worldpopulationreview
Can you get polio if you are vaccinated?
If your child has taken all three doses plus the booster dose, it's unlikely they'd get polio. 
Can you recover from polio?
Children with milder symptoms can recover in a couple of weeks. But others with severe symptoms may be paralyzed, or sometimes polio can even be fatal.
Does the polio vaccine last for life?
Once you're vaccinated and over five, you're less likely to get polio.
How is polio treated today?
There is no cure for polio. Treatment only involves supportive treatments such as pain relievers and portable ventilators to assist breathing. Therefore getting vaccinated is the only sure way to stay protected against the polio virus.
How can you avoid getting polio?
Poliovirus spreads through the fecal-oral route and person-to-person transmission. Therefore to stay protected, you must maintain good hygiene, including washing your hands with soap and water. 
But the best way is to get vaccinated.
When was the last case of polio in the world?
Unfortunately, polio still exists in the world. However, in India, the last case was reported in 2011 in West Bengal.
Follow this vaccination schedule for your child
Have more concerns about your child's health? 
Consult a General Physician
Check out these videos
Symptoms of PCOS in Females
Covaxin and Covishield | Latest Updates
Difference Between COVID and Pneumonia
Who are Susceptible to Heart Attack?
Was this article helpful?

0

0
Symptoms of PCOS in Females
Read more on
Health A to Z
Love reading our articles?
Subscribe to never miss a post again!