Mango Curry Recipe by Dt. Bhawi
2 Min Read
Fact Checked
The season of the king of fruits is here. Are you someone who loves mangoes? But avoid eating mangoes due to various myths like it causes skin breakouts, it's not good for one with diabetes, it leads to weight gain, and so on. Well, as per dietitians and doctors, mangoes are good sources of vitamins and people should enjoy the benefits of this seasonal fruit. However, they should watch out for the portion size and have it while balancing other micro-nutrients from other food sources. Also, mangoes are a good source of Vitamin A & C which promotes healthy skin. So, don't be guilty of relishing mangoes this season. Still, have doubts about eating mangoes? Consult an expert now!
Our expert dietitian Bhawi has come up with some healthy and tasty mango recipes for all the mango lovers. Here's one around Ripe Mango Curry.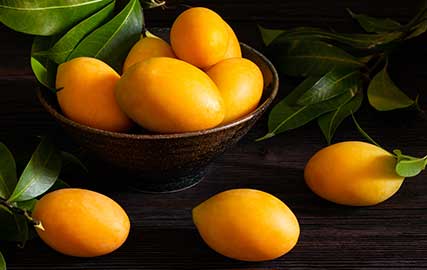 Ripe Mango Curry Recipe – Ingredients:
3 or 4 ripe mangoes (Sindhura or other smaller varieties)

1-2 green chillies

1-2 stems of curry leaves 

20 gm of grinded coconut scrapings ( 1-2 tablespoons) 

200 ml water 

1 tsp turmeric powder 

1 tsp pepper powder

2 tsp jaggery 

50-100 gm of churned curd or unflavored yogurt diluted with water 
Tempering :
2-3 red chillies 

1-2 stems of curry leaves 

2-3 gm of ginger slices 

2-3 shallots 

½ tsp of mustard seeds

1 tsp of cold pressed oil
Mango Curry Recipe – How to prepare?
Step -1 
Clean the ripe mango, peel off the skin, and slice it. Add it into a pan with thicker bottom 

Put the pepper powder and 200 ml of water along with the coconut paste

Cook the mixture till the mango becomes mushy. 
Step – 2 
Into the cooked mixture add chillies, pepper, and Jaggery

Boil it for some time till all the flavors are absorbed into the mango

Once the mixture is cooked, Allow it to cool for some time

Add curd into the cooked mango mixture – do not heat the curd – (if heated it will curdle and ruin the taste of entire mixture)

Mix it for 2-3 minutes and keep it aside.
Step -3 
Heat up the oil 

Add mustard seeds and let it splutter 

Add up shallots, red chillies, ginger slices and curry leaves

Saute it for 1 min and add this tempering to the curry. 
You can consume this mango curry with rice or even alone. It is considered as a dessert or a sweet curry with the goodness of curd. Watch out this space for more mango recipes by Dt. Bhawi! If you prepare this recipe, don't forget to share with us on social media. 
Was this article helpful?

0

0
Love reading our articles?
Subscribe to never miss a post again!