Dandruff Treatment: Ditch The Itch & The Flake
3 Min Read
An itchy and flaky scalp is a very common condition that affects a lot of us. While dandruff is obviously not life-threatening but the itchy scalp and flakes can be irritating and might be a source of embarrassment. Dandruff can be easily treated and the milder cases need nothing more than regular shampooing with soft hair care products. For chronic cases, there are medicated shampoos which should be used after consulting a dermatologist.
Symptoms 
The main symptom of dandruff is the occurrence of white flakes which are often oily in appearance. These flakes are dead scalp skin that can be noticed on hair and shoulders. It also results in the itchy scalp which can also lead to hair loss. Weather conditions that contribute to dryness of skin can increase the condition such as during fall and winter.
Causes 
An overview of the various causes of this skin condition is mentioned below.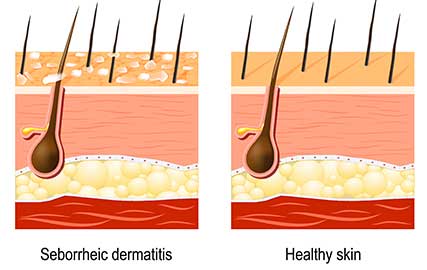 Irritated and oily scalp-

This is one of the most common causes of dandruff. An Irritated scalp is marked by greasy, red patches which are covered by white or yellowish flakes. This condition is also known as seborrheic dermatitis and it might affect other areas of the body which are rich in oil glands such as the nose, behind the ears, groin and the breastbone region.

Not maintaining scalp hygiene-

Not shampooing and oiling the hair for long durations of time can result in the buildup of oil and skin flakes, resulting in dandruff.

Fungal infection-

A yeast-like fungus Malassezia is found on the scalp of most adults. This fungus in certain cases can irritate the scalp and result in excessive skin growth. The excess skin flakes off and gets deposited on the hair and shoulders.

Dry skin- The flakes from dandruff caused by dry skin are smaller and less oily than those caused by other causes. Dry skin is a very common condition and can happen to other areas of the body as well.
Sensitivity to hair products- Sensitivity to certain hair care products such as dyes and certain types of shampoos might result in the red and itchy scalp which might result in flaking.
Nutrition- A balanced diet helps in keeping the hair and scalp healthy. Foods that cause more oil production such as bad fats and dairy should be reduced or avoided. Additionally, a deficiency of vitamin B can result in dandruff.
Risk factors
There are certain risk factors that make one more susceptible to this condition. Some of these risk factors are-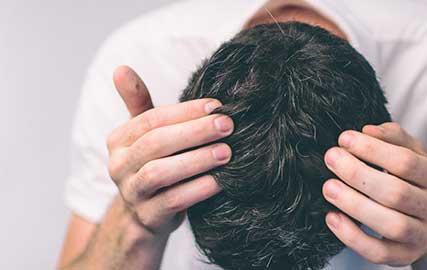 Age-

Dandruff usually shows itself during young adulthood and continues right up to the middle age. However, older adults get affected by dandruff too and the problem can sometimes persist for lifelong.

Higher in males- Since men have more dandruff than women in general, there is some research pointing towards to connection between dandruff and male hormones.
Oily hair and scalp-

The above-mentioned fungus, Malassezia feeds on the excessive oil in the scalp. Hence, having an excessively oily hair can lead to dandruff.

Kinds of illnesses- Adults with neurological conditions like Parkinson's and auto-immune disorders like HIV are more likely to suffer from dandruff.
Sharing towels and combs-

Sharing combs and towels with those who have fungal infections can trigger dandruff in others.
Lifestyle changes
Apart from taking care of diet and hygiene, there are certain lifestyle changes one can make to manage this skin condition.
Stress management- Stress affects the overall health of an individual in a number of ways. It can trigger or worsen the condition of dandruff.
Getting enough sun-

Light exposure to the sun without sunbathing is beneficial for dandruff. Sunbathing is not recommended as the ultraviolet rays can damage the skin and scalp.

Shampoo often-

For those with an oily scalp, shampooing regularly or periodically can help them reduce dandruff.
At MFine, you can consult online with top dermatologists and receive an accurate diagnosis for your scalp conditions. Download the MFine app and have healthcare on your fingertips..
Was this article helpful?

0

0
Love reading our articles?
Subscribe to never miss a post again!