Health A to Z
Last updated on 2021-02-26 20:47:09
Are You At Risk Of Having Lung Cancer?
Dr. Abhishtita Mudunuri

3 Min Read
Cancer is a chronic, debilitating disease that is probably the second word that starts with a 'c' after COVID-19 that induces dread and anxiety in people. 
While cancer is a great theme that is often repeatedly delved into by moviemakers (and obviously protagonists die), it has led to the looming of a constant gloomy aura around the topic. And somehow, despite the pandemic, cancer has always been in the news. 
From Sanjay Dutt being diagnosed with lung cancer and 'Black Panther' star Chadwick Boseman passing away due to colon cancer, there is more sensitization towards the topic than ever- and rightly so. Cancer cases are on the rise and are projected to exponentially increase in the coming decade.
What is lung cancer?
Your lungs are sponge-like organs that help in respiration, ultimately playing a major role in ensuring the reach of oxygen to every living cell in your body. 
Cancer that starts in the lungs is called lung cancer. The tumour is called 'malignant' when it aggressively grows and spreads to the surrounding structures and other organs, invading tissues and causing various symptoms in its wake. 
Based on the microscopic appearance of these cancer cells, healthcare professionals classify lung cancer to
small cell carcinoma and non-small cell carcinomas
.
Over 80%
of cases of lung cancer are of the non-small cell type. 
Now, let's take a look at some facts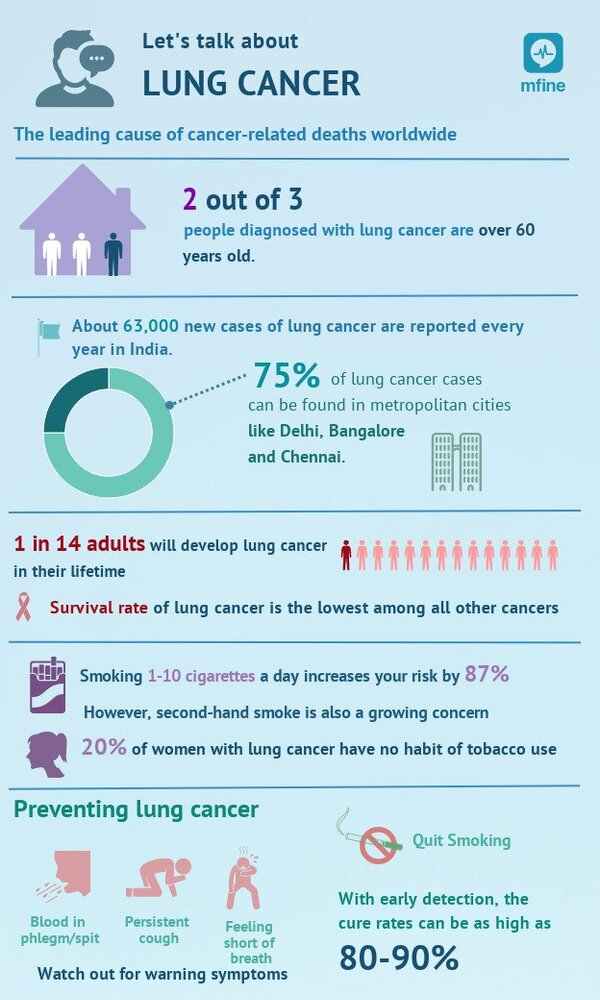 How can one know if they are at risk?
While it has been estimated that
at least 1 in 14 adults
will have lung cancer in their lifetime, there are a few risk factors that have been identified to contribute to a significant increase in the chances of having this disease.
Here are the
top 7 risk factors
associated with lung cancer:
Smoking is the leading factor that could increase your risk by 20 times
Second-hand smoke

can also contribute to the development of this debilitating disease

Exposure to air pollution is very harmful to the respiratory system as it can not only trigger allergies and cause infections but can also increase your chances of developing lung cancer. The increasing rate of cancers in metropolitan cities is a testament to the same
Radon and asbestos exposure
Previous radiation to the chest area
Presence of other lung diseases

such as emphysema, tuberculosis, etc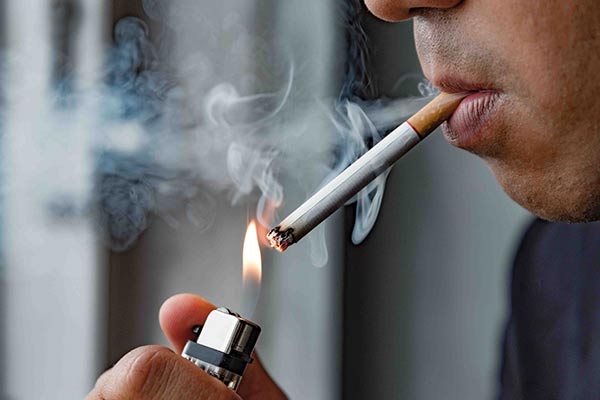 How can one prevent lung cancer?
It is a no-brainer that the
first step
would be to
quit smoking and tobacco use.
It has been observed that lung cancer is usually detected in its later stages. So, it would be worthwhile to keep an eye out for some of the common symptoms, such as persistent cough or shortness of breath, blood in the phlegm or spit and lingering chest pain to help facilitate early intervention.
While some of these symptoms overlap with other diseases of the heart & respiratory infections like COVID-19, a pulmonologist will be able to help arrive at a diagnosis if you are experiencing any of these symptoms. This disease is usually diagnosed with the help of CT scans, sputum analysis and biopsy. You must reach out to your doctor even if you have no symptoms, in case you have a history of lung cancer in your family. 
Consult a Pulmonologist
Check out these videos
Symptoms of PCOS in Females
Covaxin and Covishield | Latest Updates
Difference Between COVID and Pneumonia
Who are Susceptible to Heart Attack?
Was this article helpful?

0

0
Symptoms of PCOS in Females
Read more on
Health A to Z
Love reading our articles?
Subscribe to never miss a post again!