Types Of Posture: How To Correct Bad Posture?
5 Min Read
Fact Checked
Types of posture — Has anyone ever told you, "Stand up straight," or scolded you for slouching at a family dinner? These comments may be annoying, but isn't there some truth in them? Your mom would have reprimanded you, probably because you didn't reflect good body language. 
Bad posture reflects your mental state and confidence. It also shapes people's perceptions of you. But, well, these are some social side of things. What about the physical aspects of having bad posture? Does bad posture affect my health? How do we correct them? What are the types of posture? Let's find out.
How can posture affect my health?
For example, when you go to the gym to lift weights, what does your instructor tell you? 
Don't they always insist on the correct posture, form, and techniques? Poor posture causes extra wear and tear on your muscles, ligaments, and joints and this can cause injuries. It's the same with our bodies when we sit or stand — if your posture isn't right, your muscles will have to work harder, against the earth's gravity, to keep you upright and balanced and in the process may cause injuries.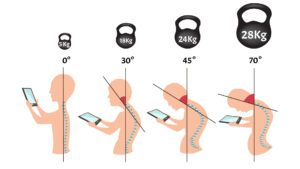 Similarly, when you habitually slump in a chair like you always do, your muscles become less flexible, tight, and inhibited. Over time, these dysfunctional adaptations can cause pain. And when pain develops, you may find that performing simple activities like grocery shopping or driving can become very difficult. Poor posture also leads to 
– Muscle pain and stiffness
– Joint pain and stiffness
– Neck, back, or head pain and 
– Possible injuries during working out
Therefore, the cost you pay for a poor posture can be high.
How do I know if my posture is correct?
There are five main types of posture. Which one is yours?
(1) Good posture
:
This type is the most optimal and efficient posture. Here your spine is in alignment with your head and your limbs, as shown in the picture. When standing, if your ears are lined up over your shoulders, your shoulders over your hips, and your hips aligned with your ankles, then you have a good posture. 
Similarly, good sitting posture includes:
– An engaged core.
– Two flat feet on the ground.
– Upright shoulders.
– Even weight distribution on both sides of your hip.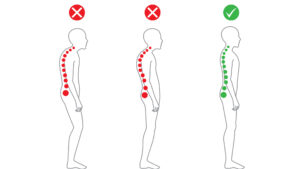 (2) Kyphosis:
It's also called the hunchback. It refers to an exaggerated curvature on your upper back region (thoracic spine).
It is generally observed among the elderly and people with osteoporosis. Among young people, kyphosis may develop due to Scheuermann's disease, infection, polio, chemotherapy, radiation treatment for cancer or even due excessive device use causing a poor posture.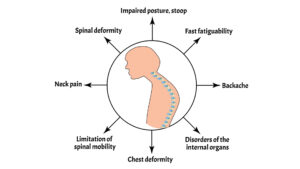 (3) Flatback:
Healthy spine has a natural "S" shaped curve, but when you have flatback syndrome, the spine loses the lower curve and becomes flat. As a result, the spine becomes imbalanced, causing the person to lean forward.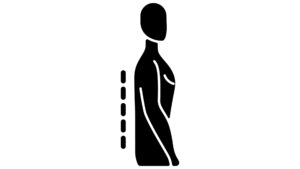 (4) Swayback:
This condition is also called Lordosis or Hyperlordosis. It's characterized by exaggerated curves in the spine. When you have a swayback posture, it may look like you are sticking out your stomach and buttocks. It also causes you to appear leaning back when you're standing. 
This condition causes back pain & discomfort and affects your ability to move. Lordosis can be caused by
– Osteoporosis
– Kyphosis
– Pregnancy
– High heels
– Sleeping on stomach and 
– Obesity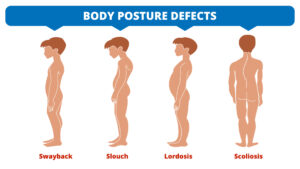 (5) Forward head:
Normally, your neck is designed to stay vertical to be able to support the weight of your head. But in this condition, also commonly called the "tech-neck," your neck and head are in a forward position causing stiffness and pain in your neck, shoulders, and back.
When you constantly hunch over your phones and computers all day, you may end up with this condition.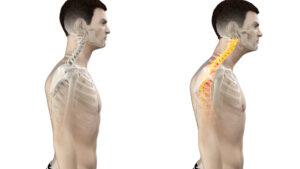 Types of posture: Can bad posture be corrected?
Yes, in most cases, the cure is very simple. It involves being aware of your everyday habits, such as standing, sitting, or sleeping and making the right changes. Additionally, you may have to
– Make adjustments to the way you sit in the chair.
– Consider changing your mattress. 
– Avoid sleeping on your stomach.
– Make adjustments to your workstation.
– Make the right adjustments to how you look at the screen and cell phones.
Other general fixes include
– Practice walking, sitting, and standing correctly.
– You may have to avoid wearing heels.
– Avoid sitting for prolonged periods of time, take a break every one hour for 10-15 minutes.
How can I improve my posture when sitting?
Here are a few tips on sitting correctly:
– When sitting on a chair, make sure both feet touch the floor.
– Sit straight on a chair. Avoid slouching.
– Keep your head, neck, shoulders, and hips vertically aligned.
– While working on your desk station, make sure your viewing angles are horizontal to the screen. Do not tilt your head up or down. For this, you may have to raise the height of your chair or use a laptop stand.
– Be mindful of the viewing distance. Not too far, not too close.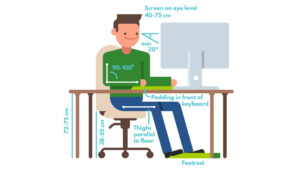 How can I improve my posture when standing?
Having the right posture makes you look and feel more confident. Here are a few tips on standing correctly:
– Stand up straight and tall.
– Make sure to keep your head, shoulders, hips, and feet vertically aligned.
– Avoid slouching.
– Look straight. Do not tilt your head down while standing.
– Maintain eye contact while speaking to people.
– Avoid leaning on one leg. It may feel comfortable but avoid the urge to do so.
– Avoid hunching or "text-neck" as much as possible.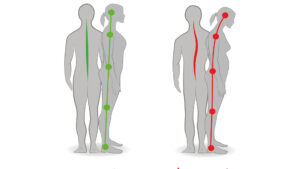 Read more on 10 Must Exercises for Every Corporate Worker | Back, Neck, Eye Exercises.
When to see a doctor?
If your posture continues to be bothersome or problematic despite making all necessary changes, or if the pain doesn't go away in a week, you need to see a doctor. The doctor may help diagnose an underlying condition such as arthritis, scoliosis, or osteoporosis.
Consult an Orthopedician: Doctors for Joints & Bones now!
Feel free also to consult one of our General Physicians available online if you have a fever, cough, or cold. Download the MFine app and consult the best healthcare professional near you.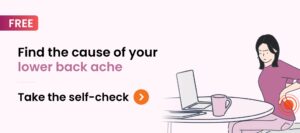 Was this article helpful?

0

0
Love reading our articles?
Subscribe to never miss a post again!