Home
>
Coronavirus
>
Pfizer-BioNtech, and Moderna: Are mRNA Vaccines Effective?
Pfizer-BioNtech, and Moderna: Are mRNA Vaccines Effective?
3 Min Read
Fact Checked
During the COVID-19 pandemic, another type of vaccine called Messenger RNA (mRNA) vaccine was approved under EUA in the United States in order to protect against the novel virus. Just like all vaccines, mRNA vaccines too produce the desired immune response when the doses are administered. The vaccines reduce the severity of the illness should an individual contract it. Read on to learn the different mRNA vaccines, how they work and if they are safe and effective.
How do mRNA vaccines work?
While other vaccines use the weakened/inactivated virus approach or using a vector with part of the virus proteins, these vaccines help your cells learn how to make protein that would trigger an immune response inside an individual's body. The immune response further produces antibodies which is what defends the body should it contract the COVID-19 virus. these vaccines do not use live viruses, and therefore can not directly cause a COVID-19 infection. As per the CDC, the vaccines don't affect DNA either.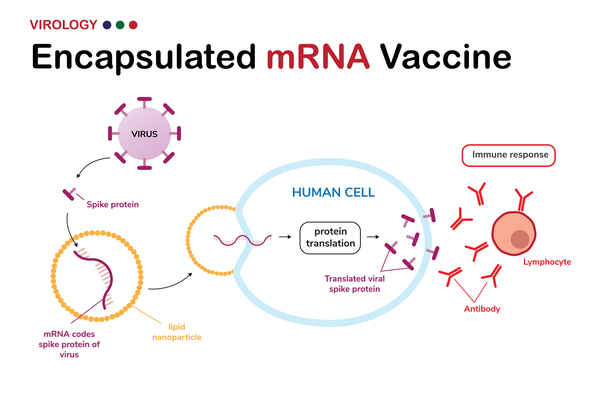 The FDA has authorized the use of two mRNA COVID-19 vaccines, Pfizer-BioNtech, and Moderna for emergency usage.
mRNA vaccine

Effectiveness

Doses 

Vaccine Eligibility 

Side Effects

Pfizer-BioNtech

95%

2 doses, 21 days apart*

>12 years

– Pain at jab site




– Body aches, muscle pain, chills




– Fatigue and

tiredness




– Fever




– Swollen lymph nodes




– Nausea and vomiting 

Moderna

94%

2 doses, 28 days apart*

>18 years

– Pain at jab site




– Body aches, muscle pain, chills




– Fatigue




– Fever




– Swollen lymph nodes




– Nausea and vomiting 

*For both the above vaccines you are FULLY vaccinated two weeks after the second dose. 
mRNA vaccines and Variants
With the emergence of new variants, these vaccines are still effective. Pfizer-BioNtech is 95% and 96% effective in preventing hospitalizations and death against Alpha and delta variants respectively, while Moderna is more than 90% effective against both the variants.
Note: As per reports, there have been heart concerns with thse vaccines, after the second dose. Experts suggest that should you experience symptoms such as chest pain, uneasy and irregular breathing, shortness of breath, fast beating heart or a pounding heart, contact a doctor immediately. The other side effects mentioned in the table above should subside after 4-5 days for each dose. Should your post-vaccination symptoms get worse such as a fever not breaking, or unbearable pain at the jab site, consult a physician.
Other mRNA vaccines
Curevac is another vaccine developed by a German based company, and is under trial. But it has less efficacy when compared to other mRNA vaccines which at around 50-70%
Are mRNA vaccines safe and effective?
Yes, the above vaccines have been approved by the World Health Organization and are deemed safe and effective. They, just like other vaccines, can cause post-vaccination symptoms such as fever and body aches which is the body's normal response to most vaccines.
Who should get the COVID-19 Vaccination on priority?
Health workers

Those above the age of 45

Those with chronic illnesses

Those with medical conditions such as high blood pressure (hypertension), diabetes, kidney disease, asthma or other pulmonary related condition and chronic infections

Those that have a suppressed or compromised immune system 

Those wh

o are

lactating

and pregnant. India has approved vaccinations for lactating mothers. Pregnant women should talk to their doctors before getting the jab don

e

Those who have cancer or  undergone organ/stem cell transplant
Was this article helpful?

0

0
Love reading our articles?
Subscribe to never miss a post again!