Home
>
Health A to Z
>
What are some effective knee exercises for osteoarthritis patients?
What are some effective knee exercises for osteoarthritis patients?
4 Min Read
Fact Checked
Exercise for knees with osteoarthritis — patients with osteoarthritis have a lot of pain and joint stiffness. As a result, the options for exercises for people with osteoarthritis are limited. Exercise can seem very difficult and painful.
However, it is recommended that people with osteoarthritis exercise because exercise helps in reducing pain and joint stiffness and improves the range of motion of the knee joint. This is in addition to the other benefits of exercise, such as better mood, sleep quality, etc. 
10 Exercises for knees with osteoarthritis
Below are a few exercises for strengthening and stretching the muscles around the knee joint.
(1) Walking
Walking comes with a host of benefits. One major benefit is that it improves blood circulation, wards off heart diseases, lower blood pressure, and strengthens your heart. It's free and easy on the joints. 
Walking also lowers your risk of fractures and tones your muscles supporting the joints. Try walking as much as you are able to.
(2) Quadriceps set
This exercise involves tightening your thigh muscles, also called the quadriceps. 
Start by lying on your back. Keep both legs straight and relaxed. Tighten the thigh muscles of your left leg for about five seconds. Relax. Repeat with the other leg. 
Do two sets of ten repetitions each.
(3) Hamstring stretch
Stretching makes you more flexible and increases your range of motion. It also lowers your chance of hurting yourself.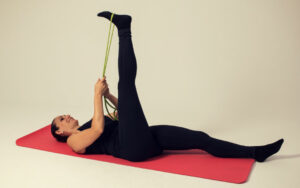 Lie down on your back when you're ready to stretch your hamstring. Wrap your right foot with a bed sheet. Use the sheet to help pull up the leg straight. Hold for 20 seconds, and then bring the leg back down. Do this twice. Alternate with the other leg
(4) Straight leg raise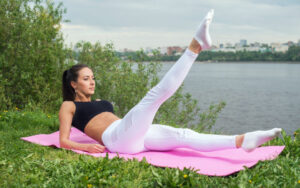 Lay on the floor with your elbows supporting the upper body. Bend your left knee and put your foot on the ground. Keep your right leg straight and your toes facing up. Tighten your thigh muscles and lift your right leg up.
Stop for 3 seconds. Hold your thigh muscles tight and slowly lower your leg to the ground. Touch again and raise. Do two sets of ten reps each. After each set, switch legs.
(5) Prone leg bend
You might want to put a small flat pillow under your stomach and hips during this exercise. 
Lying on your stomach, bend your knee and bring your foot close to your buttock in a smooth and controlled way. If your back or knee hurts in any way, stop and put your foot back where it started. Repeat again in a slow, smooth manner. Do this exercise with both of your legs.
(6) Sitting straight leg raise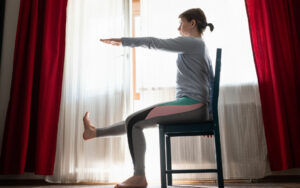 Straighten your back and sit back in your chair. Straighten and lift one of your legs. Hold, slowly count to ten, and then lower your leg slowly. Repeat ten times with each leg.
(7) Aerobic exercises
Try to do aerobic exercises for at least 150 minutes a week. This could be five times a week for 30 minutes. If you can't find 30 minutes, break it up into ten-minute chunks and do them throughout the day. You can start with short, fast walks, going up and down stairs, or riding a stationary bike.
As your stamina grows, try 30- to 45-minute workouts. People with osteoarthritis can benefit from walking, biking, swimming, tai chi, yoga, and water aerobics. The soothing warmth and buoyancy of the water make it a great place to work out. It's a gentle way to exercise joints and muscles, and it also helps build muscle strength by acting as resistance.
(8) Static or stationary cycle
This is one of the best exercises for arthritic joints. Here's how to safely ride a stationary bike.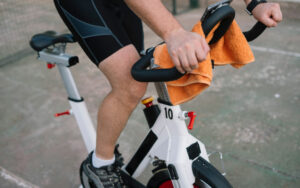 Start small. Try to ride for 20 minutes at least three to five times a week. You don't have to do it all at once. You can get on for five minutes at a time. Don't try to push yourself too hard at first. If your range of motion is limited, push the pedal as far as possible and then bring it back.
Stop riding if you have sharp or shooting pain.
(9) Sit/stand
Sit in a chair. If the chair is too low, put a cushion on the seat to help you get up. Next, stand up and then sit back down without using your hands for support. Make sure that every move you make is slow and deliberate. Repeat until you can't do it anymore. Take a one-minute break, then do it again two more times. 
(10) Pillow squeeze
This move strengthens the insides of your legs, which helps support your knees. To start, lay flat on your back and bend both knees. Place a pillow in between the knees.
Now squeeze the pillow between your knees by pressing your knees together. Hold it for five seconds. Relax. Do two sets of ten reps each. After each set, switch legs.
Disclaimer: Not every exercise mentioned here may suit everybody. If you can't do any exercise or feel a sharp pain, stop and consult your doctor.
Have more questions? Get in touch with one of our physiotherapists online.
Read more on the five types of arthritis and their symptoms.
References:
https://www.webmd.com/osteoarthritis/ss/slideshow-knee-exercises
Was this article helpful?

0

0
Love reading our articles?
Subscribe to never miss a post again!
Read more on
Health A to Z