COVID-19 And Obesity: The Link Between Both Pandemics
3 Min Read
Fact Checked
COVID19 or Coronavirus is an infectious disease spread by air droplets.  It was the cause of the 2020 pandemic which led to massive health problems and economic suffering around the world. It also has diverted attention from prevention and care of lifestyle diseases to infectious diseases.  Now with the emergence of mutants and variants, the pandemic is likely to go on for a long time. The virus enters through airways and affects multiple organs directly and indirectly. Clinical spectrum ranges from lack of symptoms to severe life threatening complications. Certain individuals are more susceptible to the infection than others. And the disease severity also depends on certain factors. One of the risk factors is Obesity, which increases the percentage of worst outcomes in patients. So what is the link between COVID 19 and Obesity?
What is Obesity?
Obesity is abnormal excessive accumulation of fat in the body. It is caused due to the imbalance between calories consumed and calories utilized. Increased calorie intake in the form of energy dense foods that are high in sugars and fats and lack of physical activity, leading a sedentary life causes calories to be converted into fats and stored in the body. Obesity is commonly measured in terms of BMI. If a person's BMI is more than 25, they are considered overweight and if it is more than 30, they fall in the obesity category.
| | |
| --- | --- |
| Category | BMI (Kg/m2) |
| Normal | 18.5-24.99 |
| Overweight | 25-29.99 |
| Obesity | > or equal to 30 |
 Obesity poses a risk for non communicable diseases such as heart diseases, diabetes, musculoskeletal disorders and malignancies.
How does Obesity increase the risk of severity of COVID-19?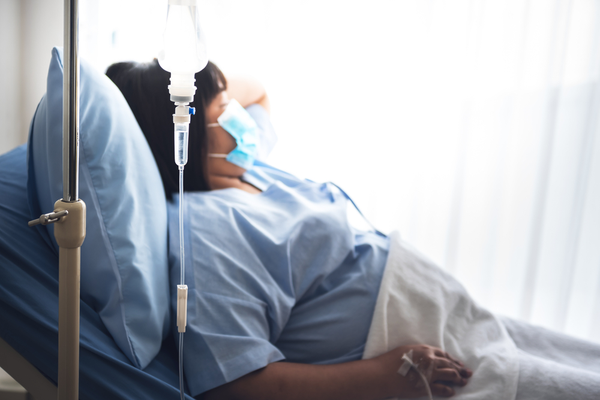 Fat usually gets deposited in the lean adipose tissue. But when there is excessive consumption of calories or less physical activity, fat starts to get accumulated around the organs which sets up the inflammatory process.

The fat cells secrete pro-inflammatory mediators and also change the way immune cells fight the virus.

The blood vessel lining usually prevents blood from thickening and clotting but in obesity due to alteration in the chemical mediators, the chances of blood clotting increases.

The COVID 19 virus also causes blood to clot, increasing the risk to many times in obese individuals. When blood clots, the clot blocks the vessel and cuts off blood supply to the organ and eventually causing death of the organ.

When there is visceral fat stored in the abdomen, this naturally pushes the lungs up in the chest restricting airflow. This causes collapse and also reduction in volume of the lung thus affecting the normal airway function.

Obese individuals are more prone to other lifestyle disorders like diabetes and hypertension which further increases the risk of severity.
What is the effect of Covid-19 Pandemic on Obesity Pandemic?
Obesity is considered a silent Pandemic affecting many people across the globe. With the COVID 19 pandemic in full force, many countries are adopting lockdown measures and employees are working from home – this has increased the prevalence of overweight and obesity. Additionally, with people being indoors with the easily availability of highly processed foods are also prone to lack of physical activity. Those combined with the stress from work from home, increases the risk.
What is to be done?
It is proven with the COVID 19 pandemic that obesity poses a risk factor not only to lifestyle disorders but also infectious diseases.
There has been a serious impact of COVID 19 on obesity, and gaining weight during COVID 19 was the reality for a lot of people. The solution to obesity is not meagre weight loss but also involves adapting to a healthy lifestyle. Cutting down the extra calories and being physically active not only prevents obesity, but also other lifestyle disorders. Not to mention, getting regular health checks is also very important. Talking to a general physician if there are additional symptoms will help to detect the complications at an early stage. If you're having trouble managing your BMI, talking to a dietician can also help. They will be able to help you adapt better to a healthy lifestyle without the fad or crash diets.
Was this article helpful?

0

0
Love reading our articles?
Subscribe to never miss a post again!