Coronavirus
Last updated on 2021-05-17 12:47:19
Can You Test RT-PCR Negative And Be COVID-19 Positive?
Dr. Sreelekha Daruvuri

2 Min Read

Fact Checked
The RT-PCR test is considered to be "gold standard" when it comes to testing for the COVID-19 virus. Now, with India riding the dangerous second wave of the pandemic in the country, the demand for the test has increased.
The test helps in determining if the virus, Sars -Cov-2, that causes COVID-19, is present in the individual. Besides being highly accurate and reliable, it can also help detect if an individual has an active coronavirus infection. A sterile swab of the throat or nose of the individual will be analyzed. 
It is advised that you get an RT-PCR test done if you have an active COVID-19 infection, if you're showing symptoms, or if you've come in contact with an individual that has tested positive for the virus.
Can you exhibit COVID-19 symptoms after a RT-PCR negative result?
The RT-PCR test, although highly sensitive, and effective, isn't 100% accurate and could lead to instances of false negative. This is concerning because many consider a negative RT-PCR test as assurance that they don't have an active infection of the COVID-19 virus. You can be RT-PCR negative, and be COVID-19 positive along with exhibiting symptoms of the viral infection.
It is not advisable to rely fully on a RT-PCR negative test, if you are showing symptoms - it's better to consult a physician immediately to confirm your diagnosis or lack thereof. Besides delayed diagnosis, the spread of infection is also a consequence of dependability on the negative result of the test. It is important to remember that the test is dependent on the time at which the swab was done, how it was administered and the time it was analyzed.
Another reason as to why an RT-PCR test could be negative is due to low viral load going undetected along with storage and transportation issues which should be taken into consideration.
What should you do if you test RT-PCR negative, but show COVID-19 symptoms?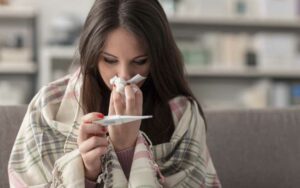 If you are exhibiting symptoms of the COVID-19 virus, reaching out to a physician for a retest and treatment is advised. Be sure to self-quarantine along with following all other precautionary methods because you could transmit the virus even if your RT-PCR is negative. 
Consult a General Physician
Check out these videos
Symptoms of PCOS in Females
Covaxin and Covishield | Latest Updates
Difference Between COVID and Pneumonia
Who are Susceptible to Heart Attack?
Was this article helpful?

0

0
Symptoms of PCOS in Females
Love reading our articles?
Subscribe to never miss a post again!