Understanding Oxygen Levels With MFine's SpO2 Tracker
6 Min Read
Fact Checked
Want to know your blood oxygen levels? Do you want to know what is SpO2 normal level? We got you covered. In this article, we will see in detail about SpO2, the normal SpO2 range and the causes of low blood oxygen levels. Let us first try and understand what is SpO2.
What Is SpO2?
SpO2 also called blood Oxygen saturation is the measurement of the amount of oxygen-carrying hemoglobin in the blood relative to non-oxygen-carrying hemoglobin. Haemoglobin that is present in the blood carries oxygen to the cells present in the body which helps organs and tissue function at their optimum. A SpO2 tracker can help in times when a pulse oximeter isn't handy. Now, you can track your oxygen saturation level through MFine's free SpO2 tracker.
What Is The Normal Range Of SpO2?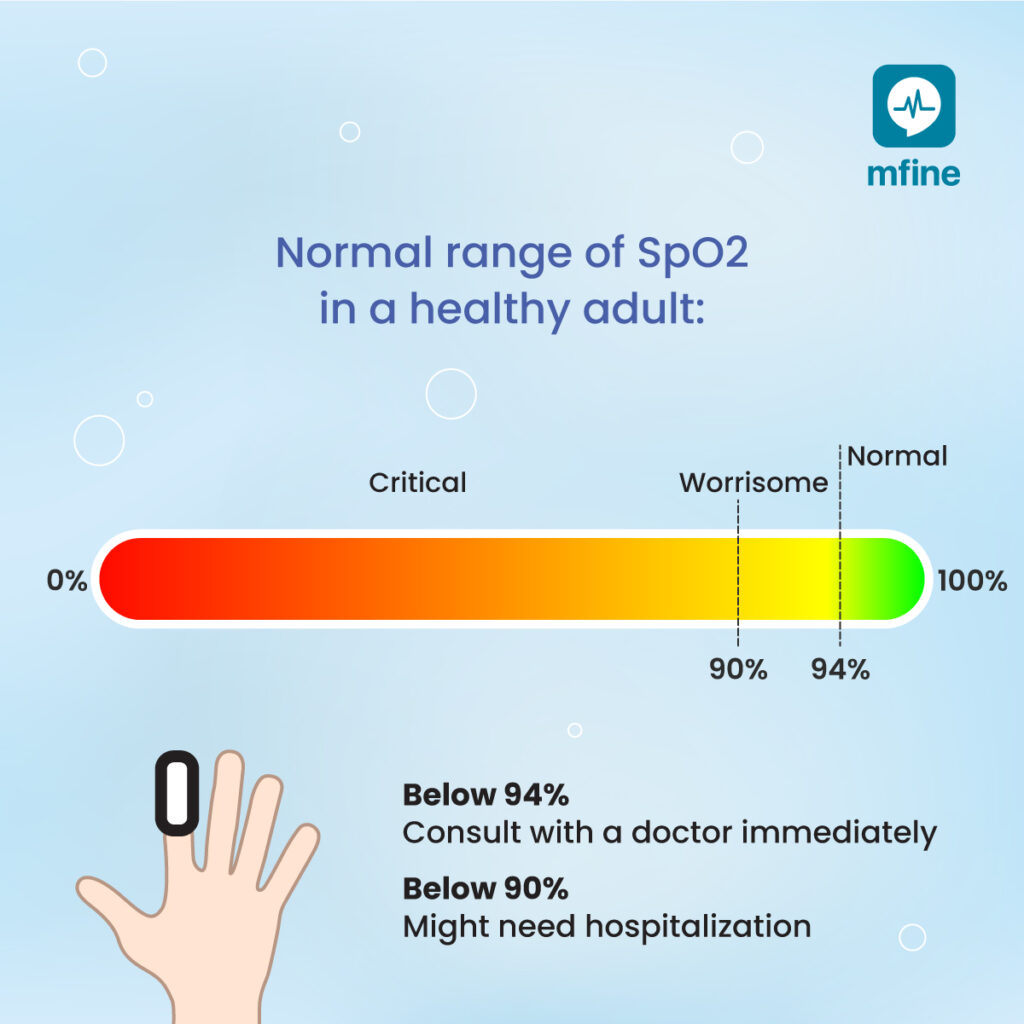 Normal SpO2 level is 93% to 100%, however, the most common SpO2 normal range values are 95%-98%. When you're undergoing surgery or exhibit symptoms like chest pain or shortness of breath, many doctors will check it. To assess whether their therapies are effective or need to be modified, people with specific medical problems may need to keep an eye on their blood oxygen levels. A few examples of these conditions are:
respiratory illnesses/asthma

heart disease

chronic obstructive pulmonary disease (COPD)

cystic fibrosis
Understanding Your Blood Oxygen Level Readings
SpO2 is important to monitor for the following reasons:
Lung and Heart Health
Knowing your oxygen saturation levels can help determine your lung and heart health which is important. The normal oxygen saturation level is usually 95% or more. The typical range is almost 90% in some patients with sleep apnea or chronic lung illness.
To check for low oxygen level
One of the concerns is the dropping of SpO2 levels. SpO2 levels can drop below 90%, indicating a low oxygen level. This causes a condition called Hypoxemia which can lead to conditions such as a heart attack or organ failure. If SpO2 levels are <94 (<90, after a 6-minute walk test), a doctor needs to be consulted immediately.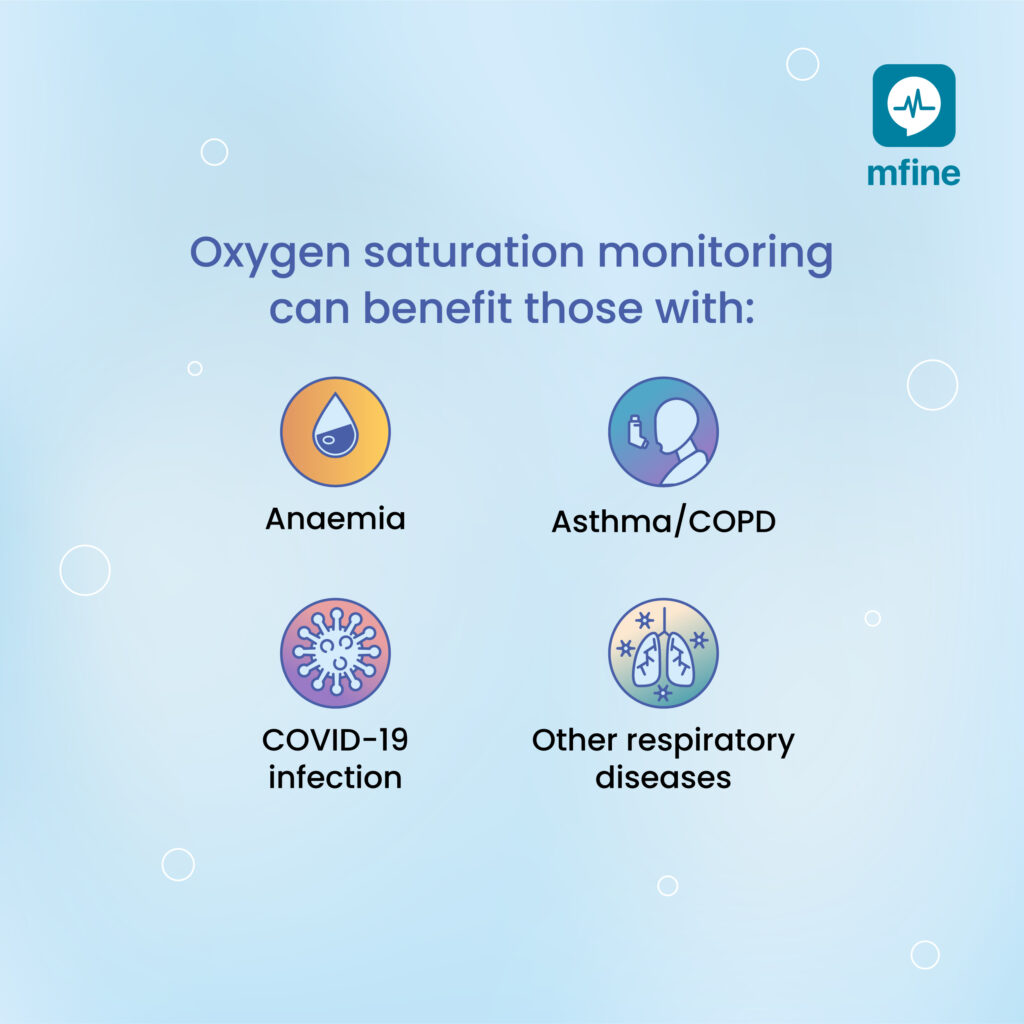 How Can Air Pollution Affect Your Oxygen Levels?
Air pollution is a great environmental trouble that affects humans's health and well-being. It refers to the presence of harmful materials in the air, including particulate matter (PM), nitrogen dioxide (NO2), sulfur dioxide (SO2), carbon monoxide (CO), ozone (O3), and risky organic compounds (VOCs), which can be emitted from diverse sources like motors, industrial tactics, and natural assets. Long-term exposure to air pollutants can result in more than a few health issues, including respiratory diseases, cardiovascular troubles, or even premature death. One important aspect of tracking the effect of air pollution on fitness is tracking the oxygen saturation level, that is SpO2. 
Here's why tracking SpO2 is essential in regions with high air pollution
Respiratory Health
Air pollutants, particularly first-rate particulate count (PM2.5), can penetrate deep into the lungs and irritate. This can result in respiratory conditions like bronchial asthma, bronchitis, and chronic obstructive pulmonary disease (COPD). Monitoring SpO2 can help pick out early signs and symptoms of reduced oxygen saturation, which might also indicate worsening breathing health. 
Cardiovascular Health
Prolonged exposure to air pollution is associated with an accelerated hazard of coronary heart troubles, together with heart attacks and strokes. Decreased oxygen levels in the blood can stress the coronary heart and circulatory system. Tracking SpO2 can help in identifying cardiovascular problems related to air pollution exposure.
Vulnerable Populations
Certain groups, which include kids, the elderly, and individuals with certain existing health conditions, are extra vulnerable to the damaging outcomes of air pollutants. Monitoring SpO2 in these populations is critical to ensuring timely intervention and preventing intense health complications. 
Preventive Measures
Tracking SpO2 can function as an early warning system for people dwelling in polluted regions. If your oxygen saturation ranges drop, it may prompt you to take preventive measures consisting of sporting masks, staying indoors on enormously polluted days, or seeking clinical assistance when necessary.
How to use the MFine SpO2 tracker?
You can now detect your SpO2 levels without a pulse oximeter, and directly from your phone. The MFine app uses your smartphone camera and flash to detect your blood volume changes using your fingertip. The simple tool can measure your oxygen saturation.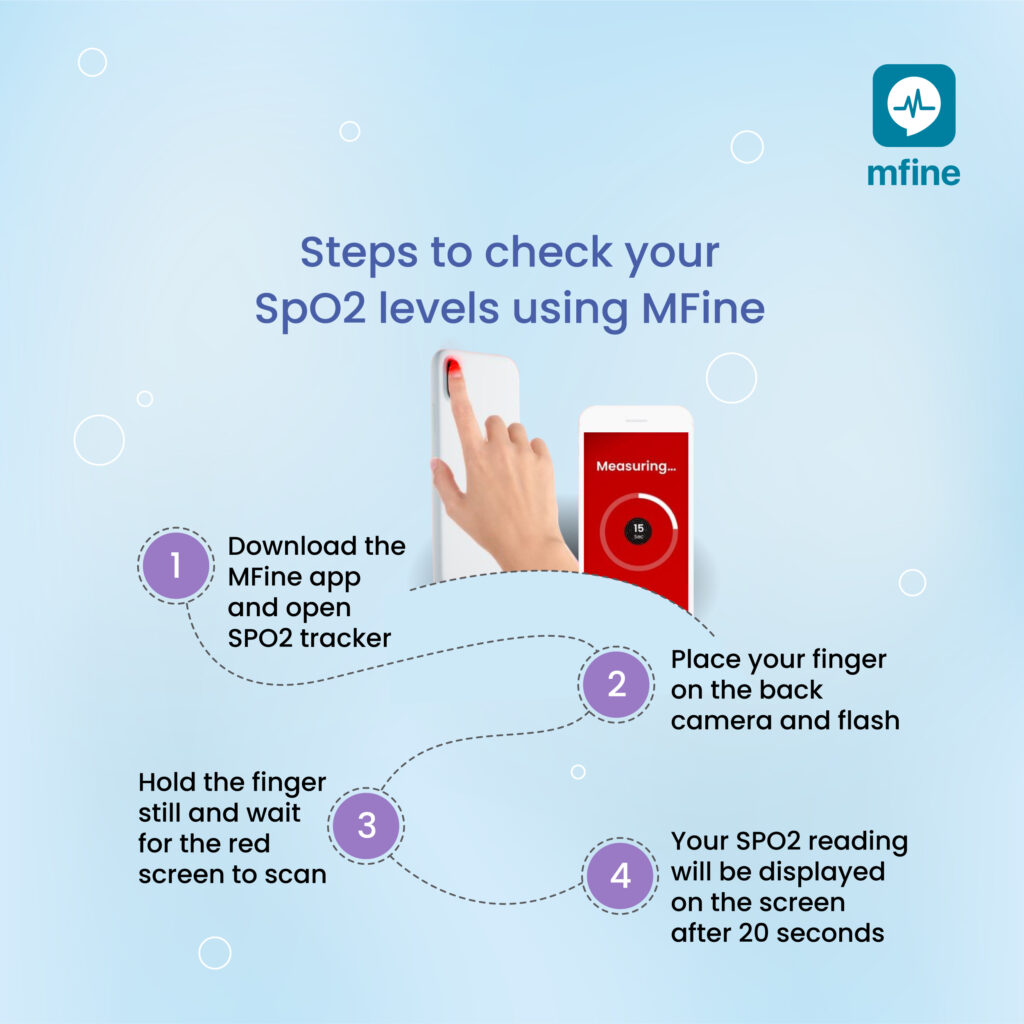 Download the MFine App

and find the SpO2 tracker tool

Click on the SpO2 banner

Click on 'Measure'

Place your finger firmly over the back camera light 

Measurement will begin once the screen turns bright red

Your SpO2 level will be displayed on the screen after 20 seconds



If you're having trouble understanding how the tool works, click the 'How It Works' while on step (3) to understand the process better.
Points to remember while using the tool

Clean lens
Make sure the smartphone's camera lens is clean
Avoid bright light
Don't measure SpO2 levels with the tool in direct sunlight or another bright light
Ensure you place your finger correctly
For phones that have multiple camera lenses, use the one that turns the screen red when your finger is placed on it.
Things to keep in mind
Ensure hands aren't cold, and remove nail paint when checking SpO2
6-minute walk test: Walk for 6 minutes and check saturation, a drop > 5% is significant.
Health Conditions
Measuring and monitoring SpO2 levels are done for those who have conditions that affect their oxygen saturation. These conditions include Asthma, COPD and congestive heart disease. 
Benefits Of Using MFine's SpO2 Tracker 
While a pulse oximeter does its job well, having an app that can quickly track your SpO2 can be essential in critical times. If there is an emergency, efficient and urgent action can be life-saving. Some patients require home care after testing for low oxygen levels, and MFine's SpO2 tracker tool can help them monitor their SpO2 without a hassle.
What Is The Technology Behind MFine's SpO2 Tracker?
MFine's SpO2 tracker tool uses technology that can measure oxygen saturation using a camera on a smartphone. A PPG (photoplethysmogram ) signal from the patient's fingertip, when placed on the camera, is obtained. PPG is used to detect the blood volume changes that occur in the microvascular bed of tissue by LED.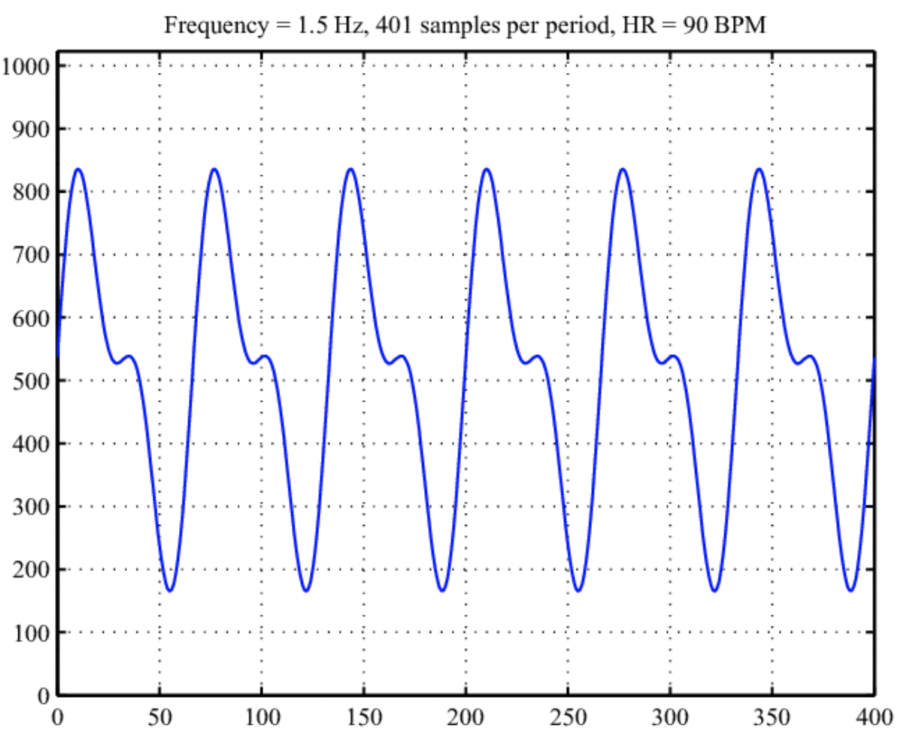 This image is for informational purposes.
The light illuminates the patient's skin as the user's smartphone captures the changes in light absorption occurring. This signal is then broken into red, blue, and green, and the difference in levels of light that has been absorbed by the different wavelengths is used to calculate the SpO2 by the tool's machine learning algorithm. The SpO2 measuring tool has 80% medical-grade accuracy and is available for Android users.
MFine SpO2 tool vs. Pulse oximeter
SpO2 tracker
MFine launched a Free SpO2 tracker on its app, which can give you the same results with medical-grade accuracy without using an oximeter or any other device. It's affordable and user-friendly healthcare at your fingertips. Not many people have a pulse oximeter at home, and while having things delivered during a lockdown is a challenge, your health can't take a back seat. Efficient and effective care is key and can lead to early diagnosis and a better prognosis.
Pulse Oximeter
A pulse oximeter is a device that measures blood oxygen levels non-invasively. It uses infrared rays to measure the oxygen that is in the capillaries such as the finger pulp where the device is placed during measurement. After a patient's fingertip is placed into the device, it is kept there for 8-10 seconds after which the patient's pulse rate is shown on the screen.
FAQs – Frequently Asked Questions
Q. Is a SpO2 of 93 or 94 OK?
Ans: A pulse oximeter indicates that an oxygen saturation level between 95% and 100% is considered healthy. A person may suffer from low oxygen symptoms, such as breathing difficulties, if their levels fall below this range.
Q. What is the oxygen saturation normal level? And what are the symptoms of low blood oxygen levels?
Ans: The normal saturation rate is around 93% to 100%, however, the most common Spo2 normal range values are 95%-98%. Some of the symptoms of low blood oxygen levels include shortness of breath, chest pain, coughing or wheezing, rapid heartbeat, etc.
Q. How to increase blood oxygen levels?
Ans: Certain home remedies will help you to increase your oxygen levels naturally. These include walking outside, allowing fresh air into your home, having houseplants, quitting smoking, exercising regularly and eating a well-balanced diet.
Summary
This was all about SpO2, oxygen levels, and SpO2  tracker. It's important to follow a doctor's advice to avoid any complications. Download the MFine app to access the SpO2 monitoring tool. It is free and can be used in most (Android) smartphones that have a back camera and flash, along with an internet connection. Make sure your oxygen levels are on track. Happy healthy living!
Was this article helpful?

0

0
Love reading our articles?
Subscribe to never miss a post again!
Read more on
MFine Update