Mental Health
Last updated on 2021-11-17 12:12:37
8 Types Of Meditation: Which One Is Right For You?
Ms. Deepanwita Roy

6 Min Read

Fact Checked
Our fast-paced life can push our mind and body to the limit, at the expense of our physical and mental wellbeing. While there's no substitute for medication and psychotherapy when it comes to your physical and mental health, meditation can be an effective technique that enables us to relax our bodies and our mind. There are several methods of meditation and types of meditation that you can choose but it can be equally confusing to decide which one would work best for you! In this article, we will discuss a few popular meditation practices that can be easily done by any one of you even without any formal training. 
There is no cookie-cutter approach to meditation. You need to experiment with the types of meditation and find the one that works best for your unique needs and personality.
Zen meditation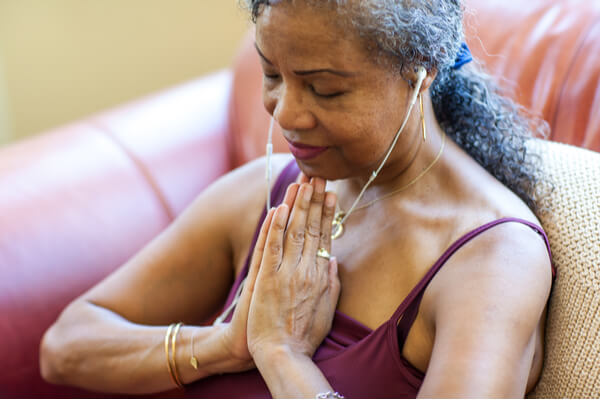 In Japanese, zen means seated or seated meditation.
It is generally practiced seated on the floor over a mat and cushion, with crossed legs. But in modern practice, the same can be done sitting upright on a chair keeping the back completely straight, from the pelvis to the neck.
It is usually practiced in two ways:
(1) By focusing on breath where you focus all your attention on the movement of the breath going in and out through the nose. This may be aided by counting the breath in your mind. Each time you inhale you count one number, starting with 10, and then moving backward to 9, 8, 7, etc. When you arrive at 1, you resume from 10 again. If you get distracted and lose your count, gently bring back the attention to 10 and resume from there.
(2) It can also be practiced by using the form called Shikantaza which means just sitting. In this form there's no specific object of meditation; rather, trying to remain as much as possible in the present moment, aware of and observing what passes through their minds and around them, without dwelling on anything in particular. 
Mindful Breathing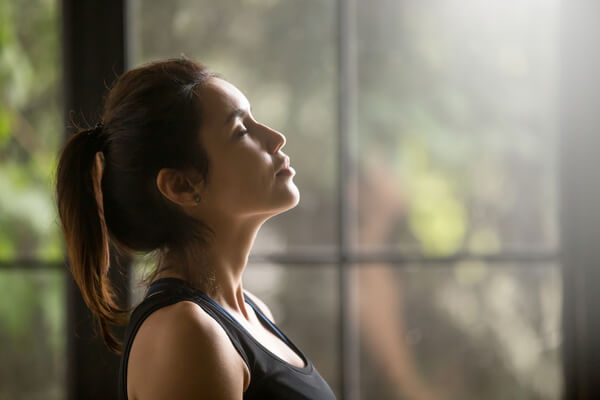 Deep breathing or mindful breathing is simple yet one of the most effective meditation practices similar to zen meditation.
Slow, deep breathing can help people calm down if they're experiencing anxiety, stress, or panic.
Mindful breathing has been shown to greatly reduce an individual's cortisol levels (the stress hormone) and help in combating stress. It is easy to learn and can be practiced almost anywhere and at any time of the day.
You can start practicing mindful breathing by taking out a few minutes from your regular schedule, preferably in a quiet place where you can sit comfortably, with your back straight. Bring your focus on your breathing. As you breathe in through your nose, your chest and abdomen expand and when you breathe out through your nose, your chest and abdomen shrink. Try to inhale enough so that your chest and abdomen rise and fall. Continue breathing in and out of your nose.
You can also count slowly while you're breathing; inhale on a count of four, hold your breath on a count of four and exhale on a count of four. You can practice the two variations of mindful breathing shared below:
Mindfulness meditation
Mindfulness meditation, too, is an adaptation from traditional Buddhist meditation practices, especially Vipassana. One of the main influencers for Mindfulness in the West is John Kabat-Zinn in his monumental work on the Mindfulness-Based Stress Reduction program (MBSR), developed in 1979. In the past decade's mindfulness meditation has gained its popularity not just because of efficiency but of its long-term effect in combating stress, anxiety, depression, and other negative emotions.
Mindfulness requires you to

pay attention in a particular way, on purpose, in the present moment and non-judgmentally.
Mindfulness is a practice that can be practiced in formal as well as informal settings. In formal practices, you build your awareness on a single repetitive action, such as your breathing. In informal practices, you can apply mindfulness in activities such as walking, eating, or exercising. 
Loving Kindness Meditation (Metta Meditation)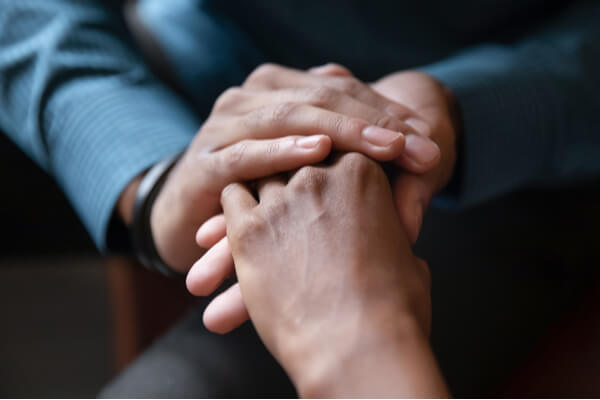 Metta is a Pali word that means kindness, benevolence, and goodwill.
This practice also comes from the Buddhist traditions but has been adapted in modern therapeutic interventions over the years and is currently used widely in John Kabat-Zinn's work on Mindfulness-Based Stress Reduction program (MBSR). It helps in boosting one's ability to empathize with others,  development of positive emotions through compassion, including a more loving attitude towards oneself; increased self-acceptance; greater feeling of competence about one's life; and increased feeling of purpose in life. In this meditation, one starts by developing loving-kindness towards themselves, then progressively towards others and all beings. Usually, for this type of meditation, this progression is advised:
- Oneself - A good friend - A neutral person - A difficult person - All four of the above equally - And then gradually the entire universe
Mantra meditation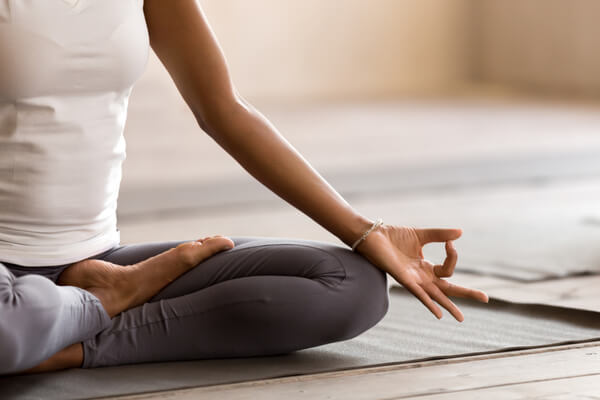 Moving away from the traditional Buddhist practices to types of meditation that involve yogic and Vedic practices more commonly seen in Hinduism where a mantra or a syllable or words usually without any meaning is repeated for the purpose of focusing your mind. People usually find that it is easier to focus with a mantra than with breathing.
Because a mantra is a word, and thoughts are usually perceived as words, it can be easier to keep the focus on a mantra rather than on breathing.
It is useful especially when the mind is racing with many thoughts since mantra meditation demands constant attention.
Visualization or guided imagery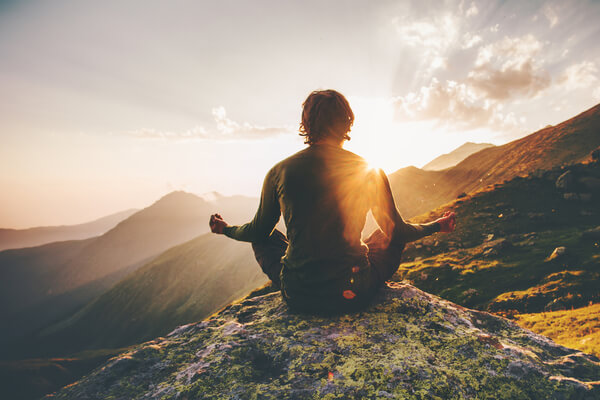 Another section of meditation involves guided practices. We live in very different times now. Our life is busier.
Distractions are everywhere, and meditation is often sought as a means to develop better health, enhance performance, or improve oneself.
For these reasons, guided meditation is a type of meditation that can be very useful when implemented. To apply visualization or guided imagery, you can choose whatever setting is most calming to you and try to incorporate as many senses as you can such as, smell, sound, and touch. You can practice visualization on your own or use an app or audio recording to guide you through the imagery. 
Body Scan Meditation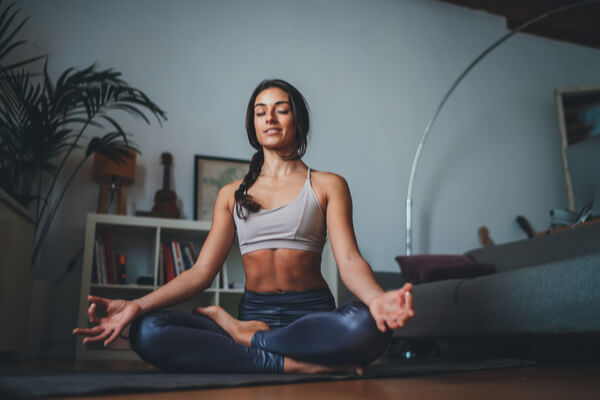 Body scan meditation involves paying attention to different parts of your body and bodily sensations in a gradual sequence starting from your toes and then moving up to your head.
You simply focus on the way each part of your body feels, without labeling or judging the sensations as either 'good' or 'bad.'
Body scan meditation is not only helpful for general relaxation of your body but gives relief to various health conditions such as headache, anxiety, mood disorders, and even cancer. The same practice can be practiced independently on your own or by using an app or audio recording. 
Yoga Meditation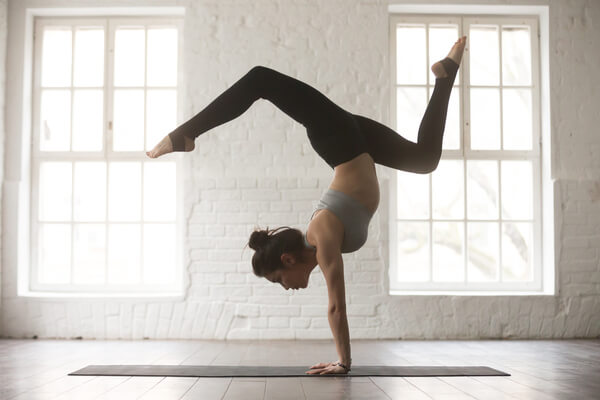 Yoga is again another ancient practice using various postures, concentration, and deep breathing - this type of meditation, is quite popular around the world. In yoga meditation, the various postures during various exercises are performed by emphasizing the maintenance of a calm mind in daily living. During yoga meditation, one sits with their eyes closed, engages in breathing exercises while maintaining the postures or synchronizing their breathing to the changing postures. Often they also concentrate on a word, picture, or sound.
The bottom line is that building habits take time.
Each day, set aside a specific schedule. Take out at least 20 minutes once or twice a day to practice relaxation. Many people find smartphone apps or audio downloads as a useful tool in guiding them, establishing a regular routine, and keeping track of progress. Last but not the least, expect ups and downs. If you skip a few days, don't get discouraged. Just get started again and slowly build up momentum. 
Good luck!
If you are struggling with your mental health, speaking to a professional therapist can help. Identifying the causes behind your concerns will help you understand how to tackle them going forward. Psychotherapists are trained in helping with tools that can be used to help calm stress and anxiety - mediation is one of those tools. The journey of meditation can be challenging because of the discipline and consistency it requires, but as a habit-forming behavior, it can help greatly. Even if you're looking to understand the types of meditation that work best for you and need a little guidance - speaking to a professional will allow the process to be more effective.
Consult a Psychotherapist
Check out these videos
Symptoms of PCOS in Females
Covaxin and Covishield | Latest Updates
Difference Between COVID and Pneumonia
Who are Susceptible to Heart Attack?
Was this article helpful?

0

0
Symptoms of PCOS in Females
Read more on
Mental Health
Love reading our articles?
Subscribe to never miss a post again!