Period Tracking for Teens: Why is it important?
3 Min Read
Fact Checked
Introduction
Period tracking for teens — with a growing number of smartphone applications for diet and fitness, period trackers today have got more appeal than before, especially among teenage girls entering adulthood. The reasons are simple. They are easy to use, and they can keep track of periods more privately than ever before. Gone are the days when women kept track of such information on paper calendars.
Additionally, the data stored in these apps provide predictive information about their cycle, helping them better manage their mood swings, identify potential health concerns, and educate themselves on the subject of menstrual health and hygiene. 
5 Reasons to track your periods
Women maintain a calendar to track irregular cycles and patterns accurately. This information comes in handy, especially when seeing a doctor. Here are 5 reasons to regularly track your periods.
(1) You won't get caught short
Women and girls have periods. Some feel shy or embarrassed about it. Tracking periods can help predict when you'd have your next periods, so you are better prepared for it, especially when you're traveling or on holiday.
(2) It can help understand and manage your mood
Premenstrual syndrome or PMS is a condition where some women experience distressing physical, behavioral, and psychological symptoms a couple of weeks before menstruation., i.e., in the luteal phase of the menstrual cycle. Why that occurs, no one knows, but about 75 percent of women experience symptoms like depression, anxiety, irritability, bloating, and mastalgia. These symptoms can occur due to other health disorders too.
Having prior knowledge of PMS can help you understand why you're feeling the way you are and help you potentially manage it. 
(3) Menstrual health reflects the general health
Your periods say a lot about your overall health and well-being. An irregular period could mean an underlying health condition, though not necessarily related to your reproductive organs. 
By tracking abnormal symptoms such as irregular periods, pain, heavy bleeding, or spotting on the app, you'll be able to recall things that you might otherwise forget while speaking with a doctor.
If you have irregular periods, it's advisable to consult your doctor. 
At MFine, we consider your health to be our top priority. Book an online appointment, and our doctors will get in touch with you shortly. 
(4) It helps you understand your unique patterns
Everybody is different, and so are their periods. Even though a 28-day cycle is a global average, it may not necessarily be your average. This may lead to anxiety and stress. Tracking periods can thus help you understand your average cycle length and other patterns such as amount of bleeding unique to you. 
(5) Understanding the menstrual cycle is fundamental to sports and performance
Last but not least — if you're someone into sports and fitness, you will do well to understand how periods affect sports and performance.
In week two, in the luteal phase, just after your periods, your estrogen and progesterone level increases. And an increase in estrogen levels causes an improvement in your bone and tendon function.
But on the flip side, due to hormonal changes in this phase, you're also more likely to crave sweets and salty foods, impacting your fat loss goals.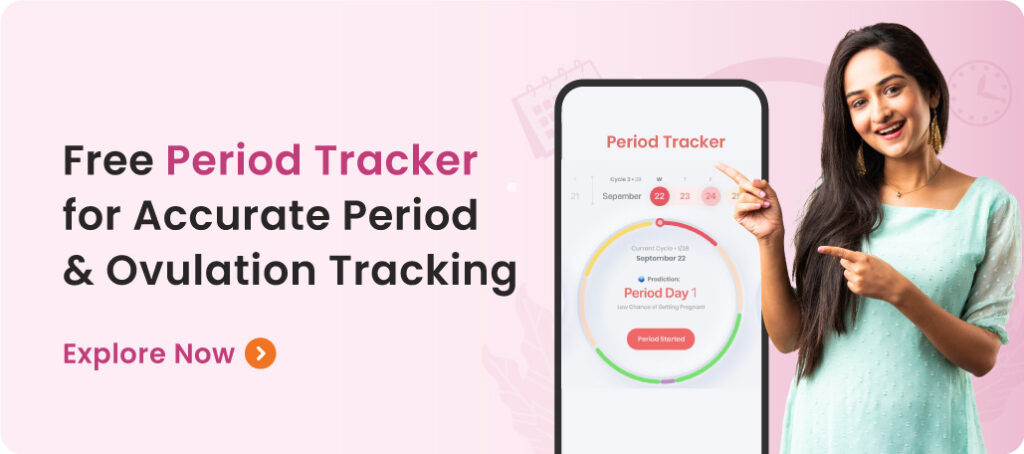 Conclusion
To conclude, period tracking helps,
– Better understand what's going on in your body
– Prepare you for adulthood
– Identify and address potential health concerns, including cycle changes and
– Educate you and others on reproductive health and hygiene.
Check our period tracker online to accurately predict your periods. To access, login to the MFine mobile application. On the homepage or the women's health section, click on the Period Tracker to get started.
This app is recommended especially for PCOD patients, women trying to conceive, and women looking to avoid pregnancy. Any female profile more than 11 years of age is eligible to use this tracker.
References:
– Benefits of period tracking (1)
– Teenage use of smartphone applications for period tracking (2)
– Period proud: New apps, products, and awareness (3)
Was this article helpful?

0

0
Love reading our articles?
Subscribe to never miss a post again!