How Bad Is Cyberbullying For Mental Health? Find Out
6 Min Read
Back in 2017, the famous singer-songwriter Ed Shereen renounced Twitter and made a statement, "One comment ruins your day. But that's why I've come off it…". Shereen's not the only person being affected by online trolling but there are several celebrities who have been victims of internet trolling and if you have not noticed it yet, it has become a relentless part of our political and social culture. The internet may be a platform for free expression, but unfortunately, not all expression takes the form of polite discourse. With the rapid digitization of communication, from the late 1990s till now, online activities in the form of bullying, trolling, and harassments have become very common among teenagers and young adults, although older people are also not spared of its bitter consequences, costing severe damage to one's mental health. 
Bullying anyone can happen online or offline; but when it happens with the help of technology via the electronic medium, it's called cyberbullying. It can take several forms such as online trolling where the visitors leave inflammatory comments in public comment sections, the aim is to primarily seek attention and to shift the creator's attention from the content to themselves. Many times, we come across trolls while scrolling through our social media timelines are mildly teasing and maybe even funny, many others might be demeaning to the character or image of those featured in the posts. Whereas trolls focus on nuisance to the online community, cyberbullies attack the individuals; trolls try to attract attention to themselves, cyberbullies want to demean and hurt their victims. Cyberstalking where the bully continuously stalks the activity of the victim, sending texts and photos frequently and thereby posing a serious threat to the latter's safety. Also, it can come as a form of impersonation where the bully takes on the identity of the victim and not only divulges very personal details such as their address and phone number but also posts slanderous content, to insult and defame the victim.
Cyberbullying is a growing problem in 2020; here are a few surprising facts
Overall,

36.5%

of people feel they have been cyberbullied

in their lifetime

, and

17.4%

have reported it has happened at some point in the last 30 days.  These numbers are more than double from what they were in 2007 to in 2019. 

1 in 4 kids

have been bullied more than once and in total 43% of the kids have fallen prey to cyberbullying. 

India ranks at number 3

in the list of online bullying cases as per the survey conducted by Microsoft in 2012 in 25 countries.

Girls

are more likely to be a victim of cyberbullying than boys; over half of students who identify themselves being

LGBTQIA+

have experienced cyberbullying at some point. 

Ditch the Label

, one of the world's leading anti-bullying organizations have shared the following data in their survey of where cyberbullying takes place; it also revealed some surprising facts, such as 69% of people report of having done something abusive towards others online & 15% of people admit of having cyberbullied someone else online.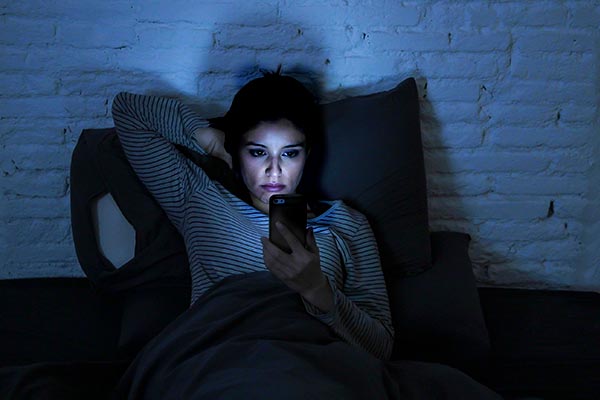 The impacts of cyberbullying
The effects of cyberbullying can have tremendous negative impacts on the mental health and well-being of victims. To help you get a better idea about some of the impacts cyberbullying can have on mental health, The Ditch the Label in their survey questioned students who had been cyberbullied and asked them to identify what issues they felt arose because of their experiences. The results were:
Knowing the detrimental effects of cyberbullying, it's critical that you know the signs someone is suffering so that you can step in and be the helping hand which they are often too shy or embarrassed to ask for. According to the National Crime Prevention Centre (NCPC), there are several emotional, social/behavioural changes that someone being cyberbullied may undergo. 
For examples, 
Become shy and withdraw themselves

Frequent mood changes, being anxious or overly stressed out

Act more aggressively

Suddenly stops using computers, mobile, or other devices that connect to the internet

Changes in eating or sleeping patterns

Lack of activities or engagements in activities which he or she previously enjoyed

Hurting self, threatening to commit suicide 

Avoiding friends or suddenly changing friends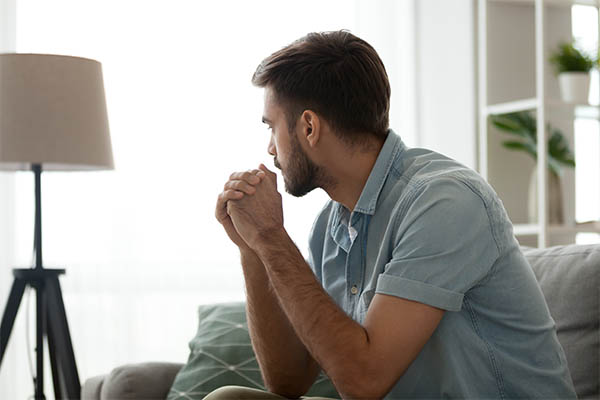 ** Avoiding using the computer or any other device is considered as one of the biggest red flags for kids and teens since they are so connected to the technology.**
At the same time, recognizing cyberbullies is also important; even though it's tricky to determine when someone is engaging in cyberbullying, it's not impossible. Typically, children or adults engaging in cyberbullying will:
Stop using their computer or phone when someone comes near them

Look nervous or jumpy when online

Be secretive of what they are doing online

Spend an excessive amount of time on a computer or mobile

Become aggressive when internet allowances are taken away (this is obviously more with children than adults)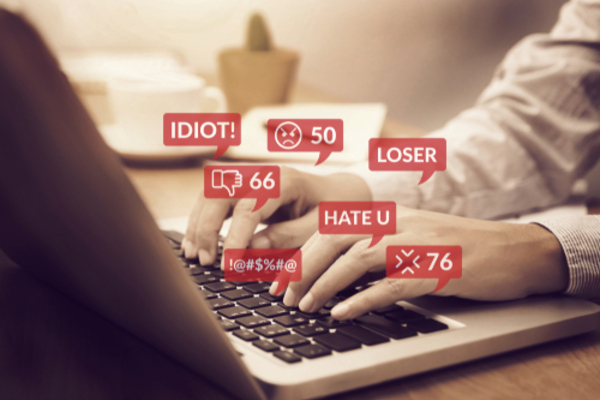 How to deal with cyberbullying
If you find yourself the target of cyberbullies (note: not to be confused with people who engage in civilised disagreement with your viewpoint) here's what you can do:
Do not respond or retaliate
Sometimes all the perpetrators are looking for is a reaction and by not responding to them you are in fact curbing their power. As soon as you realise that you're falling prey to any insults, disengage and disconnect yourself from any further online communication so as not to add 'fuel to the fire'.  
Your protection and safety are primarily in your hand
Protect your account safe- Never share your passwords, anyone? Sounds familiar? To stop bullying do not give passwords to anyone not even to your closest friends. Keep your social profile and interaction safe; social media presence has become the part and parcel of everybody's life but while posting and interacting with people on social platforms keep following things in mind:
Be always mindful of what you post

Being kind to others online will help to keep you safe

Do not share anything that could hurt or embarrass anyone

Think about who sees what you post online

Do not open emails from sources you do not know and do not download attachments unless you are expecting an attachment from someone
Don't wait till you can finally take actions
Always remember strict laws are in place to mete out appropriate punishments to such bullies. Confide to a trusted person and seek legal help and approach a police officer to file a complaint. 
Reach out for help
When the perpetrator is not stopping and is continuously bullying you reach out to cybercrime India lawyers for help. They will not only advise you but will help you in the entire procedure and will get out of the situation of cyberbullying. They will listen to you, process your situation, help and assist you to work through it.
Develop a support system
Share your feelings and concerns with people you trust to get the emotional support you need.
Take professional help
If you are upset by the endless offensive comments and they are taking a toll on your mental health, schedule an appointment with a counsellor or psychologist and follow their advice. Note, mental health professionals are not legal experts hence, they would help you combat your difficulties pertaining to your mental health only. Don't shy away from resuming your normal routine and eat healthy, exercise regularly and get sufficient sleep to keep your physical state strong and fit.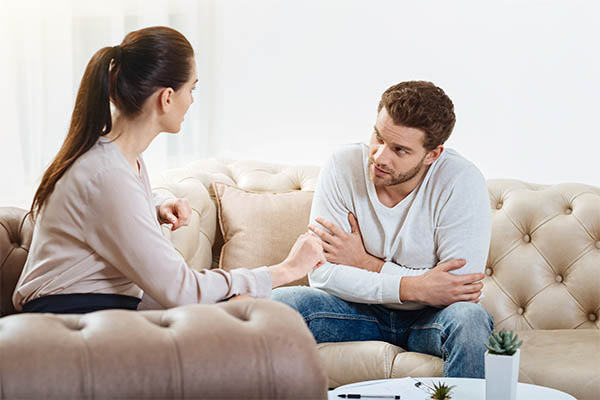 Conclusion
It is the responsibility of every individual to demonstrate a sense of responsibility in whatever content they publish online, be it of themselves or others around them. Moreover, one must understand that they will be held fully accountable for any negative or insinuating posts they may have put up publicly on social media.
Have you been a victim of cyberbullying? Let us know in the comments below.
Was this article helpful?

0

0
Love reading our articles?
Subscribe to never miss a post again!