Anxiety in Stomach: Here's How Your Brain Affects Your Gut
4 Min Read
Fact Checked
Anxiety and stress can directly lead to uncomfortable digestive issues. Many of us have experienced stomach anxiety in anxiety driven situations – this is because of the Brain Gut Connection. Read on to understand how the nervous and the digestive systems are connected, and expert tips on how to calm stomach anxiety.
Symptoms of an anxious stomach
While an anxious stomach has common symptoms that can be associated with other illnesses, they can still be discomforting to say the least. Should you experience the following symptoms regularly or if they disrupt your life, it's time you speak to a gastroenterologist.
– Frequent indigestion
– Reduced appetite
– Increased episodes of stomach pain, constipation and diarrhea
– Irritation of Irritable Bowel Syndrome (IBS)
– Episodes of ulcers in the stomach
– Increased flatulence
– Increased urination
– Severe bloating
– Gagging or vomiting

As said above these symptoms can disrupt your lifestyle a great deal and can themselves lead to increased and severe anxiety. While you see a gastroenterologist to help treat you through medications if needed, seeing a Psychotherapist can help you understand how to better cope with your symptoms. You will learn ways to help control your anxiety and increase comfort in your journey to healing your anxious stomach.
The Brain-Gut Connection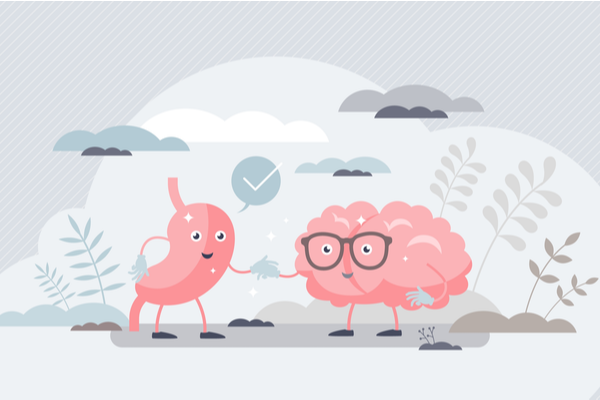 Have you noticed that when you're nervous or scared, you seem to want to use the bathroom? Stress and anxiety can cause stomach anxiety leading to the symptoms mentioned above. How, though?
When you're stressed or anxious, there are hormones that are being released in your body – such as cortisol (aka the stress hormone). These hormones along with other released chemicals make their way into your digestive system causing a bit of havoc. 
Your stomach has gut flora that naturally are in your tummy and help in daily digestion. These hormones and chemicals affect the gut flora along with reducing the number of antibodies produced. The latter could lead to delayed healing should you contract an infection. The gastrointestinal havoc caused is due to the imbalance of gut flora, increase in chemicals and increase in hormones.
The Brain-Gut Connection, biologically refers to the fact that your brain and your gut are connected by one of the largest nerves in the body – the vagus nerve. The signals this nerve passes to the two organs is how they are connected.  There are also rare cases in which an anxious stomach could be a symptom of an underlying health condition such as vagus nerve damage.
How to calm an anxious stomach
Anxiety can cause stress and vice-versa, and while doctors may prescribe medications for serious cases, there are ways by which you can relieve yourself of your anxiety.
Avoid caffeine
Caffeine can only fuel anxiety and make symptoms worse. It also, being a stimulant, increases the urgency in bowel movements, further worsening an anxious stomach.

Expert Tip: Try calming teas as a replacement. These could include, ginger, oolong and green tea.
Make gut health a priority
If you constantly experience symptoms such as increased fullness or bloating along with an anxious stomach, it's definitely trying to tell you something. Your digestive system could not be functioning properly. Speak with your doctor on how you can improve your gut health as each is different.

Expert Tip: Including probiotics and fiber filled foods into your diet could help regulate your digestive system and relieve some of your discomfort.
Tweak your meal routine
Diet plays a huge role of course, and should you feel full often it may be that you need to exercise some portion control. Don't make any diet changes without speaking to a gastroenterologist.

Expert Tip: Eat smaller meals during the day, some of them being healthy gut friendly foods such as lettuce, bananas, kale etc.
Try anxiety busting activities
Anxiety can sometimes last a whole day, and the added pressure of living your daily life of family and work can make things worse. Taking time for yourself can help your mind from racing, reducing stress and calming anxiety. Small hydration and snack breaks make for a great start.

Expert Tip: Try slow breathing during your breaths, to help regulate your breathing pattern. Counting your breaths can also help increase focus and calm anxiety for future tasks coming up ahead. 
Stay active
Sometimes a racing mind comes with anxiety attacks, and many people feel better when they move their hands and body. Some prefer washing dishes or cleaning, but exercise is also a great way to relieve the jitters.

Expert Tip: Try alternating days of yoga and meditation with light cardio. This will relieve the pressure of working out 100% everyday. You can work on your mind and body effectively if you have a realistic routine.
Anxiety can be caused by many things, but should you have it confirmed by a gastroenterologist that it is not of medical concern, consulting a psychotherapist is advised. There are general ways to calm anxiety and therefore an anxious stomach, but each of you have different causes of anxiety such as anxiety disorders. A psychotherapist will help you understand the cause and treat it effectively.
You'd go to a professional if you had a physical injury right? Well, your mental health should also be of equal priority. MFine's 2-Month Mental Health Care Plan gives you the ease of flexibility and quality treatment quickly. The customized program designed for you will help you acess advice on daily care along with therapy sessions. The plan also includes daily supervision and assessments so you know your progress.
Was this article helpful?

0

0
Love reading our articles?
Subscribe to never miss a post again!