Women's Health
Last updated on 2022-04-09 20:44:48
Accurate Period Calculation: No more pills
Dr. Sreelekha Daruvuri

3 Min Read

Fact Checked
Accurate period calculation — how do you calculate your next periods? It sounds like a very straightforward question, but most women find it hard to explain this to their doctor.
When you ask about the last menstrual cycle, some women feel that it's after the completion of the bleeding duration, which is about 3 - 5 days; some say it's the second day of the week, and still, others say it's the third day of the week and so on. So this brings us to an important question: How do you accurately calculate your period cycle?
How to calculate the menstrual cycle and ovulation?
The cycle duration is calculated from the first day of the period to the first day of the next period. This is called the cycle duration. 
The global average is 28 days, but it can vary between 21 to 35 days, which is considered normal. The important thing is that you need to know what your average cycle duration length is.
For example, if you had your periods on the 1st Jan and the following period on the 29th Jan, then your cycle duration length is 29 days. You have to consider the first day of both cycles to calculate your normal cycle duration length.
Why is it important to know your cycle duration length?
Knowing your cycle duration length is crucial to determine when you're most likely or least likely to conceive and when to avoid sexual intercourse if you're not looking to get pregnant. It also helps identify any changes in the cycle length, which could be due to an underlying disorder.
In the average 28 day cycle, 
- Day 1 to day 13 is the follicular phase or the pre-ovulatory phase. The woman in this initial phase is less likely to get pregnant.
- Day 14th is ovulation day.
- Day 15 to Day 28 is the luteal phase or post-ovulatory phase. Women are least likely to conceive in this window period.
- Day 11 to Day 15 is the fertile window period. A woman is most likely to get pregnant in this phase.
However, you may not necessarily have a 28 days period cycle. Therefore, it's crucial to calculate what your unique menstrual patterns are. 
How, then, should you calculate the menstrual cycle phases if you don't have a 28 days period cycle?
It's always a retrograde finding, wherein the ovulation happens 14 days before the next menstrual period and not 14 days after the first day of your previous menstrual period. That way, you can accurately predict the other phases as well.
What's the importance of period tracking?
Here are 6 reasons to track your periods:
(1) It prevents you from getting embarrassed. When you know when your next period is, you are better prepared for the occasion.
(2) Tracking periods helps you prepare for and manage PMS symptoms. Having prior knowledge of PMS can help you understand why you're feeling the way you are and help you potentially manage it. 
(3) Menstrual health is a general reflection of your overall health. Irregular periods could mean an underlying health condition and is a sign that you need to see a doctor.
(4) Tracking periods helps you understand what your unique menstrual patterns are.
(5) Understanding periods is crucial for performing well in sports and athletics.
(6) Tracking periods helps you better communicate with your doctor should the need arise.
Read more on
Period Tracking For Teens: Why Is It Important?
MFine period tracker
Check out our period tracker online to accurately predict your periods and ovulation phase: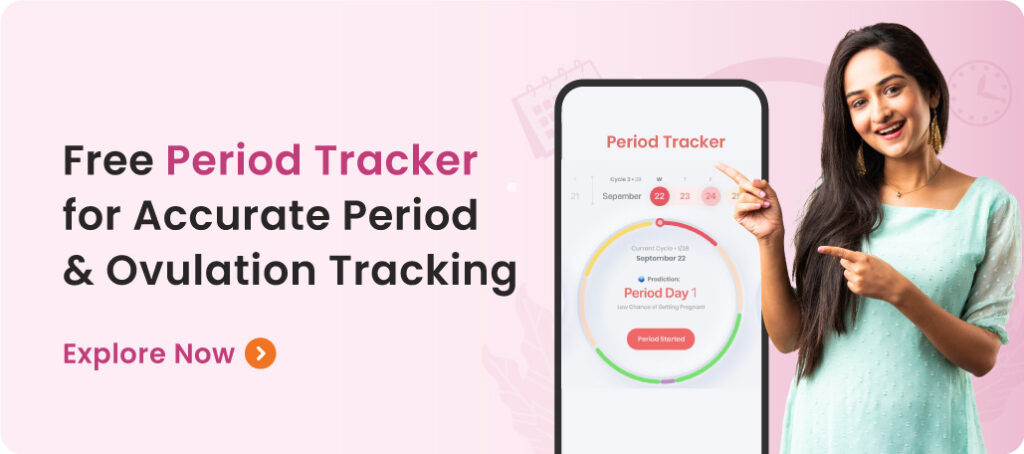 - Login to the MFine mobile application
- On the homepage or the women's health section, click on the Period Tracker to get started.
This app is recommended especially for PCOD patients, women trying to conceive, and women looking to avoid pregnancy. Any female profile more than 11 years of age is eligible to use this tracker.
Read
All About Periods: Cycle, Problems & Tracking
.
Consult a General Physician
Check out these videos
Symptoms of PCOS in Females
Covaxin and Covishield | Latest Updates
Difference Between COVID and Pneumonia
Who are Susceptible to Heart Attack?
Was this article helpful?

0

0
Symptoms of PCOS in Females
Read more on
Women's Health
Love reading our articles?
Subscribe to never miss a post again!