10 Common Makeup Mistakes That Are Harming Your Skin
7 Min Read
Have you ever wondered if makeup is good or bad for your skin? Be it a function or any other event, people usually put on makeup. Some people use makeup to enhance their natural beauty. If you do not use the right products and in the right way, then this is going to harm your skin.
The truth is that when you wear makeup, it more or less happens to stay on your face for about 12 hours, or sometimes even more! So, no brownie points for guessing; good or bad, makeup does impact your skin. Hence, you need to know if you're investing in the right makeup products and if you're doing your skincare right. In this article, we will look into the 10 common makeup mistakes that are harming your skin and why you should avoid them.
Mistakes to Avoid While Applying Makeup
1) Applying heavy makeup while working out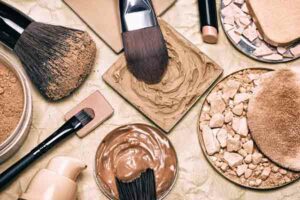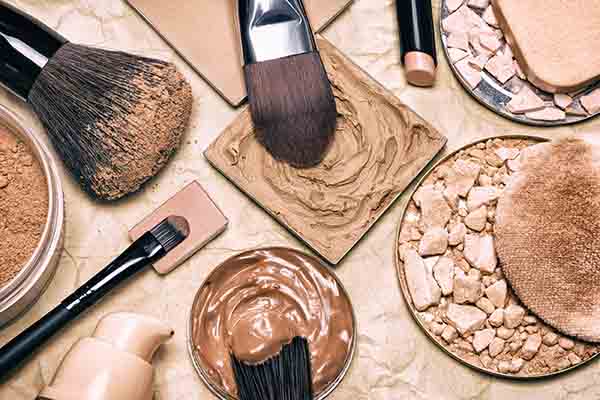 Although exercising is beneficial for your general health and appearance, however exercising while wearing makeup is bad for your skin. Exercise increases the risk of clogged pores, uneven texture, and dull complexion since it can cause excessive perspiration and increased oil production. 
If you use a lot of makeup, especially oil-based foundation, this is especially true. Avoiding makeup when working out is preferable. Instead of using an oil-based foundation, go for a light and simple look with loose powder if you truly can't go bare-faced.
2) Not using the right makeup products

A lot of people believe that not wearing makeup means giving your skin the chance to 'breathe.' Well, the truth is, our skin doesn't have a respiratory system so for what it's worth, there's no such thing as 'letting your skin breathe.' On the contrary, the right makeup products like a BB cream, liquid or powder foundation, etc. give you protection from the UV rays of the sun, by giving your skin a shield in the form of that extra layer. However, the right makeup is the keyword here.
For instance, If you have oily skin, you should avoid using oil-based makeup products. Using the wrong kind of makeup can aggravate your skin problems. In case you're confused about what kind of makeup will suit your skin type, you should consult with a dermatologist to guide you.
3) Using expired products on the skin
We understand that it's difficult to discard makeup products even after they've passed their expiration dates because they might be pricey. What's unfortunate is that makeup that has gone bad might hold microorganisms that damage your skin. Moreover, the breakdown of components or consistency changes in these products will make them less effective. 
Irritation, inflammation, and redness may happen from the skin's adverse reaction to expired products. When administered topically, expired products also have a higher potential for bacterial growth, which raises the risk of infection and blistering. Remember when to discard your products correctly and always keep an eye out for their expiration dates. Whenever you observe a change in color, scent, or other regularity. It is recommended to discard concealer and foundation after a year and to replace liquid eye makeup (such as mascara and eyeliner) after three months of use.
4) Using a lot of makeup products when you are allergic

It's normal for you to wish for that flawless and poreless-looking skin with extra glow. However, you need to know that if you're someone who loves wearing a lot of makeup and ends up with clogged pores that result in bumps, there's something you're not doing right. These clogged bumps then leave blemishes that are hard to get rid of. 
Truth is, if this scenario resonates with you, then the combination of all these makeup products may be doing more harm to your skin than you can imagine. The best idea would be to get in touch with a skincare expert to know the best substitutes for these makeup products for you.
5) Covering acne, and other spots with makeup

We agree that acne on the face can be frustrating, especially when you've some important event coming up. But the long-term objective is also to let that acne go away without any scarring, isn't it? Acne is synonymous with inflammation and infection.
When you use makeup to cover it up, the oils and synthetic perfumes from the makeup products often get into the acne and make it more aggressive, delaying the healing process, and increasing the chances of scarring. What you can do is, before applying the makeup to your face, apply a gel to the affected area so that an invisible coating is formed and the region is safe from the impact of the makeup that you put afterwards. This doesn't disrupt the healing process either.

6) Mixing your foundation with sunscreen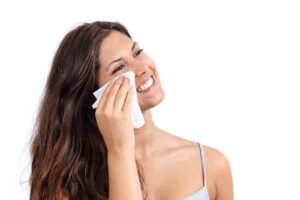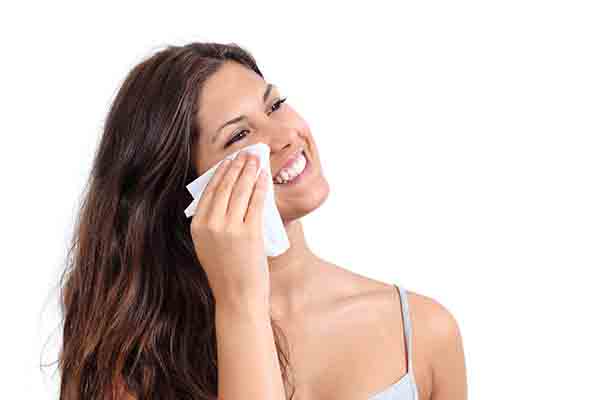 Every skin care product is tested rigorously before making it to your bedroom's shelf. When you alter any of these formulas, you reduce its effectiveness. The same happens when you mix your foundation and sunscreen. You'd never want to meddle with the effectiveness of your sunscreen since it is designed to protect your skin from the harmful UV rays of the sun. What you can do is, apply a thin layer of a light-foundation after you've applied your sunscreen and it has been well-absorbed by your skin.

7) Not cleaning your makeup brushes and other tools regularly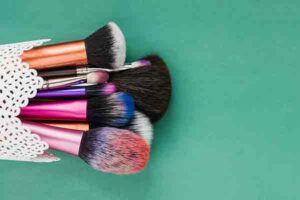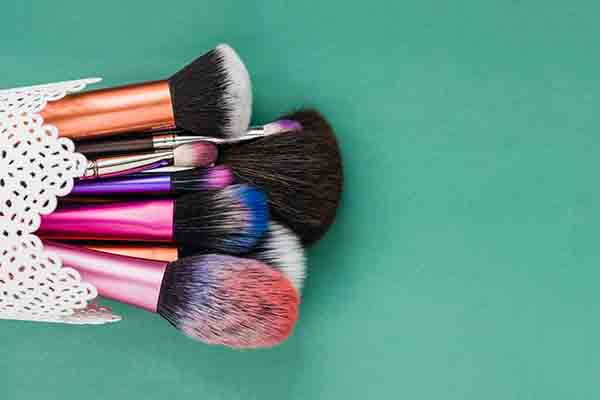 Every time you use makeup brushes and other utensils, oils, grime, and dead skin cells are absorbed and collected. Therefore, you are probably adding germs and dirt accumulation to your pores if you go weeks or months without cleansing them. This could exacerbate skin irritation and clogged pores, or it could jeopardize the health of your skin. If you don't clean your tools, the following other things could occur: 
Breakouts

Uneven or patchy cosmetics 

Clogged pores 

Infections, particularly while sharing tools and cosmetics 

Yeast Overgrowth, particularly if they are kept in moist environments like the shower 

One weekly cleaning is recommended for makeup brushes that are frequently used with liquid formulas such as foundation, concealer, and others. Using them once every two weeks is okay for powders, blushes, and eye shadows. Conversely, makeup sponges require weekly cleaning.
There are cleansers designed especially for makeup brushes, which is fantastic news. Additionally, you can clean them using a mildly foamy cleanser and water. Dish soap works well for oil removal, so it's fine if you're short on time. Simply remember to give it a good rinsing. 

Mistakes to Avoid While Removing Makeup

8) You wear makeup to bed and apply water before makeup remover

It is imperative to remove your entire makeup every night before you hit the bed. Not doing so results in clogged pores due to all the dirt and bacteria accumulated in your skin throughout the day. This dirt is from the environment, the substances in your skincare products, as well as from you touching your face often with hands that have been a host for dirt and bacteria as well.
When you apply water to your face and then apply your makeup remover, the latter gets diluted and it fails to break down the makeup particles. This means you're still left with unclean skin even though you may think you have followed a complete makeup-removal regimen. 
9) Using oil-based makeup removers and cleansing wipes too often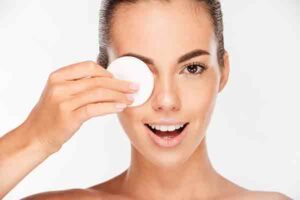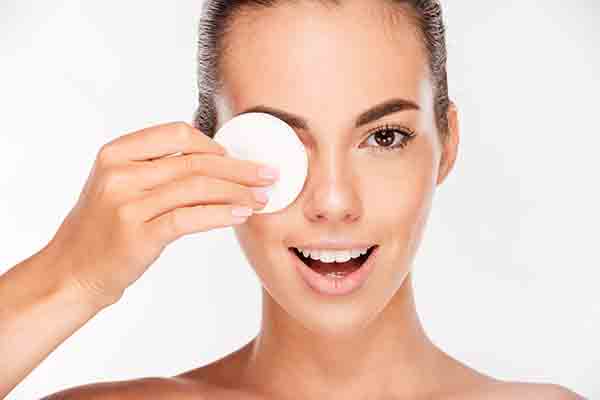 Unless you're wearing waterproof mascara and all, try to use water-based makeup removers instead of oil-based ones. This is because, with oil-based ones, you risk the oil travel to your pores and risk your chances of skin breakouts, especially when you already have acne-prone skin.

Cleansing wipes may give you the feeling of clean skin, but the truth is they don't fully remove your makeup but only smear the dirt and bacteria further into the pores. Since with wipes, there's no rinsing action, and without a rinse, there's no 100% makeup removal, you must stick to a makeup removal solution, which you can apply and then rinse with water.
10) Tugging on your eyes too hard when removing your eye makeup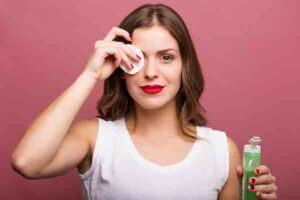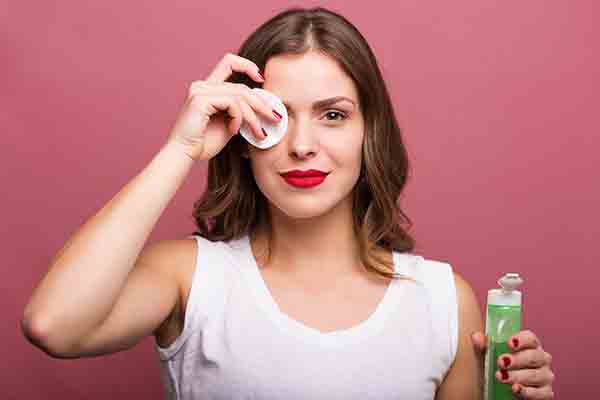 The reason your eye area is the first to show signs of ageing is because the skin around that area is extremely thin and delicate. From squinting to smiling and rubbing—your eye area gets the most wear and tear. So, you need to be extra careful while removing your mascara or any other eye makeup.  
Summary
If you're making any of these makeup mistakes that are harming your skin, it would be a good time to stop now. If you need any assistance with the right skincare, you can download the MFine app and consult the city's top dermatologists right away.
Was this article helpful?

0

0
Love reading our articles?
Subscribe to never miss a post again!