5 Every Day Tweaks Towards A Healthy Lifestyle
6 Min Read
Fact Checked
We all want to lead a healthy lifestyle, perhaps to lose weight or to feel better. But more often than not, we fail — sometimes because we aren't disciplined enough and sometimes because we don't have the right knowledge or guidance.
But the good news is that by making small adjustments to your life, with the right guidance, you should be well on your journey to achieving your goals — whether they are to get fit or to feel healthy again.
Here are 5 everyday tweaks toward a healthy lifestyle:
Eat a balanced nutritional diet

Exercise 4 or 5 days a week

Work on your stress and mental well-being

Get 7 – 8 hours of sleep per night

Get regular check-ups
(1) Eat a balanced and healthy diet
A balanced diet means incorporating a variety of local traditional food in your meal which provides adequate nutrition for good health.
It's also about clean eating and consuming the right amount of calories for your age, height, weight, and medical condition. Not everyone needs a 1500-calorie diet. Yours may be a little less or a little more.
If your goal is fat loss or weight loss, it's important to know what your maintenance calorie is, i.e., the amount of energy your body needs to perform basic functions like cell growth, muscle movements, energy conversion, etc. But this value varies from person to person.
Therefore, if you're struggling to lose weight or belly fat, you should consult a dietitian, who'd be able to measure your maintenance calorie and help you achieve your fitness goal even if you have a medical condition, such as high blood pressure. Or, you could also try one of our MFine weight management programs. We offer customized diet plans, real-time meal suggestions, weekly updates on your progress, health tips, and unlimited access to a dietitian.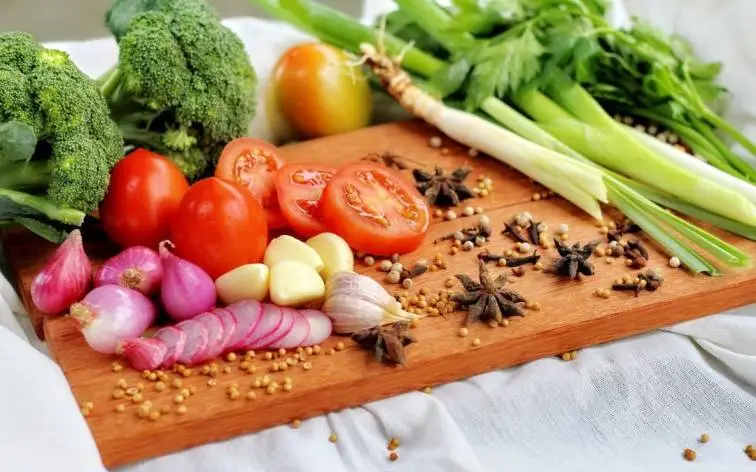 Check out some of the benefits below:
Personalized diet plans as per existing health conditions

Lab tests at home

Weekly sessions with an experienced dietitian to monitor your progress

Live weekly wellness sessions with home-based workouts by fitness trainers

2 counseling sessions with a mental health coach to overcome weight management stress

Doctor consultations as per medical needs, and

Stress management for quality sleep 
Read more on how to control diabetes with Indian food.
(2) Exercise 4 or 5 days a week
If you want to feel good physically and mentally, work out 4 or 5 times a week.
Very few lifestyle choices have as large an impact on your health as physical exercise. Exercise has been known to improve both physical and mental health.
Immediate benefits include
Weight loss

Improved mental health

Reduced risk for diabetes and other cardiovascular diseases, to name a few

Strong bones and muscles

Improved ability to perform daily activities and prevent falls, especially among elders, and

Helps manage chronic medical conditions
How much exercise is enough for a day?
This depends on your objective; is it weight loss, aesthetics, or simply you want to stay healthy in general?
Normally, doing 30 minutes of low-intensity workouts every day, such as walking, may help prevent most diseases. But, if you're looking for aesthetics, you may need to seek the help of a dietitian or a physical trainer. In such cases, the time taken to achieve your fitness goal can range between 45 minutes to an hour each day.
But, if you have a medical condition, such as arthritis, your requirements may be different. Read this article on effective knee exercises for osteoarthritis patients.
Have diabetes? Check this article on the best exercises for diabetes.
Read more on MFine ONE Membership for you and your family. It's a 'one-stop' solution for all your health needs. We provide great discounts, weekly fitness sessions, dedicated ambulance services, and more.
(3) Mental Health and stress management
Stable mental health reflects upon overall well-being and quality of life. It's unnatural to expect no emotional disturbances in day-to-day life, but how you cope up with these troublesome thoughts matters the most. Stress is something that we go through in our daily life.  Stress can cause depression, anxiety, and other mood disorders if it is not treated.
Manage your stress to take care of your mental health. Prolonged stress can cause your cortisol levels to rise, which can cause headaches, trouble sleeping, high blood pressure, and sometimes even strokes and heart attacks. So, if you want to take better care of your mental health, you need to learn how to deal with stress.
The following are some of the advantages of stress management:
Decreased cortisol release and insulin resistance

Mental clarity

Reduced heart rates

Improved immune system function, and

Increased oxygen consumption
Read more on 8 effective ways to relieve and manage stress.
Do not ignore your emotional well-being. If some thoughts are bothering you and affecting your daily activity and overall well-being, then consult a psychiatrist or a psychologist and get the required help.
3 life-changing tips to boost self-confidence and self-esteem.
(4) Get 7 to 8 hours of sleep per night
What happens when you don't get enough sleep?
Research has shown that the long-term impacts of inadequate sleep or disturbed sleep have been linked to various medical issues such as hypertension, heart disease, diabetes, depression, and strokes.
Therefore, if you've not been feeling well lately, it could very well be that you've not been getting sufficient sleep.
Read more on how lack of sleep is affecting your health.
Signs you're not getting enough sleep
Here's how to know if you've not been getting enough sleep
Irritability and mood swings

You have difficulty losing weight even after working out

You crave junk food and caffeine

You have dark circles, red and puffy eyes

Feeling depressed

Loss of focus and memory 
8 effective ways to beat fatigue and supercharge your mornings.
How to sleep better at night naturally?
You may want to consider lowering your screen time at night. The light from your screen, particularly blue light, fools your brain into thinking it's daytime. When this happens, your body stops producing melatonin, a sleep hormone that helps you prepare for bed and relax at night.
You could do something else instead, like read a book at night. It's a great way to naturally fall asleep quickly. Working out daily also helps you sleep better at night.
Sleep like a baby by following these sleep hygiene.
(5) Get regular check-ups.
Simply put, preventive health check-ups help you and your doctors diagnose a disease at an early stage.
What's the importance of regular medical check-ups in preventing diseases?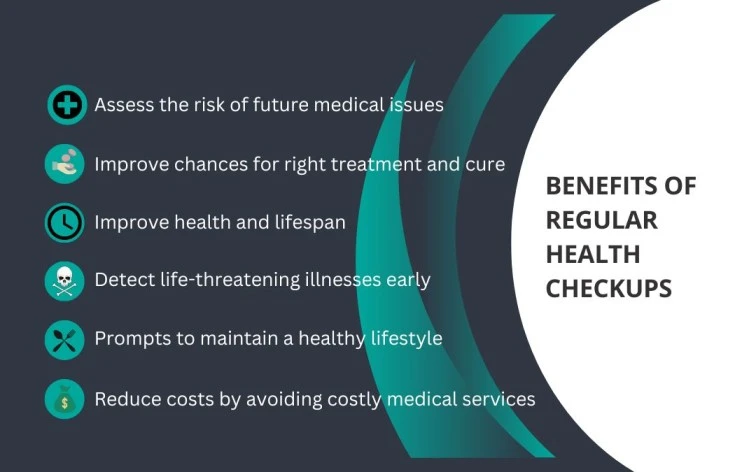 Okay, let's give you an illustration…
Meet Ashish; he's 5'9'', well-built, lean, and athletic. He never smokes, but maybe he drinks, only occasionally, once in a while. Being in good shape physically, he feels great and happy.
One day, he decides to get his blood pressure checked for fun, perhaps out of curiosity, seeing everyone around him getting checked. He goes to a doctor but is shocked. The doctor tells him he has high blood pressure and needs medical attention and tests done.
"But how ?" wondered Ashish.
"At least, I should have experienced some symptoms, some headache, or fever maybe<.."
Hypertension is a 'silent killer'. Many a time, there's no sure way to know they have it unless they get checked. If left untreated can damage your kidneys, cause stroke, and may lead to cardiovascular diseases.
Luckily for Ashish, he got help in time and was able to control his blood pressure without any damage to his health.
Similarly, there are so many other diseases that may come unannounced — heart attacks, diabetes, hepatitis B or C infection, etc.*. Therefore getting a preventive health check-up done is the only sure way to know if you're really healthy.
Having said that, did you know that blood pressure can now be easily monitored using your mobile phones? And it hardly takes 30 seconds. Read everything you need to know about the MFine BP monitor.
Not just this, we have more in store for you to assess your health from time to time at home using just your mobile phones — try the self-check tool for thyroid, heart health, PCOD, Covid-19, diabetes, breast cancer, migraine, UTI, vitamin D deficiency, and lower back ache. Sharing the link to MFine self-checks here.
Disclaimer: Please note these tools are only advised for general well-being and fitness. It's not intended for medical use.
Conclusion
Often, we fail to lead a healthy lifestyle, not for the lack of effort put in but rather because we lack the right knowledge or guidance. But by making the right adjustments to our everyday habits, coupled with the right information, you should well be on your path to a healthy lifestyle.
If you liked this article, please share this with your friends. To read more such interesting blogs, click here.
Pic credit: 
Image by Freepik
Was this article helpful?

0

0
Love reading our articles?
Subscribe to never miss a post again!