21 Common Signs of Gluten Intolerance
4 Min Read
Fact Checked
What are the signs of gluten intolerance? Gluten is a protein found in wheat, rye, and barley. When the body reacts to gluten it is known as gluten intolerance. Being intolerant to gluten is a common concern. There are three forms of gluten intolerance:

– Celiac disease
– Non-celiac gluten sensitivity
– Wheat allergy

In this article, we shall understand the common signs of gluten intolerance for all three forms. Consult a gastroenterologist to understand your body better.
3 Forms Of Gluten Intolerance
Celiac Disease
Celiac disease is the most severe form of gluten intolerance. It is an autoimmune disease that is found in 1% of the population. Skin problems, mood swings, and gastrointestinal issues are some of the common signs of celiac disease. Read more about Celiac disease vs. gluten intolerance.
Non-Celiac Gluten Sensitivity
Non-celiac gluten sensitivity is the milder form of gluten intolerance. Every 0.5% to 13% of the population is affected by non-celiac gluten sensitivity. Bloating, headaches and fatigue are some of the common signs of non-celiac gluten sensitivity.
Wheat Allergy
In wheat allergy, the body's immune system reacts to certain proteins found in wheat. This is more common among children than adults. However, studies have shown that after the age of 12, most children outgrow wheat allergy. Skin rashes and nasal congestion are the common signs of wheat allergy.
21 Signs Of Gluten Intolerance
1) Diarrhea and constipation
Diarrhea and constipation are common if a person experiences celiac disease and wheat allergy. This is due to the inflammation of the small intestine after the consumption of gluten. The gut lining gets affected which leads to poor absorption of nutrients. 
2) Fatigue
Feeling fatigued is also common among people with celiac disease and wheat allergy. The other reasons why fatigue is experienced is because of incomplete sleep cycles, chronic pain, and mental health problems. 
3) Skin reactions
Being gluten intolerant can take a toll on your skin as well. It is not necessary that if you are gluten intolerant only your digestive system should be affected. Some people experience skin rashes as well.
4) Leg and arm numbness
Numbness or tingling in the legs and arms is also a common sign of celiac disease. 
5) Bloating
Bloating is when you feel your stomach is filled with gas. This is a very uncomfortable feeling. If you are gluten intolerant, then feeling bloated is common, especially after the consumption of a gluten-rich meal. Read more on how to eliminate bloating.
6) Stomach pain
Abdominal pain or stomach pain followed by bloating is a common symptom of gluten intolerance.
7) Headaches
Headaches are common if you have migraines. However, studies have shown that headaches are more common in gluten-intolerant people than in people with migraine.
8) Pain
Gluten intolerance is due to inflammation in the body. This inflammation can cause pain in the body. The actual cause of this sudden pain in gluten-intolerant people is unknown.
9) Brain fog
Brain fog is a feeling when a person is unable to think clearly. Studies have shown that 40% of people with gluten intolerance show symptoms related to brain fog.
10) Skin rash
Skin rash is common if you have a wheat allergy. It results in hives resulting in itching, redness, and inflammation.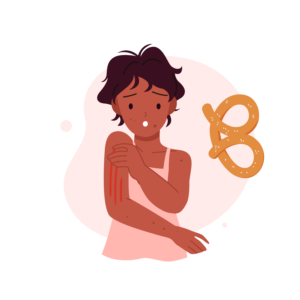 11) Digestive problems
Nausea and vomiting along with either diarrhoea or constipation are common.
12) Nasal congestion
A runny nose, nasal congestion, and sneezing are the signs of wheat allergy.
13) Anaphylaxis
Anaphylaxis is a life-threatening condition if the allergic reaction is left untreated as you may experience worsening skin rashes, itching and difficulty in breathing.
14) Joint and muscle pain
Getting joint and muscle pain is very common and could be due to various reasons. However, if you are detected with celiac disease, then your body naturally becomes oversensitive causing joint and muscle pain.
15) Nausea
Nausea is usually experienced after consuming a meal with gluten.
16) Swelling, itching, and irritation of the mouth and throat
Experiencing swelling, itching, and irritation of the mouth and throat after consuming food containing gluten is also a common sign of gluten intolerance.
17) Depression 
Depression is very common among people with celiac disease. This is related to the digestive issues that are caused by the consumption of food containing gluten.
18) Anxiety
Anxiety is associated with celiac disease and gluten sensitivity. However, studies have shown that having a gluten-free diet can help in reducing anxiety.
19) Sudden weight loss
Sudden weight loss is related to poor nutrient absorption and poor digestive health.
20) Iron deficiency
Since the digestive tract is affected in gluten-intolerant people, therefore, the absorption of nutrients is also reduced. This leads to many deficiencies. Iron deficiency is one such example.
21) Autoimmune disorders
Autoimmune disorders are when the immune system attacks your body. When you are gluten intolerant, your immune system attacks the digestive tract. Having autoimmune disorders along with gluten intolerance can cause other autoimmune disorders too.
Gluten Allergy and Wheat Allergy
Grains like wheat, barley, and rye contain a protein called gluten. Although some people have allergies to wheat, wheat allergies are distinct from gluten allergies. Often used interchangeably with wheat allergy or, on occasion, celiac disease, the term "gluten allergy" is deceptive. Gluten allergy is not a real disorder; instead, it is referred to as celiac disease. In the event that it is not identified or treated, celiac disease is a potentially dangerous digestive disorder. Severe diarrhoea following consumption of gluten-containing foods, rash, inability to gain weight appropriately or significant weight loss are all signs of celiac disease.  It's possible for tiny toddlers to merely exhibit low weight gain without any other symptoms like pain. 
Only a gastroenterologist with board certification is qualified to diagnose celiac disease.  As the active treatment is to avoid gluten, it must also be made when the patient is consuming gluten-containing foods.
Diet For Gluten Intolerant People
Often, it is a gluten-free diet that is the most effective solution. However, other symptomatic effects like skin rashes, and migraines, among others, need to be treated accordingly by a doctor.
Here is a list of foods you can include in your diet:
– Gluten-free pasta
– Fresh fruits and vegetables
– Meat and seafood (not breaded)
– Unflavored dairy products
Conclusion
There are various reasons why a person might be gluten intolerant. Also, the signs and symptoms of gluten intolerance may vary from person to person. Incorporating a gluten-free diet can help in reducing the severity of gluten intolerance. Consult a gastroenterologist on MFine for more information.
Was this article helpful?

0

0
Love reading our articles?
Subscribe to never miss a post again!