A Guide to Treating Dyspareunia (Painful Sex) in Women
Pain during sex (or dyspareunia) isn't normal. However, many women struggle with this issue. While statistics may vary, it's estimated that a significant number of women worldwide suffer from it, but due to the stigma associated with dyspareunia, many cases remain unreported or untreated.
However, based on the available studies that we have on the subject, it's estimated that the overall prevalence of dyspareunia is 12.6%. To put that into perspective, 12 out of every 100 women experience pain during sex.
In this comprehensive guide, we will explore the key to overcoming painful sex and provide you with the tools and knowledge you need to reclaim your pleasure. 
There are numerous causes of dyspareunia, or painful sex, ranging from physical conditions and hormonal imbalances to psychological factors and relationship problems. Understanding the root cause is crucial to finding the right approach for you. 
In this guide, we will look into the various techniques and strategies to help alleviate pain during intercourse; from communication and emotional support to medical treatments and natural remedies, we will cover all the possibilities to help you make informed decisions about your sexual health. 
No woman should have to endure pain and discomfort in the bedroom. It's time to take control and discover the key to a fulfilling and pleasurable sexual life.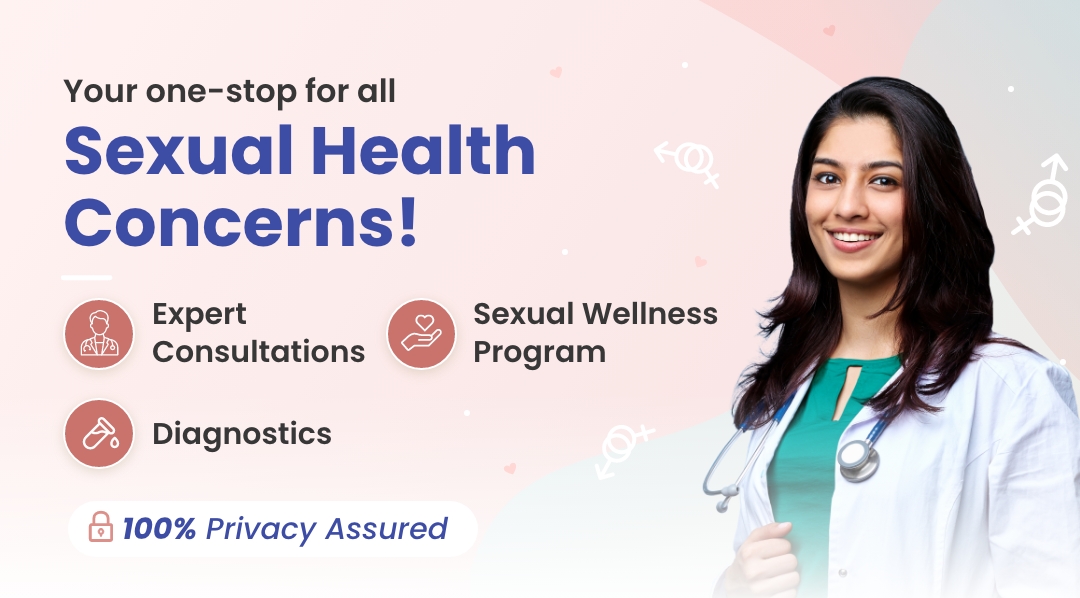 Consult with the best doctors city right now
Chapter 1: Understanding Dyspareunia
What is dyspareunia?
Dyspareunia is the medical term for painful sex. It is defined as recurring or persistent pain in the genitals prior to, during, or following sex. It can affect women of all ages and from all walks of life. Consult your sexologist if you are experiencing painful intercourse. Treatments address the underlying cause and can help eliminate or mitigate this common issue.
Who is most likely to have dyspareunia?
While dyspareunia can affect any woman, postmenopausal women are more likely than others to have dyspareunia. Aside from that, you are also more likely to suffer from it if you
Take medications that cause vaginal drying, or

Have a viral or bacterial infection
How common is dyspareunia?
Dyspareunia is more common than most people realize. While the exact statistics may vary, it's estimated to affect a significant number of women worldwide. However, due to the stigma associated with dyspareunia, many cases remain unreported or untreated.
However, according to a national-level family health sample survey conducted in Indian states from 1998 to 1999 that collected sexual and reproductive health information from 84,644 married women, it was observed that the overall prevalence of dyspareunia was 12.6%. 
Moreover, the survey revealed that dyspareunia was significantly more common among respondents who had urinary sensory symptoms than those who did not. (Padmadas, Sabu S., et al., 2006).
Are there different types of dyspareunia?
Yes, there are two types of dyspareunia: superficial dyspareunia, which involves pain at the vaginal opening, and deep dyspareunia, which occurs deeper within the pelvic region.
(1) Superficial dyspareunia: 
This kind of dyspareunia causes pain at the opening of the vagina. Women experiencing superficial dyspareunia often describe the discomfort as a burning or stinging sensation that occurs upon initial penetration. 
The pain is typically felt near the vaginal opening and may make it challenging to engage in sexual activity or even insert a tampon comfortably. Common causes of superficial dyspareunia include vaginal dryness, vaginal infections, skin conditions, and certain medical treatments such as radiation therapy.
(2) Deep dyspareunia: 
Deep Dyspareunia, on the other hand, involves pain that occurs deeper within the pelvic region, often during thrusting or deeper penetration. This type of pain is typically described as a dull, aching sensation or pressure deep within the pelvis. 
Conditions such as endometriosis, uterine fibroids, ovarian cysts, and pelvic inflammatory disease can contribute to deep dyspareunia. It may also result from conditions affecting the ligaments and muscles that support the uterus and pelvis. 
Women with deep dyspareunia often find that the pain persists even after intercourse has ended.
It is very important to know the difference between superficial and deep dyspareunia, as it helps sexologists identify the root causes and personalize treatment plans to fit each person's experience of pain. Treating dyspareunia often means getting to the root of the problem and giving specific relief for the type of dyspareunia that is happening.
Chapter 2: What causes dyspareunia?
Dyspareunia can result from various physical, psychological, or interpersonal factors. 
(1) Entry pain
There are several things that could cause pain during intercourse, such as:
Not enough lubrication: 
This often happens when there is not enough foreplay. Another reason could be a drop in estrogen levels after menopause, giving birth, or breastfeeding.
Certain medications are known to affect sexual desire or arousal, can also reduce lubrication and make sex painful. These include antidepressants, blood pressure medications, sedatives, antihistamines, and some birth control pills.
Injury, trauma, or irritation: 
This includes cuts or irritations caused by an accident, pelvic surgery, female circumcision, or a cut made during labor to enlarge the birth canal (episiotomy).
Inflammation, infection, or skin disorder 
A genital or urinary tract infection can also cause painful intercourse. Eczema or other skin issues in your genital area can also be a potential cause.
Vaginismus: 
These involuntary spasms of the vaginal wall muscles can also make penetration painful.
Congenital defects: 
Birth defects like imperforate hymen (a type of membrane that blocks the vaginal opening) or a lack of a fully formed vagina (vaginal agenesis) can cause dyspareunia. 
(2) Deep pain
Deep pain usually occurs with deep penetration. It might be worse in certain positions. Causes include:
Certain illnesses and conditions:

Medical conditions such as endometriosis, uterine prolapse, pelvic inflammatory disease, retroverted uterus, cysstitis, uterine fibroids,

irritable bowel syndrome

, pelvic floor dysfunction, hemorrhoids,

adenomyosis

, and ovarian cysts are known to cause dyspareunia.

Surgeries or medical treatments:

Scarring from pelvic surgery, including

hysterectomy

, can make intercourse painful. Sometimes chemotherapy or radiation for cancer treatments can cause changes in the body, which can make sex painful.
Emotional factors
Because emotions are inextricably linked to sexual activity, they may play a role in sexual pain. Emotional factors include:
Psychological issues:

anxiety

,

depression

, body image issues, fear of intimacy, or relationship problems can all contribute to a low level of arousal, thereby leading to vaginal dryness and pain during intercourse.

Stress:

when you are under stress, your pelvic floor muscles tend to tighten. This can cause pain during intercourse.

History of sexual abuse:

Although not everyone with dyspareunia has a history of sexual abuse, those who've had a history of sexual abuse may experience pain during sex.
Chapter 3: Symptoms: What does dyspareunia feel like?
The experience of dyspareunia can differ from person to person. Some describe it as a stabbing or tearing sensation, while others report a deep, aching pain.
Symptoms of dyspareunia can vary but often include
Sharp pain:

This is like a sudden, intense ache or stabbing sensation in the genital area.

Burning pain:

It can feel like a burning or stinging sensation, similar to a mild sunburn.

Aching:

Some people describe a constant, dull ache or discomfort during sex.

Pressure:

Dyspareunia might make you feel a sense of pressure, like something is pressing on or inside your genital area.
Chapter 4: Does dyspareunia cause bleeding?
If endometriosis or vaginal infections are the root causes of dyspareunia, bleeding may occur.
In these cases, the pain and friction during intercourse can irritate or damage the sensitive tissues in the vaginal area, potentially causing some bleeding. 
Discussing painful sex with your sexologist can be challenging but crucial for diagnosis and treatment. Be open and honest about your symptoms, their duration, and any relevant medical history.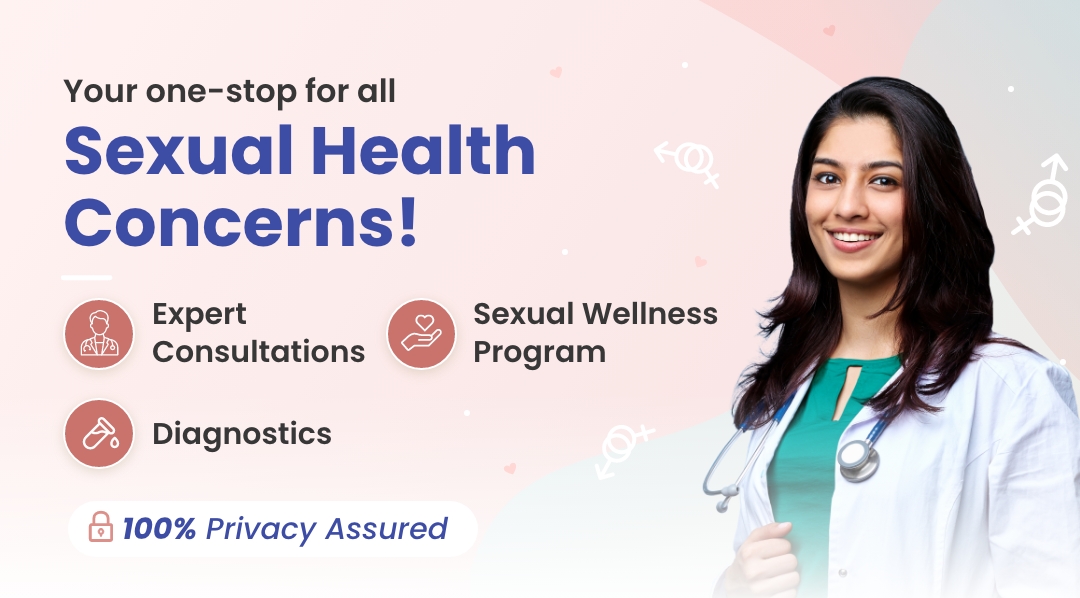 Chapter 5: Diagnosis and Tests
How is dyspareunia diagnosed?
Diagnosing dyspareunia involves a thorough medical evaluation, which may include a physical examination, a review of your medical history, and a discussion of your symptoms and sexual history.
Pelvic exam: Your doctor will carefully check your pelvic area, including your vagina and surrounding tissues, for signs of
Dryness

Genital warts

Scarring

Inflammation or infections

Abnormal masses

Endometriosis etc
Blood and urine tests: This is done to check for signs of bacterial or yeast infections or hormone imbalances that could be causing the pain.
Imaging studies: In some cases, your doctor may want to get a better look inside your pelvis. They might recommend imaging tests like ultrasounds or MRI scans. These tests create pictures of your internal organs, helping your doctor spot any abnormalities.
Chapter 6: Treatment options
Depending on what the underlying cause is, treatment involves a combination of medical interventions, lifestyle changes, and psychological support. The treatment options are designed to address the underlying causes and alleviate pain during intercourse.
When dyspareunia is caused by an infection
If the pain is caused by an infection, your Sexologist may prescribe 
Antibiotics

Antifungal medications, or

Injectable or topical corticosteroids
When medications are the cause of dyspareunia
Similarly, if long-term use of medications results in vaginal dryness, treatment options include switching prescriptions or experimenting with natural lubricants to lessen pain.
When Dyspareunia is caused by low estrogen
When low estrogen levels are the cause of the pain, a prescription for a tablet, cream, or flexible ring to deliver a small, regular dose of estrogen to the vagina is necessary for treatment.
Sometimes, a drug called ospemifene (Osphena), which is not estrogen but works like estrogen on vaginal tissues, may also be prescribed. It works to make the tissues thicker and less fragile. This might make it easier for women to have sexual relations without experiencing much pain.
When Dyspareunia is caused by psychological factors
Psychological interventions for Dyspareunia may include 
Cognitive Behavioral Therapy (CBT)

Sexual Counselling

Mindfulness and relaxation techniques

Sexual education

Effective communication and

Addressing relationship issues
Chapter 7: Other Treatment Approaches
(1) Pelvic floor exercises to address muscle tension:
Pelvic floor physical therapy involves working with a physical therapist who can assess and address muscle tension and dysfunction in the pelvic floor. 
These therapists use exercises, manual techniques, and biofeedback to help relax and strengthen the pelvic floor muscles. Pelvic floor physical therapy can be very effective in reducing pain and enhancing sexual function for people who have dyspareunia due to muscle tightness or spasms.
(2) Surgical interventions for certain conditions:
Very rarely, in some cases, surgical procedures may be recommended to treat the underlying causes of dyspareunia. For example, surgery can be an option to remove endometriosis lesions, fibroids, or ovarian cysts that contribute to pain during intercourse. 
The specific surgical approach depends on the individual's diagnosis and the severity of their condition. It's essential to discuss the risks, benefits, and expected outcomes with a gynecologist or surgeon before considering surgery.
Read a complete guide on endometriosis: treatment, causes, symptoms, diagnosis, and more!
Chapter 8: Lifestyle and home remedies
Using water-based lubricants:
Water-based lubricants can help reduce friction during sexual intercourse, making it more comfortable and less painful. These lubricants are readily available over-the-counter and can be applied to both partners before engaging in sexual activity. It's important to choose a lubricant that is free from irritants or allergens, especially if you have sensitive skin.
Engaging in regular sexual activity to maintain vaginal health:
Regular sexual activity, including self-exploration, can help maintain vaginal health by promoting natural lubrication and preserving the elasticity of vaginal tissues. For individuals with dyspareunia, gradually reintroducing sexual activity in a comfortable and controlled manner can help reduce pain over time. Open communication with a partner is essential during this process.
Practicing relaxation techniques before sex:
Anxiety and stress can contribute to dyspareunia. Practicing relaxation techniques before engaging in sexual activity can help calm nerves and reduce muscle tension. Techniques such as deep breathing, progressive muscle relaxation, and guided imagery can be effective. Taking time to create a relaxed and comfortable atmosphere can also enhance the overall sexual experience.
It's important to remember that the effectiveness of these treatment approaches, lifestyle changes, and home remedies can vary from person to person. Consultation with a healthcare provider or specialist is crucial to determining the most suitable combination of interventions for managing dyspareunia based on the underlying causes and individual needs. A personalized treatment plan can lead to significant improvements in sexual comfort and overall well-being.
Chapter 9: Coping and Support
Coping with dyspareunia involves not only medical treatment but also emotional support and effective communication with your partner. 
Seeking professional counseling or therapy and connecting with supportive communities can significantly enhance your ability to manage the condition and improve your overall well-being.
(1) Seeking counseling or therapy for emotional support
Dealing with dyspareunia can be emotionally challenging. It's entirely normal to experience feelings of frustration, anxiety, sadness, or even anger. Seeking counseling or therapy from a mental health professional, such as a psychologist or licensed therapist, can provide a safe and confidential space to express these emotions. Therapy can help individuals:
Manage emotional distress:

A therapist can offer coping strategies and techniques to manage the emotional distress associated with dyspareunia, such as anxiety or depression.

Address relationship issues:

Dyspareunia can strain intimate relationships. Couples therapy can facilitate open and constructive communication, helping partners understand and support each other better.

Explore psychological factors:

Therapy can explore any underlying psychological factors contributing to dyspareunia, such as past trauma or anxiety. Addressing these issues can be an essential part of the healing process.
(2) Communication with your partner about your condition:
Open and honest communication with your partner is crucial when dealing with dyspareunia. Discussing your condition can:
Strengthen emotional bonds:

Sharing your experiences and concerns can strengthen your emotional connection with your partner. It fosters understanding and empathy.

Promote patience:

Dyspareunia treatment may take time, and it's essential for your partner to be patient and supportive. Discussing your progress and expectations can help manage both of your expectations.

Encourage problem-solving:

Together, you can brainstorm ways to make intimacy more comfortable and pleasurable. This collaborative approach can lead to creative solutions and improved sexual experiences.
Chapter 10: Prevention
While not all cases of dyspareunia can be prevented, there are steps you can take to reduce your risk:
After childbirth, wait at least 6 weeks before resuming sexual activity

Use water-soluble lubricants when vaginal dryness is an issue

Maintain good hygiene

Get routine checkups done

Practice safe sex to reduce the risk of infections

Manage underlying medical conditions effectively
Chapter 11: Preparing to consult a Sexologist
During a regular medical checkup, sexologists often inquire about sexual activity and intimacy. It is a good opportunity to be open about any sexual concerns you may have. 
However, if your sexologist does not mention it, do not hesitate to bring it up yourself. Although discussing sex with your sexologist may make you feel embarrassed, it is a completely appropriate subject. 
In fact, sexual satisfaction plays a vital role in overall health and well-being. 
Here are some questions you might want to ask your sexologist:
What is causing my painful sex, and is it a symptom of an underlying medical condition?

Are there different types of dyspareunia, and which type do I have?

What tests or examinations will be necessary to diagnose my condition?

What treatment options are available for my specific case of dyspareunia?

Are there medications that can help relieve my pain?

Is pelvic floor physical therapy recommended, and how can it help me?

Is cognitive-behavioral therapy (CBT) an option for addressing psychological factors related to dyspareunia?

Are there surgical interventions considered for my condition, and what are the pros and cons?

What lifestyle changes can I make to alleviate my symptoms?

How can I maintain a healthy and satisfying sexual life while managing dyspareunia?
Chapter 12: MFine Sexual Wellness Program for women
At MFine, we offer consultations with expert sexologists who can assist you with various concerns related to sexual health, including issues like vaginal dryness, painful intercourse, vaginismus, and other related conditions. 
Additionally, we offer a range of at-home lab tests focused on sexual and reproductive health. Our basic sexual health and wellness tests encompass over 10 different tests designed to diagnose and assess various aspects of sexual health. 
For those seeking a more comprehensive evaluation, we also provide extensive sexual health and wellness tests, which include over 19 tests that thoroughly evaluate sexual and reproductive health.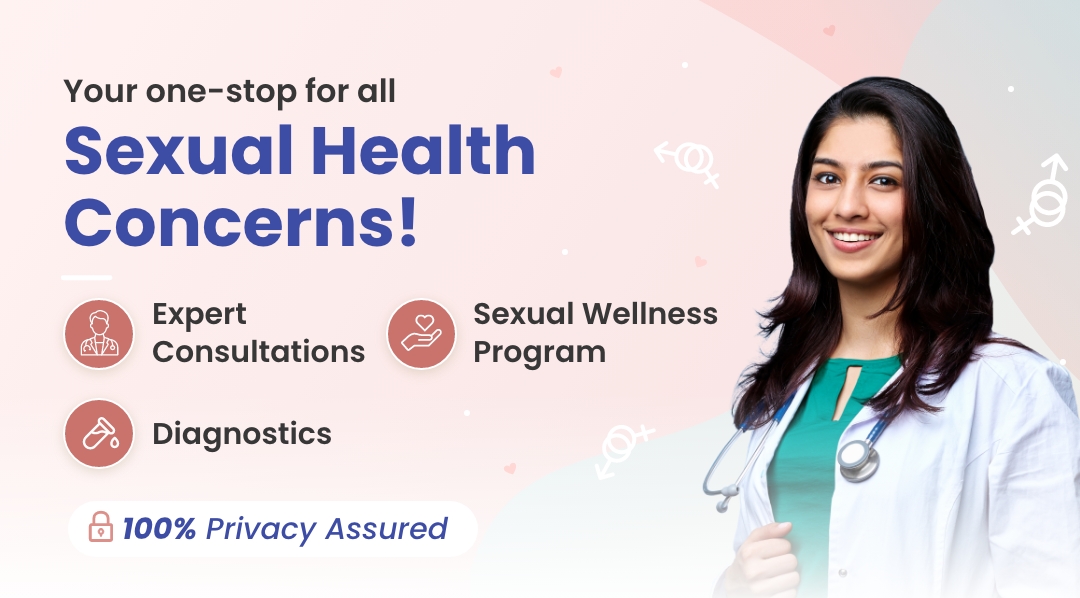 Furthermore, we don't just cater to women's sexual wellness; we also have a dedicated program for men's sexual health. Our consultations for men address common concerns such as erectile dysfunction, premature ejaculation, and other related issues. 
If you're interested in learning more about MFine's Sexual Wellness Program for Men, please explore our services and offerings. Your sexual health and well-being are important to us, and we're here to provide you with the support and care you need.
Chapter 13: Conclusion
In conclusion, dyspareunia is a common issue that affects many women but is often treatable with the right medical guidance and support. Remember that you don't have to suffer in silence. Seek help from a healthcare professional and work together to find the most suitable treatment plan for you. By taking proactive steps, you can improve your quality of life and regain the joy of intimate relationships.
This comprehensive guide provides in-depth information on dyspareunia, from understanding its causes and symptoms to exploring treatment options and addressing common questions.
References
Why is sex painful after menopause?
Postmenopausal women often experience vaginal dryness and thinning of the vaginal walls due to reduced estrogen levels, making sex painful. HRT and lubricants can help reduce intercourse pain after menopause.
What does endometriosis sex pain feel like?
Endometriosis-related pain during sex can range from a sharp, stabbing sensation to deep pelvic pain. It varies depending on the location and severity of endometrial tissue growth.
How long until sex stops hurting?
The time it takes to relieve dyspareunia varies based on the underlying cause and treatment approach. Some women experience improvement within weeks, while others may take months.
How can I make sex less painful with endometriosis?
Effective management of endometriosis often involves a combination of medication, surgery, and lifestyle changes. Consult with your healthcare provider for a personalized treatment plan.
What cream is good for menopause painful sex?
Estrogen-based creams, like estradiol or estriol, are commonly prescribed to relieve vaginal dryness and pain during menopause. However, consult your sexologist for recommendations.
What is the best estrogen for painful sex?
The choice of estrogen therapy depends on your specific needs and medical history. Your sexologist will determine the most suitable form and dosage for you.
Does HRT help with dyspareunia?
Hormone replacement therapy can be effective in relieving dyspareunia by addressing vaginal dryness and thinning. Discuss the risks and benefits with your healthcare provider.
Can sex hurt if you haven't had it in a long time?
Yes, if there is a lack of sexual activity for an extended period, the vaginal tissues may become less elastic and more prone to pain during intercourse. Gradual reintroduction to sexual activity and the use of lubricants can help.
What hormone relieves pain in sex?
Estrogen is the primary hormone that helps maintain vaginal health and lubrication, which can alleviate pain during sex.
What is the best lubricant for menopause?
Water-based and silicone-based lubricants are often recommended for menopausal women experiencing vaginal dryness. Experiment to find the one that works best for you.
Consult with the best doctors city right now