Health A to Z
Last updated on 2023-02-21 15:51:07
Why Is Vitamin D Deficiency Often Ignored?
Dr Spurti Kattimani

6 Min Read

Fact Checked
About 76% of India's population is suffering from vitamin D deficiency, yet they continue to ignore the problem. So, why do they do it? This seems like a very genuine question, given that every third or fourth person you meet every day on the street or on your way to commute is vitamin D deficient. Do they not know it, do they ignore it, or is there something else? Why is India ignoring this disease of such a huge epidemic proportion? Let's find out. Doctors believe there are three primary reasons for it:
(1) Most people with vitamin D deficiency are asymptomatic, hence don't see a need to get it checked
It is true that many people with vitamin D deficiency don't show any noticeable symptoms, which can make it difficult to diagnose this condition — since they don't show any signs, they don't see the need to see a doctor or get checked. Some others may show mild symptoms like bone pain, body aches, fatigue, and frequent episodes of infections, but as long as they can carry on in their lives without major disruptions, they'd continue to do so without bothering to see a doctor. But in most cases, chances are, people would only know if they get themselves tested. So even if you don't suffer from it, it's a good idea to get yourself checked. Now some of you may say,
"I'm feeling great; I'll just get checked later."
We get it, and that's okay. This may not be an immediate priority for you, but hey, what if we told you, you can now assess your risk levels for vitamin D deficiency in the next three minutes? Would this make it a little easier for you? Try this FREE Self Check tool for vitamin D. It's 100% certified by doctors and confidential. All you have to do is answer a few chat-based questions, and that's it. Based on the responses given, this tool will generate suggestions and a detailed health report that is specifically made for you. Do check it out!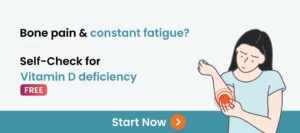 (2) People lack a basic understanding of vitamin D in relation to their health
As much as there are people who know about vitamin D, there are an equal number of people, if not more, who lack a basic understanding of vitamin D and its relation to their health — as a result, they continue to ignore signs of vitamin D deficiency! Growing up, your grandparents or parents may have reprimanded you to get up early in the morning and get some sun, perhaps go for a walk. Having no choice, most of us would have grudgingly or hesitantly done that, not knowing the logic behind it, or even if there was some reasoning behind it, it was never about vitamin D. "
It's good for your health"
is what they said, and that's it. Most people don't know how sunlight is important for their health — i.e., they may not know the nitty-gritty of how sunlight boosts their vitamin D production and how that, in turn, protects them from chronic conditions and so on. For example, most average Indians may not necessarily know that
vitamin D deficiency is linked to an increased risk for cardiovascular diseases and diabetes
. For them, diabetes, for example, is associated with excess sugar or lack of physical inactivity, but they wouldn't necessarily associate diabetes with vitamin D. But, studies show that people who have diabetes are also more likely to be vitamin D deficient. Therefore, if people have diabetes, they'd most likely take medications for diabetes, but they may not necessarily step out in the sun to boost their vitamin D levels. Or max, if they have some understanding of vitamin D, they may be able to associate it with osteoporosis in the elderly because it's so common, but apart from that, most average Indian population wouldn't necessarily associate vitamin D with depression, high blood pressure, eczema, premature aging, hair fall, weight gain, Alzheimer's, heart disease, multiple sclerosis, diabetes, autism, cancer, autoimmune diseases, Parkinson's disease, etc. So unless specifically diagnosed and advised by the doctor to soak in the sun, most Indians would continue to ignore vitamin D. Now that you know a bit more about vitamin D, we're hoping that you should well be on your way to leading a healthy life. But if you want to know more, check out this
complete guide on vitamin D deficiency
. It has all the information you need to know about its causes, symptoms, diagnosis, treatment, and more. So if you're looking for a reliable source of information that is medically verified, do check it out! Also, we see a lot of you asking questions about vitamin D-rich fruits and vegetables. We have covered those topics, too, in this blog:
Vitamin D fruits and vegetables that you need to know about
! Feel free to check them out as well.
(3) People who do know about vitamin D but continue to ignore the facts
Why do people who are aware of Vitamin D yet continue to neglect their intake? This can be due to a number of reasons.
(1) Busy work schedules
One of the main reasons why people ignore the facts about vitamin D is because of their busy work schedules. With work, family, and social commitments taking up much of our time, it's easy to forget about taking care of our health. As a result, many people don't get enough sunlight, which is one of the best sources of vitamin D.
(2) …because they are worried about skin cancer
Another reason why people ignore the facts about vitamin D is because they are worried about skin cancer. With so much information available about the dangers of sun exposure, it's easy to understand why people are concerned. However, it's important to remember that moderate sun exposure is actually good for your health. Just be sure to protect your skin from sunburn by wearing protective clothing and using sunscreen with an SPF of 30 or higher.
(3) They do not eat a diet rich in Vitamin D
Finally, many people ignore the facts about vitamin D because they don't include a diet rich in vitamin D foods. While it's possible to get enough vitamin D from the sun, it's also important to have vitamin D-rich foods in your diet, such as fatty fish, eggs, and mushrooms. Additionally, you can also take a vitamin D supplement to ensure that you're getting enough of this important nutrient.
How do I know I am vitamin D deficient?
You need to keep a couple of things in mind to understand if you are suffering from vitamin D deficiency.
(1) Look out for the following symptoms 
The most common signs of vitamin D deficiency can be subtle and easily overlooked. Some of the most common symptoms include:
Fatigue and weakness

Muscle pain and weakness

Joint pain

Depression and mood changes

Bone pain and tenderness

Dental problems

Hair loss

Loss of appetite

Frequent episodes of infection
If you're experiencing any of these symptoms, it's important to speak with your doctor, who can determine if you're vitamin D deficient and recommend a course of action.
(2) Get a blood test for Vitamin D Deficiency
As mentioned earlier, remember not everyone suffering from vitamin D may experience symptoms. Therefore, the only sure way to know is by getting a simple blood test done. This test measures the level of 25-hydroxyvitamin D in your blood, which is the most reliable indicator of your body's vitamin D status. Your doctor can order this test, and it's typically a quick process. The test results will give your doctor a better understanding of your vitamin D status, and they can recommend a course of action to help you get back on track. Nowadays, getting a blood test has become easier; you can get one done at your home itself. Therefore if you're specifically looking to get a blood test done for vitamin D, you can check some of our services
here
. Also, do feel free to check some of our other
vitamin profile tests
.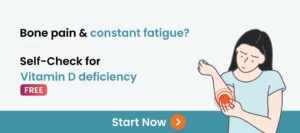 How much sunlight should I get?
Get a D - Break, meaning take 15-minute breaks every day, anytime between 10 am to 1 pm, to soak yourself in the sun. This will help you improve your vitamin D levels in the long run. Also, studies have shown that sunlight after 1 pm may cause skin cancer, therefore ensure you use a protective sunscreen or wear full-sleeved clothing when you step out in the sun.
Read this article on
vitamin D deficiency: Are you getting enough sunlight?
Conclusion
Vitamin D deficiencies can have serious consequences, including osteoporosis, heart disease, and a weakened immune system. Those who are at high risk for deficiencies, such as pregnant women, the elderly, and people with dark skin, should be especially mindful of their Vitamin D intake. In conclusion, Vitamin D is an essential nutrient that plays an important role in maintaining good health. Despite its importance, many people continue to ignore the facts and don't take enough of it. Whether it's because of busy work schedules, fear of skin cancer, or a lack of a diet rich in vitamin D foods, it's important to take steps to ensure that you get enough of this important nutrient. So, make sure to include vitamin D-rich foods in your diet, get moderate sun exposure, and take a vitamin D supplement if needed to keep your health in top condition.
Get tested for vitamin D now!
Consult a General Physician
Check out these videos
Symptoms of PCOS in Females
Covaxin and Covishield | Latest Updates
Difference Between COVID and Pneumonia
Who are Susceptible to Heart Attack?
Was this article helpful?

0

0
Symptoms of PCOS in Females
Read more on
Health A to Z
Love reading our articles?
Subscribe to never miss a post again!