Health A to Z
Last updated on 2022-04-14 11:11:13
What are the three types of pregnancy-induced hypertension?
Dr. Sreelekha Daruvuri

3 Min Read

Fact Checked
Types of pregnancy-induced hypertension,  —
it's common to have high hypertension (or high blood pressure) during pregnancy. There's no need to be alarmed. There's help. In fact, most women with pregnancy-induced hypertension go on to have healthy pregnancies and babies. Let's now look at some pregnancy-related hypertension health conditions that women develop and what they are:
1) Gestational hypertension
Gestational hypertension is pregnancy-induced hypertension that occurs during the second half of your pregnancy (usually after 20 weeks) but earlier when you are carrying twins and goes away after you deliver the baby. Women with gestational diabetes have a sustained BP of over 140/90 mm Hg. 
If you have gestational hypertension, there's no need not panic. Most women with this condition have healthy pregnancies and healthy babies. However, keep in mind that it's of utmost importance to consult a doctor for a healthy pregnancy and baby. Should you require to
speak about your condition with a gynecologist
, you could do so by downloading our
MFine app
.
At MFine, we provide affordable doctor consultations, all from the comfort of your home.
Check out some of our services, including at-home blood sample collection.
Things you need to understand about gestational hypertension
Here are a few things you need to keep in mind about this condition. Delays in seeing a doctor may (or may not also),
- Damage your organs like  kidneys
- Reduce blood flow to the placenta, which in turn can affect the baby resulting in premature birth or the baby being born too small
- Increases risk of over bleeding during or after delivery
- Put you at risk of heart disease
Who is at risk for gestational hypertension?
Following women are at a higher risk for gestational hypertension
- Women over 40 years of age
- Obese women
- Women who have had a history of preeclampsia
2) Preeclampsia
Preeclampsia is a more severe form of gestational hypertension along with proteinuria. If left untreated can be fatal and may damage your kidneys and liver.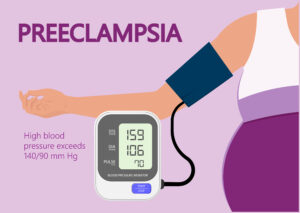 Symptoms of preeclampsia
Following are some symptoms of preeclampsia:
- Excess proteins in your urine 
- Higher creatinine levels, an indication of kidney problems
- Blurry vision or vision problems
- Nausea
- Vomiting
- Low platelet count
- Abnormalities in your liver reports, an indication of liver problems
- Shortness of breath, an indication of fluid accumulation in the lungs
3) Chronic high blood pressure with superimposed preeclampsia
It's a condition characterized by high blood pressure before pregnancy. And then, these women go on to develop preeclampsia. Thus the name —chronic hypertension with superimposed preeclampsia.
Conclusion
The three types of pregnancy-induced hypertension are - gestational hypertension, preeclampsia, and chronic high blood pressure with superimposed preeclampsia. Hypertension
usually does not have any symptoms and is known as a "
Silent Killer
." Therefore, the  only sure way to know if you have hypertension is by getting checked. 
But did you know that you can now check your blood pressure using your phones? Yes, all you have to do is place your finger over the phone' camera and in 30 seconds you can get your test results.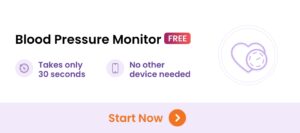 Want to know everything about the MFine BP monitor? Click
here
.
Frequently Asked Questions | FAQs
How do you manage pregnancy-induced hypertension?
If you have mild hypertension, you can manage pregnancy-induced hypertension through,
- Bedrest
- Consuming less salt
- A balanced diet and
- Drinking adequate water
However, make sure to consult your doctor.
Read more on how to increase your blood pressure.
What are the complications of pregnancy-induced hypertension?
Some complications of pregnancy-induced hypertension include
- Death of the baby and/or the mother
- Seizures
- Poor fetal growth
- Placental abruption, a condition wherein the placenta pulls away from the uterus too early
Can you have a safe pregnancy with high blood pressure?
Most women with pregnancy-induced hypertension can go on to have safe pregnancies and delivery through medications and proper nutrition. Therefore, it's important that you seek out medical help from your doctor.
What happens when you have high blood pressure while pregnant?
High blood pressure puts you at risk for
- Preeclampsia 
- Premature birth
- Intrauterine death 
- Placental abruption and 
- Cesarean delivery
Does high blood pressure cause small babies?
High blood pressure increases the risk of smaller babies having a low birth weight.
Read more about
High Blood Pressure: Causes, Symptoms, Diagnosis & More
.
Consult a General Physician
Check out these videos
Symptoms of PCOS in Females
Covaxin and Covishield | Latest Updates
Difference Between COVID and Pneumonia
Who are Susceptible to Heart Attack?
Was this article helpful?

0

0
Symptoms of PCOS in Females
Read more on
Health A to Z
Love reading our articles?
Subscribe to never miss a post again!