Health A to Z
Last updated on 2021-03-15 17:56:51
Women Living In Metros Are More Likely To Develop Diabetes: Study
Dr. Abhishtita Mudunuri

3 Min Read

Fact Checked
A new research published in the medical journal Diabetologia suggested that more than 55% of men and 65% of women aged 20 years, living in Indian metropolitan cities are more likely to develop diabetes.
Our country is already significantly burdened by diabetes. It is estimated that 77 million adults presently have diabetes and this number is likely to double by 134 million by 2045. Poor diet quality, lack of physical activity and urbanisation are responsible for this hidden epidemic. 
Key findings from the research
India is contributing to its status as an epicentre of the global diabetes epidemic

The lifetime risk of developing diabetes in 20-year-old men and women with normal BMI, living in metropolitan cities is 56% and 65% respectively. On the other hand, obese people have more than 80% chances of getting diabetes in their lifetime

60 years old men and women with normal BMI have 28% and 38% chances of acquiring diabetes respectively. The chances of getting diabetes decreases with older age and normal BMI

People with lower BMI have a higher diabetes-free life expectancy. Those with normal or underweight BMI will live at least 80-85% of their lives diabetes-free in metros
"
Latest trends reveal that women generally have a higher risk of developing this chronic condition across any lifespan. Obesity and sedentary lifestyle have a huge impact on the risk of diabetes."
一
Dr. Raja Indana, Consultant Physician & Diabetologist at MFine

India-The diabetes capital of the world
The high probabilities of developing diabetes can have severe negative implications on our country's already strained health system as well as the out-of-pocket costs of diabetes treatment by the patient. This health condition needs to be acknowledged as one of the most important threats to public health in India.
"
With an active lifestyle, a well-balanced diet and exercise, preventing, managing, and even reversing diabetes is possible for women. It is important to get your blood sugar levels checked regularly and consult a diabetologist to ensure that you are on the right management plan for your condition.
"
一
Dr. Raja Indana, Consultant Physician & Diabetologist at MFine

Managing diabetes with telehealth
Diabetes management is mostly dependent on lifestyle modifications and can effectively be monitored via telehealth. This technology also allows doctors to reach out to patients who are living in remote areas and provide them with quality care. It has also been reported that 
telehealth interventions have significantly improved blood glucose control compared to the usual care interventions
due to ease of communication between the patient and doctor
. It is safe to say that this technology has great potential to change the way how diabetes is managed and enhance quality treatment for all patients.
The importance of screening and early detection
If uncontrolled or undiagnosed, diabetes can damage your heart, blood vessels, eyes, kidneys, and nerves. This is why it advised getting your blood sugar levels checked regularly. If you are overweight or have a sedentary lifestyle, then it important that you get preventive health checks routinely so that you can take steps to prevent this chronic condition if you are identified to be at increased risk.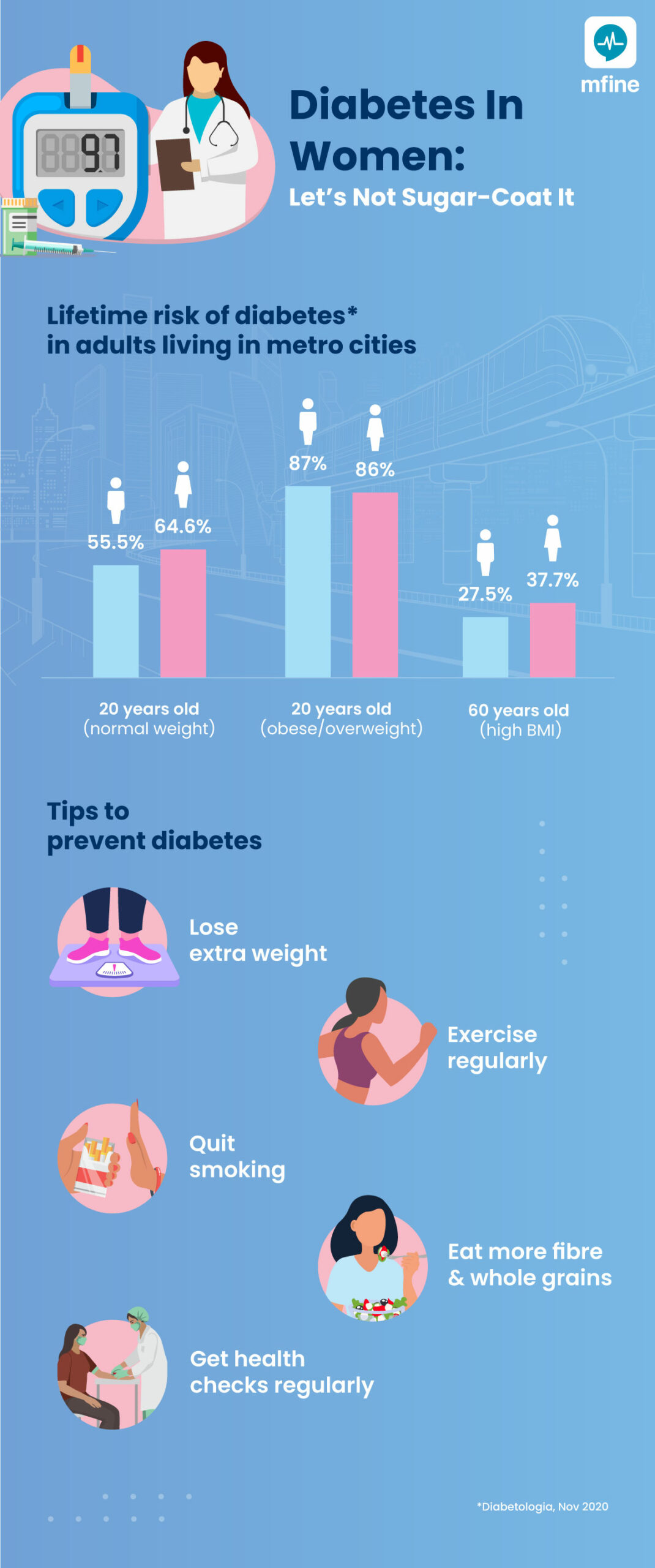 Consult a Diabetologist
Check out these videos
Symptoms of PCOS in Females
Covaxin and Covishield | Latest Updates
Difference Between COVID and Pneumonia
Who are Susceptible to Heart Attack?
Was this article helpful?

0

0
Symptoms of PCOS in Females
Read more on
Health A to Z
Love reading our articles?
Subscribe to never miss a post again!