Home
>
Coronavirus
>
Why It Is Necessary To Get An RT-PCR Test Before You Set To Travel
Why It Is Necessary To Get An RT-PCR Test Before You Set To Travel
4 Min Read
We have been witnessing a gradual upsurge in COVID-19 cases every month. It isn't the time to be careless and not think about yourself and your family when travelling is opened to all.
Therefore, it's extremely essential to know whether we have been affected by COVID-19 before and after travelling from one place to another.
Despite the timely implementation of multiple lockdowns, COVID-19 cases haven't touched the grounds to be low enough for us to feel safe. Hence travelling isn't safe in this pandemic. But at least the early detection of the virus will definitely help us take the required medications and precautions.
What is an RT-PCR Test?
An RT-PCR ( Reverse Transcription Polymerase Chain Reaction) test is capable enough to analyse DNA via a swab sample from the throat and the nose. Medical specialists have considered this test to be the most efficacious way to recognise the coronavirus in the human cells.
This test can't detect whether a person has had coronavirus before and has recovered from it but it can spot the virus if it is present in the body. Therefore, this test ideates tension relief for people who decide to travel in this pandemic.
The severity is simply reaching heights so it's always better to have the knowledge whether the virus is in the body or not after or before travelling.
Travelling & getting tested
Travelling was an essential part of our life until the different versions of lockdowns were imposed worldwide. No doubt that we all had to cancel our travel plans unexpectedly. But now as the lockdown has been unfastened, we all have started fastening our seatbelts!
It's a fact that we have to travel within the city limits to buy groceries or any essentials, to travel from one city to another, to travel from one state to another and international as well, for our professions or personal reasons or sustenance. Knowing the fact of how unemployment has hit India and taken a toll on its economy, to earn our living is also the need of the hour.

Before travelling
While travelling we meet and come across a bunch of people, be it interstate or intrastate via any mode of transportation. If we are asymptomatic, we end up spreading the virus. It's always a better option to know your health condition and whether you have been detected with COVID-19 before you travel.
The option of recovering before your travel simply gets an evident path. Looking at the severity of the virus, recovery is manifestly important by taking the required medications but just take a second to imagine that you aren't aware of the virus being present in your body and the people who come in contact with you regardless of age get affected! It's devastating.
It's best that you take the RT-PCR test at least prior to a week of your travel because it's not just about you and your family but about them and their families!
After reaching the destination
So finally you have reached your destination! Do you think you are safe amidst the thousands and millions of people you came across? Absolutely no. Specialists believe and appreciate this fact that immediately after you reach your destination just go and take a swab test. It isn't time-consuming or complicated! It's just a matter of a few minutes or an hour to visit a nearby hospital and get an RT-PCR test done.
But wouldn't it be very convenient if a professional arrives at your door-step before or after travel to conduct the RT-PCR test and you receive your reports within a day's span?
At MFine, we connect you to the best of the best doctors online which not only prevents you from visiting a hospital or to COVID-19 but also reduces the chances of infecting those you can come across your way.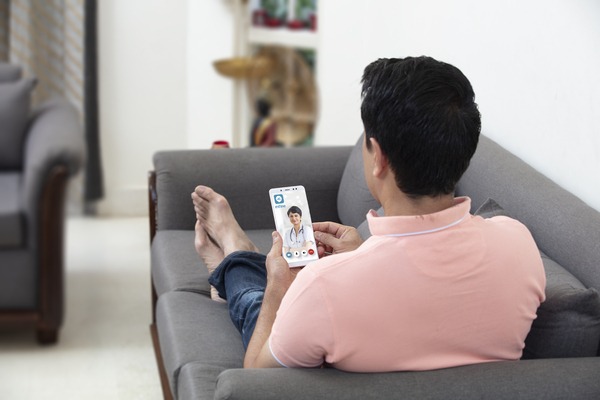 Sit back and consult a physician for the earliest advice and earliest tests through an online platform at MFine. The early the detection, the early the medication. If you have been tested positive, immediately isolate yourself until the symptoms become severe and you are in need of hospitalization.
Majority of the medical specialists have been suggesting and trying to inculcate the idea of taking the RT-PCR test before and after travelling because COVID-19 is a threat to human life. This test is becoming a norm to check the spread of the infection and spot the infected. Being careless would just not impose threat for you but all the people you come across before, while and after travelling.
Online medical assistance takes a few seconds
You can consult online with physicians from India's leading hospitals and book an at-home RT-PCR Test from India's most trusted labs on MFine. A trained professional will collect your sample from your home while following a strict safety protocol and you will get your reports within 24 hours. You can then get your report evaluated for free by a physician online on MFine
Was this article helpful?

0

0
Love reading our articles?
Subscribe to never miss a post again!