Quick Homecare Tips For COVID-19 Positive Patients
2 Min Read
Fact Checked
While it may seem that COVID-19 positive patients usually require an ICU bed at a hospital, it's important to remember that not all patients that test positive require hospitalization. Homecare is advised for some patients by their physicians, and while it may seem daunting to be at home away from professionals, there are ways to help you keep track of your health.
What does homecare involve?
Medications are given for symptomatic relief of fever, cough and diarrhoea

Patient is given vitamin and zinc supplements
Medications such as Doxycycline, Ivermectin , steroids are also administered depending on the severity
Patient is kept on high fluid intake, and high protein diet
Breathing exercises, proning and resting are advised
Monitoring of vitals including temperature and oxygen saturation every 4 hours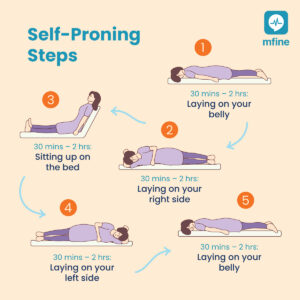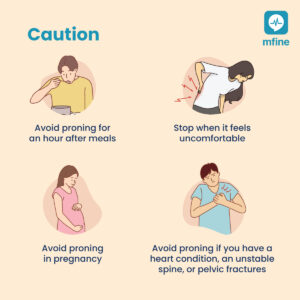 What is monitored during homecare of a COVID-19 positive patient?
Temperature:

>99.5º F or 37.5º C

= fever

SPO2 Levels/

Oxygen saturation levels

Ensure hands aren't cold, and remove nail paint when checking SPO2

6 minute walk test: Walk for 6 min and check saturation, a drop > 5% is significant

Pulse Rate:

60 – 100 bpm = normal 

Blood Pressure: 120/80 mmHg (+/- 10) = normal
You can track your Blood Oxygen Saturation Levels (SpO2) levels on your phone using the Mfine app. Remember, oxygen saturation levels drop below 95 with COVID-19. Efficient homecare is effective.

When is time to go to the hospital?
SPO2 levels <94 (<90 after 6 min walk test)

Increased chest pain and tightness

Heart palpitations and breathing difficulties

Severe unrelenting cough

Fever for >5 days- 1 week or recurrent

Hig

h fevers
This list does not have  all possible symptoms. Call your medical provider for any symptoms that severely concern you. Download the MFine app and consult a doctor online for diagnosis and treatment.
As of now, Covishield and Covaxin are the two vaccines available in India. As per professionals, both vaccines have been inoculated in the country and are safe and effective.
Was this article helpful?

0

0
Love reading our articles?
Subscribe to never miss a post again!