Omicron Trend in India
3 Min Read
Fact Checked
At present we are well into the third wave of Covid in India. As compared to previous waves there has been a sharp rise in cases with metro cities like Mumbai and Delhi already having reached the peak. The trend in India is very similar to what was seen in South Africa where omicron was first detected. As of 14/1/2022 India recorded 8209 Omicron cases with total deaths recorded at 385. New cases in India were 2,71,202 with a recovery rate at 94.51% marginally lower from 98% and a Death rate at 1.36% as of 16/1/2022. Case fatality ratio (CFR) is an indication of the severity of disease, it is the ratio of confirmed deaths to confirmed cases. CFR for India is at 1.31%. 
Omicron as we all know has higher transmissibility, adheres easily to human cells, and has exhibited immune evasiveness. This means it will spread faster and infect more people. With more people being infected does this mean our healthcare systems will be overwhelmed in the days to come? Let's see what the data says so far.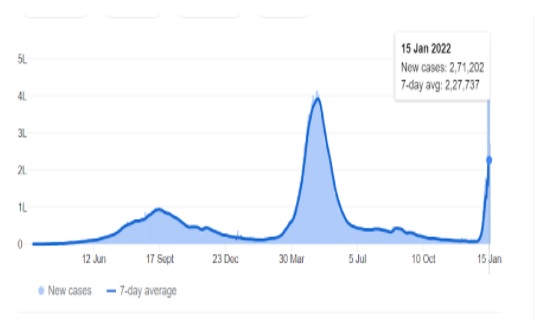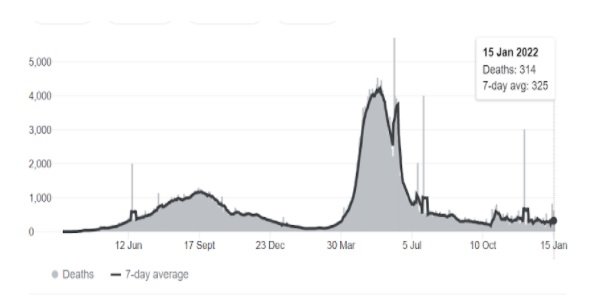 R-VALUE: 
The R-value marks the number of people an infected person can spread the disease to. In the last week, the R-value for Covid was 2.2 nationally which had increased to 4 between January 1st to 6th 2022. Since only a portion of all positive case samples is being sent for genomic sequencing we don't know the exact number of omicron cases in our country. 
HOSPITALIZATION:

 
Hospitalization is at 5-10% as per the union ministry of health. 1% of Covid cases are requiring ICU admission during the third wave of which only a tenth are requiring ventilator support. These numbers are much lower than what we saw during the second wave caused primarily by the Delta variant. Again these trends are very similar to what was seen in South Africa. Elderly with pre-existing comorbidities are still at risk due to complications of their underlying health conditions during the Covid infection. Read more about facts about hospitalization in India due to Omicron.
SYMPTOMS:

 
As of now, the most commonly reported symptoms are headache, fatigue, cold, sore throat, and sneezing. People have also been reporting fever, nausea in some cases. Children have been exhibiting gastrointestinal symptoms like nausea, vomiting, abdominal pain, and sometimes diarrhea. Loss of smell or taste is a rare occurrence now. Mild cough has been reported in a few cases. But, at present, the Covid symptoms are very similar to cold or seasonal flu-like symptoms which is a silver lining indicating a probable milder version of Covid illness. 
RECOVERY:

 
Most people are recovering with symptomatic treatment without requiring antiviral medication. Resolution of symptoms is being seen within 5 days of symptom onset. As per government guidelines if symptoms of fever persist beyond 3 days or there is a persistent cough then doctors should re-evaluate for progression of illness to moderate or severe. The elderly with pre-existing health conditions remain at risk for increased disease severity. Hence it's important our elders get their booster vaccine shots if they are eligible as this would increase vaccine efficacy and give protection against the need for hospitalization, oxygen support, or ventilatory support. 
PREVENTION:
Omicron is spreading like a wildfire hence it's important we continue practicing social distancing, mask-wearing, and frequent hand washing despite our vaccination status; this is the one true way to prevent contracting a Covid infection. 
VACCINATION:
Vaccines will protect from disease severity. It's important we complete our vaccination schedule, take booster doses when eligible, and vaccinate our children. 
As per all available data, there has been a sharp rise in cases but the recovery rate is good and most people are exhibiting mild symptoms as of now. Of course, in days to come there may be a change in numbers due to India's high population and risk of higher numbers of people falling sick but most virologists and epidemiologists believe this could be the beginning of the end. Only time can tell us if this turns out to be true if anything Covid has shown us the unpredictability of life itself. 
Read more on Covid – 19: A Complete Reference Guide for Indians
REFERENCES:
Ministry of Health and Family Welfare (1)
Avail RT-PCR Test at home through MFine. Stay aware, stay safe!
Was this article helpful?

0

0
Love reading our articles?
Subscribe to never miss a post again!