How Is The Period Cycle Connected To Your Mental Health?
5 Min Read
Fact Checked
Nature has made a woman's body very different from a man's where exclusive female biological processes can have explicit mental health outcomes. Menstruation or commonly known as periods is one such example. Almost 90% of women in their reproductive years, from menarche to menopause, have reported experiencing some premenstrual physical and emotional symptoms  a week or two before they bleed (1).
Dealing with these symptoms of the menstrual cycle can be tough for many women and the severity may vary depending upon their age, occupational roles, social conditioning, relationship with spouse and history of mental health disorders. Common physical symptoms like bleeding, breast tenderness, cramps and bloating are often accompanied by emotional symptoms like feeling irritable, moody, upset, and nervous. Majority of these women do not require medical or psychiatric intervention; however, this can seriously interrupt daily life and cause distress. It has also been estimated that 3-8% of women suffer from more severe clinical premenstrual conditions leading to severe depression, fatigue, trouble focusing, anxiety, panic attacks and difficult emotions during the menstrual cycle (2).
Interconnection between periods and mental health
Menstrual cycle starts on the first day of periods. The levels of progesterone and estrogen, two main female sex hormones, are low at this time in a woman's body. Lower levels of estrogen have been associated with lower levels of serotonin release in the brain, a chemical known to produce happy feelings. After the period ends progesterone and estrogen levels then start to rise again and are at its peak just before ovulation. In the next cycle of periods hormone levels drop again. This cyclic high and low of hormones significantly affects women's mood during periods.
On the other hand, stress can significantly cause hormonal imbalances due to high levels of cortisol leading to irregular periods or stopping of periods. Studies have shown that women with existing mental health disorders like anxiety disorders, substance use disorders are more likely to have shorter menstrual cycles (3). Irregular periods have been also linked to eating disorders, depression and bipolar disorders (4,5)
There are 3 primary mental health conditions that are exclusively related to menstrual cycle and highlight the relationship between mental health and reproductive health
(1) Premenstrual Syndrome (PMS) takes place in the luteal phase of the menstrual cycle and can cause both unpleasant physical and psychological symptoms like bloating, sensitive breasts, moodiness, and irritability. While many women have only mild symptoms, for some women it can be so intense that it interferes in their everyday life. However, PMS is not categorized as a mental health disorder.
(2) Premenstrual Dysphoric Disorder (PMDD) is a severe form of PMS which is categorized as a mental health disorder. It is often accompanied with emotional breakdown a week before or during a period which can disrupt daily life. The symptoms may include sleep disturbances, severe depression, severe mood swings, loss of interest in things, frequent crying spells, anxiety, and panic attacks.
(3) Premenstrual exacerbation (PME) is another premenstrual disorder that exacerbates any pre-existing mental health disorder or condition during the luteal phase of the menstrual cycle. The symptoms of the existing mental health disorder worsen before and during periods.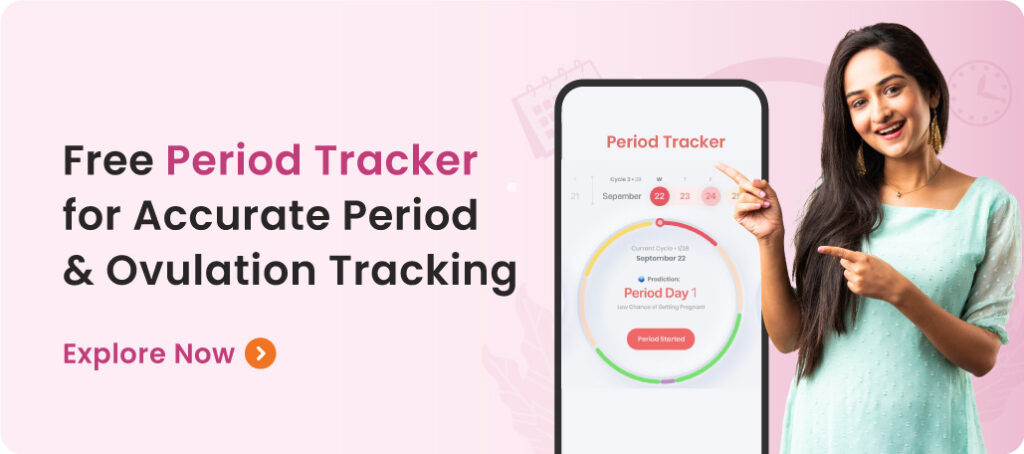 What steps can I take to be mentally healthy around my periods?
– Get good sleep. Sleep is directly related to mental health and is known to improve mood. Undisturbed 7.5-8 hrs of sleep helps stay in good mental health.
– Get good exercise. When we exercise our body releases endorphins which is known to reduce perception of pain and trigger positive feelings in the body. Exercise when combined with other treatments like therapy or medicine can be very effective.
– Eat right. Getting the right nutrients, having a balanced diet and staying hydrated can also help feel better physically and can boost mood.
– Relax. It's advisable not to overwork or overcommit during this time. It's a good idea to relax and move at a slow pace. Also practice of relaxation and mindfulness based techniques can prove to be extremely helpful during this time.
– Take timely medicines. If already on medicines for a pre-existing mental health condition, then it is advisable to timely consume and not stop taking them without speaking to the concerned doctor.
– Stay involved. It's a good idea to be involved in activities of choice rather than sitting idle during this time to avoid overthinking and intrusive thoughts before and during periods.
– Avoid important decision making. Since these are the times when women feel more sensitive and vulnerable, it is a good idea to postpone important decisions and avoid drawing conclusions. These can be kept for later times after a period, when feeling emotionally more stable.
– Avoid conflict. It is a good idea to keep friends, family members or anyone co-living with informed about the onset of PMS so that they get to understand the condition better and offer support. Avoid arguments as emotional sensitivity may be heightened and rational thinking limited during these times.
– Track your periods. It's a good idea to start tracking the menstrual cycle so that more caution can be taken around the luteal phase of the menstrual cycle which can be emotionally disruptive. Period tracking will also help provide doctors with necessary and adequate information for effective diagnosis and treatment.
– Seek help. If the above-mentioned steps don't help then it is advisable to talk to someone and seek professional help which could include counseling, therapy or medicines depending upon the severity of the symptoms.
Many women, especially in Indian context, find it difficult to express their period turmoil due to the social and cultural conditioning around periods and this impacts their mental health as it is a taboo topic to discuss openly. Interestingly mental health is also a taboo topic with a lot of stigmas attached to it. When issues of periods and mental health occur together, the problem is either ignored or out rightly dismissed.
While we are hopeful that the general attitude towards menstrual cycle in women would change for the better in times to come, educating, making oneself aware and knowing the right resources to seek help is the key to managing period related trauma. This International women's day let's go by the theme and 'break the bias' towards the menstrual cycle and just not ignore by labeling it as 'a normal woman's thing'. Let's be aware of ourselves and spread awareness to every woman we meet.
Happy Women's Day!
Read All About Periods: Cycle, Problems & Tracking
References:
(1) Winer, S. A., Rapkin, A. J. (2006). Premenstrual disorders: prevalence, etiology and impact. Journal of Reproductive Medicine; 51(4 Suppl):339-347.
(2) https://www.medicalnewstoday.com/articles/327490#menstrual-related-mood-disorders retrieved on 02.02.2022
(3) Barron, M.L., Flick, L.H., Cook, C.A., Homan, S.M., Campbell, C. (2008). Associations between Psychiatric Disorders and Menstrual Cycle Characteristics. Archives of Psychiatric Nursing; 22(5): 254–265.
(4) Bisaga, K., Petkova, E., Cheng, J., Davies, M., Feldman, J.F., Whitaker, A.H. (2002). Menstrual functioning and psychopathology in a county-wide population of high school girls. Journal of the American Academy of Child and Adolescent Psychiatry; 41(10): 1197–1204.
(5) Joffe, H., Kim, D.R., Foris, J.M., Baldassano, C.F., Gyulai, L., Hwang, C.H., et al. (2006). Menstrual dysfunction prior to onset of psychiatric illness is reported more commonly by women with bipolar disorder than by women with unipolar depression and healthy controls. Journal of Clinical Psychiatry; 67(2): 297–304.
(6) https://www.forbes.com/sites/alicebroster/2020/07/09/how-your-mental-health–menstrual-cycle-are-linked/?sh=41513d766370, "retrieved on 03.03.2022"
(7) https://elara.care/hormones/how-cortisol-affects-womens-health-and-the-menstrual-cycle/#:~:text=Cortisol%20might%20not%20increase%20during,less%20frequent%2C%20or%20stop%20altogether "retrieved on 03.03.2022"
Was this article helpful?

0

0
Love reading our articles?
Subscribe to never miss a post again!