Home
>
Coronavirus
>
Black Fungus In India: What Is It And Why Is It Affecting COVID-19 Patients?
Black Fungus In India: What Is It And Why Is It Affecting COVID-19 Patients?
4 Min Read
Fact Checked
As India suffers through the second wave of the COVID-19 virus, there have now been reports of Mucormycosis aka Black Fungus cases in positively tested recovering patients. While the chaos is alarming, knowing the facts about what the disease is, along with its symptoms and prevention can help us understand it better. 
What is Black Fungus?
Mucormycosis or the Black Fungus is a fungal infection that is caused by mucormycetes. They are molds that live in the environment. It is an invasive yet rare infection that is caused by a naturally occurring fungus. Humans are infected through the inhaling of the spores of the fungus that are in the environment. The spores  end up in the nasal passages and sinuses and may spread to other body parts  of the patients, causing a Black Fungus Infection. 
Black Fungus in India
According to reports around the country, diabetics that have suffered from COVID-19 and had received steroid treatment are at a higher risk of being affected by the Black Fungus infection. The spores of the fungus are typically found in soil and decaying vegetation. They have low virility and don't cause infection. In fact pre-COVID the reported cases weren't alarming. Things have changed since the COVID-19 virus has taken the country by storm.
As per public health experts, the misuse of steroids are said to be the cause behind the increasing rates of the Black Fungus infections among COVID-19 patients. While steroids reduce inflammation in the lungs, too much of it in COVID-19 positive patients can lead to lower immunity levels along with an increase in blood sugar levels. It can also affect non-diabetic patients.
Black Fungus symptoms
There are different types of Mucormycosis, and as per the CDC, they each have significant symptoms.
Rhinocerebral (sinus and brain) Mucormycosis 

– Facial swelling (one-sided)
– Headache and nasal or sinus congestion
– Brownish/red nasal discharge
– Black lesions on nasal bridge (can also be on upper inside of mouth)
– Fever
– P

ain

ful eye movements

and drooping eyelids
– Blurry or loss of vision

Pulmonary (

lung

) Mucormycosis

– Fever and cough


– Chest pain and shortness of breath

Cutaneous (skin) Mucormycosis

– Blisters or ulcers with or without discharge
– Infected area turns black


– Pain, warmth, redness, or swelling around wound

Gastrointestinal Mucormycosis 

– Abdominal pain
– Nausea and vomiting


– Gastrointestinal bleeding

Disseminated Mucormycosis: commonly seen in those ill with other medical conditions. Disseminated is the spread of the fungus.

– Disseminated infection in the brain can lead to coma or changes in mental status.

It's a serious infection and difficult to treat. Early diagnosis is the key. Depending on the stage, may require medical or surgical treatment.
Black Fungus treatment
| | |
| --- | --- |
| Antifungals | Liposomal Amphotericin B injection for 10 days to  weeks after diagnosis. Helps  reduce dangerous side effects such as kidney damage |
| Steroid treatment | Reduction and eventual discontinuation |
| Blood sugar treatment | Control of diabetes and prevention of ketoacidosis |
| Endoscope intervention | Endoscope is inserted into nasal cavity to remove diseased tissue |
| Surgical intervention | Removal of all necrotic/infected tissue |
Black Fungus: Who is at risk?
Patients who have uncontrolled diabetes mellitus 

Patients that have used steroids resulting in immunosuppression 

Patients that have undergone extended ICU admission 

Patient on extended period of oxygen support with contaminated tubings

Patients that have comorbidities

requiring immunosuppressants

(malignancy or post transplant recipients)

Black Fungus Prevention
Avoid activities that involve close contact with soil or dust
It is important to remember that not every COVID-19 patient treated with steroids ended up with a Black Fungus infection. As per experts, in order to prevent more severe cases, the dose and duration of steroids for those in treatment and recovery need to be carefully monitored.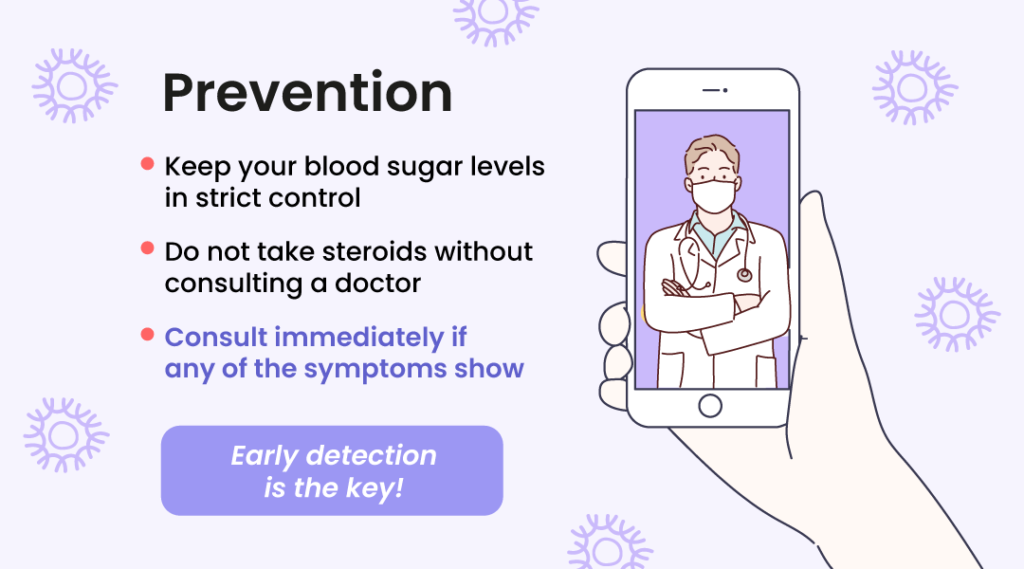 Do's and Don'ts for Black Fungus Prevention
Do's
Don'ts
– Wear masks especially near construction sites or places with a lot of dust
– Wear protective gear if handling soil such as shoes and gloves
– Maintain pristine personal hygiene
– Monitor hyperglycemia (high blood sugar) and HbA1c levels
– Monitor COVID-19 recovered diabetics during recovery
– Humidifiers hygiene: use sterile water while undergoing oxygen therapy
– Steroid administration: right dose, duration and timing
– Don't ignore evident symptoms
– Don't self diagnose and misdiagnosed as sinusitis (bacterial)
– Don't delay doctor consultations – symptoms could be dire
– Don't skip or delay treatment once diagnosed
Detailed guide for humidifier hygiene 
Use distilled or sterile water

Do not use tap or mineral water

Fill humidifier to 10 mm, below fill line

Check water level 2x/day, fill if needed

Change water daily

Wash humidifier with mild soap water, wince in clear water and air dry before use

Soal humidifier in mild antiseptic solution for 30 min once a week, rinse with clean water and air dry
Prevention is better than cure
If you are experiencing COVID-19 symptoms or have recovered and are experiencing symptoms of a Black Fungus infection, consult a doctor asap. If caught in time, COVID-19 patients can have the best chance of treatment, therefore avoiding the possibility of a severe fungal infection.
Get COVID-19 tests done at the comfort of your home with MFine – check your CBC, D-Dimer, CRP levels along with many more. This will help your doctor understand if you require hospitalization and further give you advice on your next course of action for treatment. You can also do a quick self-assessment for your peace of mind. It's important never to self-diagnose and confirm diagnosis and treatment with a physician.
Was this article helpful?

0

0
Love reading our articles?
Subscribe to never miss a post again!