Health A to Z
Last updated on 2022-03-30 10:21:48
All About Alopecia Areata Explained
Dr. Abhishtita Mudunuri

3 Min Read

Fact Checked
Introduction
Beauty standards in our society are brutal. They are most often perpetrated by the media and are almost always harmful to women. The stigma around the hair is one such beauty standard that has once again struck the headlines.
The audience at the 94th Annual Academy Awards were left in shock after the famous Hollywood actor Will Smith, who won the award for Best Actor, had an altercation with host Chris Rock. The host had made a joke about Smith's wife, Jada Pinkett's shaved head. 
A couple of years ago, Jada Pinkett had made a public statement about her "issues with hair loss." Pinkett suffers from a condition known as Alopecia Areata.
So what exactly is Alopecia Areata that's been trending on the news? Let's find out.
What is Alopecia Areata?
It is an autoimmune disease. It's a condition where the immune cells mistake your hair follicles to be as foreign and cause damage to them. This leads to hair loss and inflammation. Hair loss primarily occurs on your scalp and face, but it can occur anywhere on your body — scalp, beard, mustache, underarms, etc. In rare and severe cases, hair loss can also occur on your entire body.
What is the main cause of Alopecia Areata?
We don't know what triggers Alopecia Areata, but experts say it could be due to genetic and environmental factors.
- Hereditary
- Aging
- Poor diet and lifestyle
- Anxiety and psychological stress
- Hormonal imbalance during puberty, pregnancy & menopause
- Chronic illness
- Autoimmune disorders — diabetes, thyroid 
- Environmental factors such as pollution and dust
Is Alopecia Areata permanent?
Fortunately, in most cases, hair loss is not permanent. The damaged follicles have the ability to grow back again. However, remember, there is no permanent cure. This condition may come and go periodically or repeatedly throughout one's lifetime.
Following are some types of Alopecia Areata:
1) Patchy:
Here, coin-sized patches of hair begin to fall off from the patient's scalp.
2) Totalis:
Alopecia totalis is the complete loss of hair from the scalp.
3) Universalis:
This condition is the most severe form of Alopecia Areata. This form of alopecia causes a complete loss of hair from the entire body.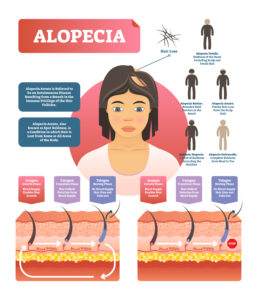 What is the best treatment for Alopecia Areata?
The best treatment for Alopecia Areata includes a combination of both medical and natural treatments coupled with a healthy balanced diet.
Medical treatments include topical agents, oral treatments, and light therapy. Substances like zinc, biotin, aloe vera, topical gels, and onion juice are sometimes recommended to be applied to the scalp.
Following oils may be used to manage Alopecia Areata:
- Coconut
- Jojoba oil
- Tea tree oil
- Rosemary
- Lavender and
- Castor oil
Include a balanced and anti-inflammatory diet rich in seasonal fruits and vegetables.
Further scalp massages and herbal supplements such as ginseng, green tea, and Chinese hibiscus are also recommended to treat Alopecia Areata.
Is alopecia caused by stress?
As of date, nobody knows exactly what causes Alopecia Areata. But experts believe that it may be caused by a combination of genetics and environmental factors, including stress.
How long does an episode of Alopecia Areata last?
This condition has no permanent cure. This condition may come and go throughout one's lifetime. However, the symptoms can be effectively managed through a combination of a balanced diet, medication, and natural home remedies.
What causes Alopecia Areata in females?
Alopecia Areata is an autoimmune disease that can affect anyone, including men, women, and children. Depending on the severity of the condition, the hair loss may be in patches, usually on the scalp (Patchy), complete loss of hair from the scalp (Totalis), or complete loss of hair from the entire body (Universalis).
Is alopecia a symptom of something else?
Hair loss can be terrifying when you first deal with alopecia. Sometimes you may find a handful of hair while taking a shower. You may also sometimes find yourself losing hair from your eyebrows and eyelashes. But there is help! Hair loss is reversible and, in most cases, can be managed effectively through diet, lifestyle changes, and medication. 
Do you have unexplained hair loss? 
Consult one of our Dermatologists: Doctors for Skin & Hair Treatment
, available online.
Using our MFine app, you can also
consult a General Physician online
for all acute and chronic illnesses, all from the comfort of your home. 
You could also get a lab test done at your home with free home sample collection and order medicines online.
Download the MFine app now
!
Consult a Diabetologist
Check out these videos
Symptoms of PCOS in Females
Covaxin and Covishield | Latest Updates
Difference Between COVID and Pneumonia
Who are Susceptible to Heart Attack?
Was this article helpful?

0

0
Symptoms of PCOS in Females
Read more on
Health A to Z
Love reading our articles?
Subscribe to never miss a post again!