7 Steps Of Hand Washing: Procedure Of Hand Washing
2 Min Read
Fact Checked
While there are plenty of ways to prevent getting sick, one of the main ways is to make sure that your hands are clean. With the COVID-19 pandemic, hand hygiene has become even more important. Since we use our hands all the time, germs from whatever we touch accumulate on our hands easily, whether we are at home, at work or travelling. Our hands not only touch many things that are used publicly, such as in bathrooms but also cover our mouths when we sneeze or cough. Hand washing is a seemingly normal thing we all do – but are we doing it right? Did you know that there are hand washing steps or a hand washing technique that you need to follow? This article will list the 7 steps of hand washing, so you can make sure you're doing it right. 
7 Steps Of Hand Washing
The following are the 7 steps of hand washing. Follow the hand washing procedure properly to maintain good hygiene.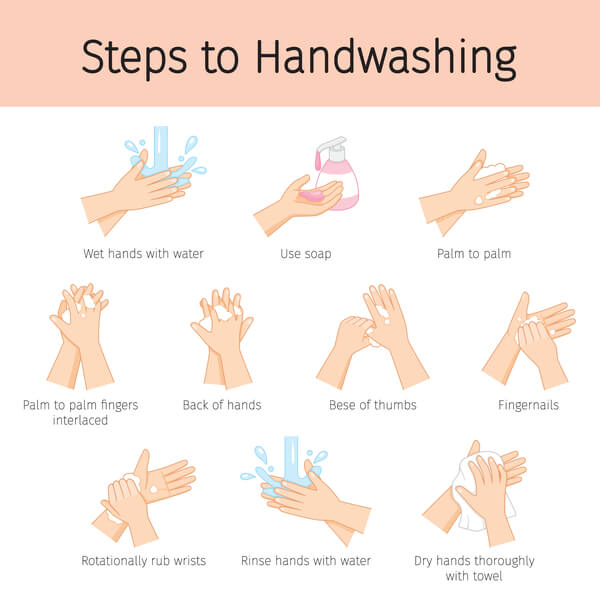 (1) Dampen your hands with clean and running water. This gets rid of the superficial dirt on them.
(2) Use a soap dispenser for enough soap to cover both your hands entirely – to your wrists. Soap dispensers don't build up germs as an idle bar of soap would.
(3) Lather the soap in your hands, and rub them throughout. Make sure you rub your wrists, the back of your hands, in between your fingers including your thumbs, and your fingernails.
(4) Rub your hands for at least 20 seconds
(5) Rinse your hands under clean, running water
(6) Dry your hands using clean wash towels if you use one, or air dry them. Make sure to use a tissue paper towel to turn off the faucet
(7) Moisturize your hands so your skin doesn't get dry
Conclusion
Washing your hands is just as important as bathing. There need not be visible dirt on your hands but there are many microorganisms or germs that can settle. We often touch our faces, eyes, nose and mouths with our hands, and if not clean, germs can be introduced quickly. If you are unable to wash your hands, make sure to carry a hand sanitiser with you. Viral illnesses affecting the respiratory system, are easily spread through germs as such. Next time you wash your hands, make sure you're doing it the right way – there is no hurry. Follow all the above-mentioned hand hygiene steps.
If you're exhibiting symptoms of the flu or any other viral illnesses, make sure you stay home and consult a physician on MFine. Illnesses such as dengue or malaria are also prevalent at this time. Make sure to follow public etiquette, by covering your mouth when you sneeze and cough. Take precautions when in large crowds and always make sure to wash your hands!
Was this article helpful?

0

0
Love reading our articles?
Subscribe to never miss a post again!
Read more on
Health A to Z