Sanitary Products - Pads, Tampons, Cups, & Others
4 Min Read
Fact Checked
We all are familiar with "Aunt Flo, Chums, Red Wedding, Code Red" etc and these are the nicknames of periods also known as menstruation. It is the vaginal bleeding that occurs every month. During this time, a woman's body prepares itself for pregnancy. When pregnancy does not happen, the egg along with the uterus lining and other tissues comes out of the vagina in the form of blood. 
The flow can last up to 3 to 7 days depending on your body type and other health conditions. Since there is no exact time for the flow to happen, you need to use something that can soak or collect all the menstrual blood. To serve this purpose, there are different types of sanitary products that are available in the market. Pads, tampons, menstrual cups, cloth pads, period panties are some of the examples.
In this article, we shall learn more about period sanitary products, how to use them, and how to dispose of sanitary waste. You will also learn about the importance of period tracking and how to use the MFine period tracker for free.
Sanitary Pads
Sanitary pads are also known as sanitary napkins are rectangular shaped and can be stuck to the panty. They also come with foldable wings and these stick on the edges of the panty for better placement. This also prevents leakages. These pads come in different sizes depending on the user's comfort and flow. The absorbency of the pads also varies from brand to brand. 
How to Use Pads?
Pads stick to your panties easily. These should be changed every 3-4 hours depending on your flow. The maximum time that one can wear the same pad is for 7 hours (when you are sleeping). This is important to avoid bacterial growth and bad odor. There are two different types of pads:
– Disposable pads: These pads come with a sticky bottom and wings. There are scented disposable pads available too. However, these pads can irritate your vagina and cause allergic reactions. To use disposable pads, you just need to peel the paper strip, stick it on your panty and change after 4-5 hours. To dispose of the used pad, you can roll it on a piece of paper. Never flush down a pad as it clogs the toilet.
– Cloth pads: Cloth pads or reusable pads can be used after every wash. These are eco-friendly products and have no side effects. These pads come with a clip that makes the pads stay on the panty. After 4-5 hours, you can clean these pads with soap and warm water and dry them like any other cloth. 
Tampons
Tampons come with or without an applicator and it is inserted into your vagina. Tampons are also made of absorbent material but in the form of a tube and a string. This tube is inserted into the vagina with the help of an applicator or using your finger. To change the tampon after 4-6 hours of use, you slowly pull the string which is outside your body. 
Even tampons should be warped with a piece of paper and not flushed. 
It might be a little scary to use a tampon, as it should be inserted inside your vagina, the other reason why one should be careful about tampons is that it may cause Toxic Shock Syndrome (TSS) if left inside the body for too long.
There are reusable tampons available in the market, however, doctors do not suggest them as they may cause yeast, fungal or bacterial infections.
Menstrual Cups
Menstrual cups are an eco-friendly feminine hygiene product as they are reusable. These cups are made of rubber or silicone that will be inserted into the vagina to collect the menstrual blood. 
These cups can be inserted into the vagina using different types of folds. At the end of the cup, there will be a stem that can be used for releasing the pressure before pulling it out. Once the cup is removed, you can empty the menstrual blood and clean the cup with warm water before inserting it again. Once the cycle is completed, you can keep the cup in boiling water for 3-5 minutes, dry it and store it in a pouch.
Period Panty
Period panty is also an eco-friendly and pocket-friendly period sanitary product that is used by most women these days. These are also known as period underwear or menstrual underwear. They come with absorbents made of multiple layers of microfiber polyester. These can be used as regular panties and should be changed every 12 hours.
Period Tracker
Now tracking your period is easier than ever with the MFine period tracker which is available on the app. All you need to do is answer the questions that are related to your period so that you can get the exact date of your next period.
On the app, you need to answer questions such as:
– How long does the period usually last?
– How often does the period recur?
– Date of your last period.
– Symptoms before your period start.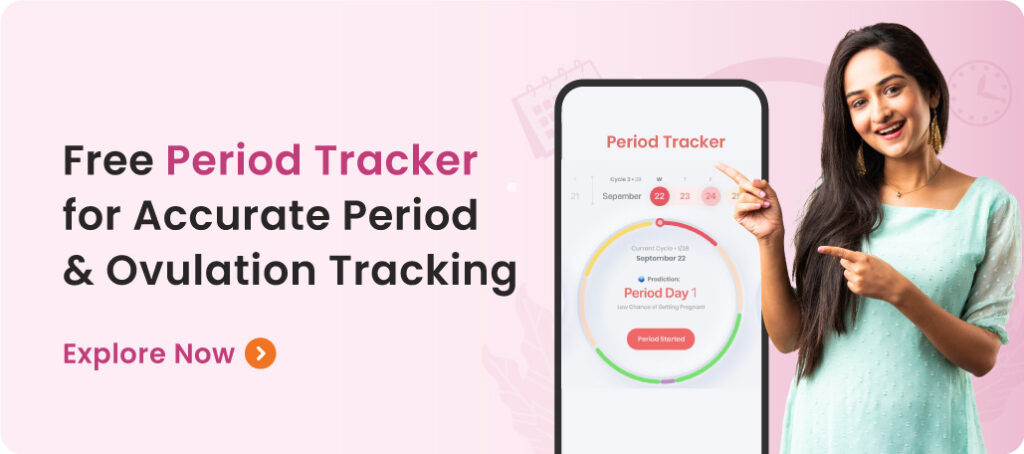 Once these details are filled in, your personalized period tracker will be ready. The tracker will display your ovulation date, your chances of getting pregnant, what kind of diet you need to follow and tips on how to maintain your overall period health.
Conclusion
Understanding your body and providing external things for better functioning of your body can help you in many ways. Similarly, knowing different types of period sanitary products and their effects on your body and environment is equally important. Also, tracking your menstrual cycle can prepare you for that unexpected visit of Aunt Flo. 
Was this article helpful?

0

0
Love reading our articles?
Subscribe to never miss a post again!