Lesser Known Mental Health Disorders To Be Aware About
3 Min Read
Fact Checked
Talking about mental health is already a huge stigma in Eastern cultures, but what's even worse is the lack of shared knowledge on mental health disorders. While disorders such as stress, depression, and anxiety are most commonly talked about in the mental health community, there are other disorders that many forego. Read on to learn about other mental health disorders that could be affecting you or someone you love. It's always a good idea to recognize these symptoms early so that you can reach out for help or facilitate someone to take the help if needed. 
What are mental health disorders?
It is a wide range of mental health conditions that affect an individual's mood, their cognitive thinking, social effects and behavior. These disorders are affected by different things, such as:
Familial genetics

Nature vs. Nurture

Social constructs

Traumatic childhood experiences

Academic years, peer pressure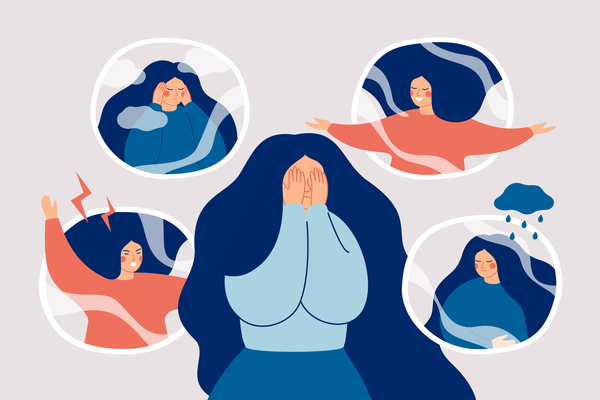 The least talked about mental health disorders
Name of disorder

Symptoms

Causes

Treatments

Schizophrenia


This disorder affects more than just mood, but also an individual ability to have accurate thoughts and feelings.

– Mental confusion and delusions
– Hallucinations
– Difficulty in concentration
– Temporary loss of memory


– Incoherent speech

Experts imply that it could be a combination of different brain chemistry, genetics and nature vs. nurture and due to past trauma.

First mode of intervention for schizophrenia is medications such as antipsychotics, along with individual and supportive therapy.

Bipolar disorder or manic depressions


Affects an individual's mood resulting in lows and highs. This is also called "depressive lows and manic high

Manic episode:
– Excessively high energy
– Reduced sleep


– Altered reality




– Fast paced speaking


– Increased irritability
– Increased sexual arousability


– Deluded thoughts

Depressive episode:
– Low energy
– Increased fatigue
– Change in daily routine
– Increased sleep


–

Suicidal

thoughts

Experts imply that it could be a combination of different brain chemistry, genetics and nature vs. nurture.

Psychotherapeutic interventions such as CBT, IPSRT  along with medications such as mood stabilizers,  antipsychotics and SSRIs.

Obsessive compulsive disorder (OCD)
– Ruminating or intrusive repetitive thoughts
– Repetitive compulsive behaviors such as hoarding, counting, repeating words and actions etc


– Increased irrational fears

Chemical and structural abnormalities along with genetics

Medication along with psychotherapeutic interventions such as CBT, third wave of behavior therapies

Attention deficit hyperactivity disorder (ADHD)


It is usually noticed in children, but can continue through adulthood.

– Limited attention span
– Increased hyperactivity
– Lack of discipline
– Lack of concentration


– Increase impulsive behavior


– Aggression


– Irritability and fidgeting




– Learning difficulties  

Brain function and genes do play a part but head injuries, premature babies and toxins can lead to ADHD as well.

Early detection is important for treating ADHD. Behavioral therapies during childhood along with prescribed medications work best with ADHD. 
All of the above disorders require a medical diagnosis by mental health professionals before treatment. Do not self-diagnose or self-medicate with drugs. It can affect your mood, and cause drastic and lead to worsening of symptoms. 
It's okay not to be okay.

Mental health should not be swept under the rug. Simply by knowing how these disorders can affect mood and behavior, you will be able to identify when you or someone you'd like to help, needs help. Speak to experts for any mental health concern that has affected you. It's time you take matters into your own hands. Download the MFine app and consult with a mental health professional online today. If you want to know when it's time to see a mental health professional, do read our blog.
Was this article helpful?

0

0
Love reading our articles?
Subscribe to never miss a post again!