Mental Health
Last updated on 2022-03-24 10:29:55
How To Cope With Mental Health Complications Post COVID-19
Ms. Deepanwita Roy

5 Min Read

Fact Checked
For many people, recovering from COVID-19 has led to a slew of mental health concerns ranging from sleeplessness, anxiety, panic attacks, and fear of re-infection. Yes, mental health complications Post COVID-19 are real. Read on to understand warning signs, and for expert tips to consider during recovery.
Ayushi (name changed) contracted COVID-19 after traveling back from her hometown. While her husband had symptoms of COVID-19, she was mostly asymptomatic. She looked after her husband but when it was time for her husband to join back work after recovery, she started experiencing sleeplessness. In her words, "it's been 2 days since I have slept for more than 2 hours. I can't sleep at night. The thought of my husband contracting the virus again troubles me the most. I am avoiding going to the market, I keep thinking what will happen if I test positive again". 
Similarly, Sejal (name changed) is an IT professional, managing work from home since March 2020. Despite taking appropriate measures, she contracted the virus and recovered from it after 3 weeks. She had to go back to work immediately & she is failing to concentrate there. In her words: "I have been forgetting things, there was a brain fog during my 11th day of isolation and it is continuing even after a month". The more she reads about it, it leaves her feeling blank. She feels nauseous in between a work call which is something that hasn't happened before and now has left her feeling more anxious. 
Aarti (name changed) has been diagnosed with social anxiety around 3 years back; she has been under medication for a while and the pandemic has come as a relief to her. She has always experienced anxiety of going out in public and meeting new people but due to the pandemic, she found solace and comfort at home. But recently, her office decided to open again and after 1.5 years, she has to go to her workplace. It has aggravated her anxiety so much that she experienced a panic attack around 2 weeks back. She went back to her psychiatrist and was asked to start off with her medications and therapy once again. According to her, "It felt as if my world started falling apart right in front of my eyes."
These are a few of many conversations that I have had with my clients ever since the second wave of COVID-19 started. Even though there is no direct study that proves that COVID-19 has a direct effect on mental health, the kind of symptoms, challenges, minor to major interpersonal and adjustment issues people face during isolation and post-recovery can trigger their anxiety, depression, panic attacks, and even suicidal tendencies. Mental health complications Post COVID-19 can be challenging to deal with but noticing signs can help you understand when it's time to consult a professional.
When it comes to your Post COVID-19 recovery, it is important to be aware of certain warning signs that might help you to identify any mental health concerns: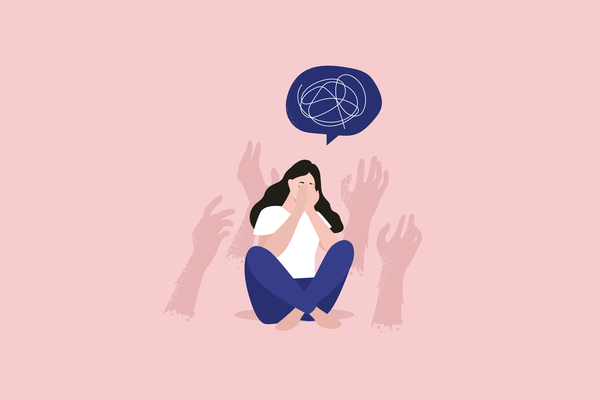 Unexplained physical symptoms such as headache, aches, and body pains. During COVID, these symptoms are expected but if the symptoms last even after a month from recovery, it would be advisable to get it assessed by your health professional. 

If you have lost your sense of smell or taste, it might take months to gain back your senses. But in case you notice that post-recovery, you're losing your appetite or you end up eating only one meal a day, this could not only affect your recovery but also aggravate your stress. 

It is not uncommon to experience sleep disturbances during COVID-19. Since your body is battling a deadly virus, it affects your sleep. But in case, your symptoms are long standing and get in the way of your recovery, this could indicate a wide range of concerns. Hence, don't wait for long to allow the symptoms to subside and rather get this assessed. 

Staying isolated inside a room or house for several weeks can be taxing not just for your body but for your mind as well. More so when you have contracted the virus and your body is trying to fight against it. As a consequence, people start having difficulties in stepping out of their comfort zones and go outside to even manage chores. This could be an indicator for post COVID-19 stress or even at times, PTSD where these symptoms go away after a few weeks. But in case, it's not going away after several months, it would lead to unwanted consequences which require medical attention.

Sudden unexplained mood changes. At one time, you may feel anxious and other times you might end up snapping at people, feeling angry, agitated, and irritated. 
In case you are experiencing any symptoms that are indicative of anxiety or depression, don't allow or wait for the symptoms to fade away; while there is a possibility that these symptoms are short-lived but it's always a good idea to get it assessed before it starts deliberating.
You are no more a COVID-19 victim but you are a COVID-19 survivor
You have battled a deadly virus and you are on your recovery journey. No matter the situation you might be, learn to take care of yourself first. Remember, when we travel on a flight, the flight attendant always instructs "... to put your oxygen mask on first, before helping others". The same advice to each one of us to sail during this COVID-19 crisis.
Remember the following tips for a quick & healthy recovery
Eat right. You have already heard or read about it but to take things in control, make sure that you eat good nutritious food & don't forget to hydrate yourself

Get at least 6-8 hours of uninterrupted sleep. If you're not getting enough sleep at night, try to take 30 mins of nap during the day. 

Get back in shape by doing some basic exercises, maybe start with brisk walking and light exercises. If you face any difficulties, get in touch with your doctor.

Stick to expert's advice. When it comes to your health, always stick to your doctor's advice. Do not take things to your hands and avoid advising the same to others. 

Stay away from negativities: negative news, negative people or anything that adds up to your stress. 

Take adequate care and rest. Make sure to take breaks in between work or home chores. 

Last but not least, ask for support and help whenever you feel the need. 
I sincerely hope that these tips will help you. But remember, help is always available to those who ask for it. Many people are experiencing mental health complications Post COVID-19 but there is a light at the end of the tunnel. Sometimes, frustration and the lack of energy can make it seem that treating your mental health concerns isn't worth it, but your mind needs to be as healthy as your body. If you feel out of control, or are unable to manage your mental health symptoms, don't delay a consultation with a mental health professional. 
Consult a Andrologist
Check out these videos
Symptoms of PCOS in Females
Covaxin and Covishield | Latest Updates
Difference Between COVID and Pneumonia
Who are Susceptible to Heart Attack?
Was this article helpful?

0

0
Symptoms of PCOS in Females
Read more on
Mental Health
Love reading our articles?
Subscribe to never miss a post again!