Last modified on June 2021
With inputs from Parvathy Menon - Dietitian and Nutritionist
Obesity is becoming a growing health concern in India due to our changing diets and lifestyles.
India currently ranks number 5 in the world for the prevalence of obesity in men and number 3 in the world for the prevalence of obesity in women.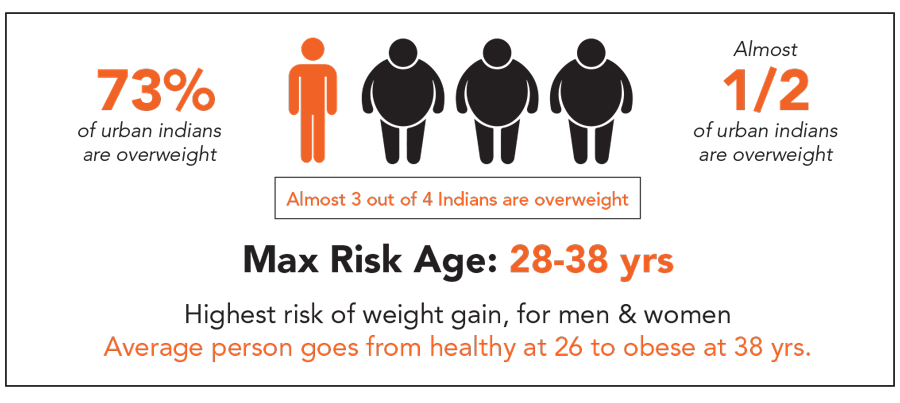 Apart from the debilitating effect obesity can have on the quality of life of the individual, the condition can also give rise to other chronic, often fatal, conditions. Thus, it is vital that we understand how to tackle obesity through a healthy diet and make positive changes in our lifestyle.
The link between Obesity and COVID-19
While the condition of obesity can lead to an array of ailments in one's body, a recent study has shown that overweight or severe obesity can make you more likely to get severely ill from COVID-19. Obesity can raise your risk to catch the many symptoms of COVID-19 besides other chronic health conditions like heart disease, type 2 diabetes, and others. 
People with obesity have lower oxygenation capacity, which directly can lead to other complications since COVID-19 affects the lungs and causes a decline in oxygen saturation. However, it has been noted that while obese people are at a higher risk of facing the Symptoms of Covid in the second wave, there is no increased risk of death. 
Amid the challenges of COVID in India, here are some tips that one could follow to keep your physical health under control: 
Cutting down refined sugar 
Limiting or cutting down the intake of added sugar can be beneficial as they are linked to an increased risk of obesity, type 2 diabetes, and others. 
Following a balanced diet 
Not just people with obesity, it is vital for everybody to follow a balanced diet, rich with a variety of nutritionally dense food, to fight Corona symptoms. 
It is just not about hydrating, but studies have shown that drinking water can help you burn more calories and promote weight loss.
There are many benefits of green tea. It especially does wonders in promoting weight loss. Make it a routine to drink a cup of hot green tea every day. 
Every weight loss diet is incomplete without exercise. Start by adding a routine of some sort of physical exercise in your day. Regular exercise or yoga can help avoid fat accumulation and boost overall health. 
The bottom line is to incorporate the changes in your life and follow them regularly. Not just your physical health, a healthy body can bring you more mental peace. 
Even during the COVID-19 pandemic, you can speak to leading dietitians in the country about obesity-related issues while minimizing the risk of exposure. Through MFine's online doctor consultations, consulting dietitians has never been easier. Through instant chat and video calls receive advice, tips and tricks on how to tackle obesity and other weight-associated symptoms with ease.